March Issue, 2014 of Country Gardens Magazine features Nancy's 8-page story called "Sweet, Sweet Violets." She shows how to garnish desserts and salads with fresh and crystallized violets; make violet syrup; whip up violet marshmallows; and more.
Nancy's First Kindle Book–The 2 Day a Week Diet Cookbook. It's now available on Amazon! At 260 "pages," 75 recipes, 50 photos, menus, and tips on losing weight on the phenomenal new 2 Day a Week diet, it's a huge bargain at the introductory price of just $3.99. (BTW, both Nancy and her co-author have lost weight using their recipes from the book.
News Flash: Hey Baltimore metro peeps, tune in when Nancy talks about great cookies, Fri, Dec. 13, 1:20 pm "Midday" with Dan Rodricks (Baltimore NPR radio WYPR-FM 88.1)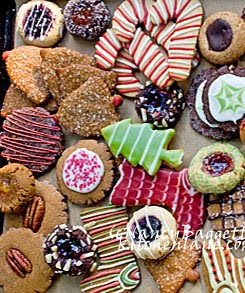 http://live.washingtonpost.com/free-range-12-4-2013.html
November-December, 2013, issue of Eating Well magazine features Nancy's gorgeous 8-full page story on holiday cookies, including all the ones shown here. Check it out!
November, 2013: Nancy's Simply Sensational Cookies made the Great Gift Cookbooks List in the Huffington Post; described as the "only cookie book you'll ever need!"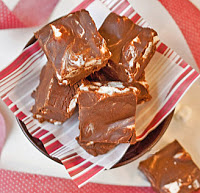 Friday April 26., 2013 Celebrate Chocolate! with Nancy Baggett
Johns Hopkins University, Rockville, MD Campus–Join Nancy for a delectable morning–chocolate pics, stories, history; structured chocolate tasting; box lunch + 6 chocolate desserts; cookbook signing; + take-home chocolate. Register with Susan Howard, 301-294-7058 by April 21. (Note! Nancy's fudge, shown left and posted here, will be served.)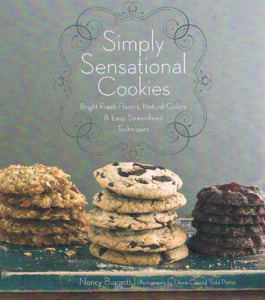 Mar., 2013 Simply Sensational Cookies was nominated for an International Association of Culinary Professionals "Best Baking Book" of the year award.
Dec., 2012 Better Homes and Gardens: The magazine featured a large, beautiful story of Nancy's cookies, some original, some from her new book, Simply Sensational Cookies.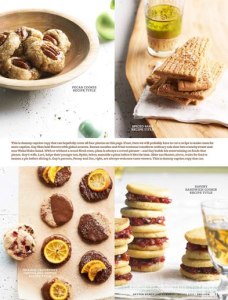 Dec. 5, 2012 NPR: Simply Sensational Cookies makes NPR's List of TOP TEN Holiday Cookbooks
Dec. 6, 2012 NPR All Things Considered, Thursday: Tune in to NPR's afternoon "All Things Considered" show as Melissa Blocktalks with Nancy andhome cook Laurie Palvos about her great grandmother's 1913 Jumbles Molasses Cookies.Laurie discovered a list of ingredients (but no instructions) for the recipe in a faded notebook owned by her great grandfather. After she had no luck with the "receipt," NPR sent it Nancy to figure out how to make it—which she did!You'll learn both Laurie's reaction and Nancy's:Hint—Nancy thought the cookies were okay but a little plain and too heavy on the molasses to suit most modern tastes.
Dec. 12, 2012 The Washington Post Food Section: The annual cookie issue (in print and on-line) features several recipes from Simply Sensational Cookies, plus a how-to story on Nancy's "au natural" (dye-free) icings.
Dec. 14, 1-2 pm "Midday with Dan Rodricks," Baltimore, WYPR, Friday: Dan and Nancy talk and sample cookies on Baltimore's NPR affiliate, WYPR WYPF WYPO, or live on-line webcam via www.wypr.org
Dec. 22, 2012 "Morning News" Baltimore WBAL TV 11- Saturday Chef Segment, 9:45 am: Will cover cookie baking/decorating, gifting/packaging tips, and show a pretty array of cookies from Simply Sensational Cookies.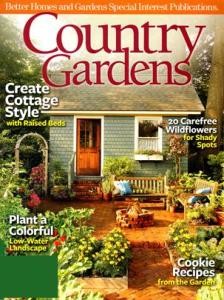 Mar 1, 2012–Nancy's ten-page story on cookies inspired by the garden was featured in the spring issue of Country Gardens magazine. For some pics, details and link to a featured painted daisy cookie recipe, go here.
Dec. 7, 2011–Two of Nancy's cookies were featured in the Washington Post food section's holiday cookie story. You can check out her Cranberry Orange Zingers here, and Peppermint Chocolate Mountains here. Bonnie Benwick, the food section deputy editor, tweeted that the Zingers were one of her favorites.
October 3, 2011–Nancy spoke on "America Baking Ephemera: An Entertaining Look Back at Baking in America," at the Home Baking Association annual conference in Stowe, Vermont. Below is a fun bit of ephemera she found; see more here.
July -August--Nancy's feature article called "Savoring Herbs," appeared in the current issue of Eating Well magazine.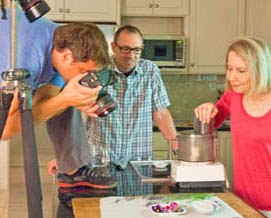 June 30–Nancy hosted a photo crew from Country Gardens magazine in her kitchen and garden. An article on "Cookies for a Summer Garden Party" will appear in the summer of 2012. In the pic Bob Stefko is photographing some fresh edible flowers that can be used for cookie garnishes. For more pics and highlights from the shoot, go here.
May 20—Nancy Speaking at Blogher Food, Atlanta, May 20, 2011
Nancy will be helping bloggers from around the country improve their culinary prose. In this hands-on workshop participants will practice techniques, sharpen writing skills and even explore how to find and strengthen their own culinary voice. The conference is nearly sold out, so hurry if you want to attend.

Oct. 11–Nancy Speaking at Home Baking Association Conference, Palm Springs
Nancy is taking a break from talking about baking at this year's gathering. She will be talking about using Twitter and Facebook to connect with fans and consumers and bringing members up to date on what she learned at Blogher Food.
Oct. 9–Nancy Speaking at Blogher Food, San Francisco, 2010
Nancy will share her cookbook writing tips on a panel for food bloggers called
"Have You Got a Cookbook in You?" The conference has been sold out for months.
No Events Scheduled for Summer, 2010–Nancy is on Deadline for Her Next Cookbook! Stay Tuned for More Details Soon!
DC-Area Foodies–You're Invited! Feb. 27, 2010, 8:30 am-5:30 pm
Join Nancy Baggett and 40 other speakers for tastings, cooking classes, workshops. For: The 7th Salute to Gastronomy Symposium
Presented by: The DC Chapter of Les Dames d'Escoffier
At: The Universities at Shady Grove, Rockville, MD
For Information / Registration: http://www.lesdamesdc.org/
Nancy Baggett's story and recipes titled "How to Make Your Own No-Knead Breads," appeared in the February, 2010, issue of Vegetarian Times.
Feb. 14, 2010–Nancy to Talk about Valentine's Sweets
Topic: "The Evolution of the Romatic Heart Symbol and Favorite Valentine's Flavors"
Members Meeting—The Culinary Historians of Washington
Sunday, February 14, 2010, 2:30 to 4:30 pm
Bethesda-Chevy Chase Services Center
4805 Edgemoor Lane, Bethesda, Maryland
Nancy's story on "Pot Roast with Red Wine a la Julia Child," appeared on the Washington Post allyoucaneat food blog here in January, 2010.

Nashville Alert: Nancy will be appearing on Nashville's popular "Talk of the Town" on Tuesday, Oct. 7. If you're in the viewing area, tune in to WTVF-tv around 11 am and watch her make an easy, but yummy no-kead bread. The recipe wil be available, too.
Nancy's story on "Fresh Takes with Fresh Herbs," appeared in the Washington Post, Aug. 26, 09.
Read the Article Link to Recipe
Nancy will show how to made her breads at the Olney Farmer's Market (MD) on June 7, at 11 am; stop by for a sample! On May 31, she made her Great Granola Bread and Double Chocolate Honey Bread on Baltimore TV-11; click here: http://www.wbaltv.com/video/19615680/index.html
http://www.wbaltv.com/video/19615609/index.html
Interested in Hot Cross Buns for Easter?
Nancy showed the Baltimore Sun how to make them in a step-by-step video. Click here to view video. Link to Recipe.
Nancy Bakes on NPR Radio
Nancy made a crusty bread during an interview on NPR on Sunday, Mar. 22. To obtain the recipe and pics and hear the story search No Need To Knead: A Simple Way To Bake Bread : @ NPR.org.
For a Kneadlessly Simple video of Nancy making bread, go to:
http://www.developmentspace.net/kitchenlane/arizonaam_vid.html
For a recent story on Nancy's bread and a yummy looking pic go to:
http://www.finecooking.com/item/8861/a-baker-in-knead
You can sign up for Nancy's free newsletter, tips, and recipes at: https://app.e2ma.net/app/view:Join/signupId:49815
NEW BOOK News–Nancy lauched her new bread book with a multi-city satellite media tour on Tuesday morning, Feb. 3. She appeared all around the county on tv shows showing how to make yeast bread using her amazing new "kneadless" way but if you missed her, see her demo and some of her breads by clicking on the video above. If you're curious about how the method works, click on the Kneadlessly Simple FAQ on the Articles page.
Jan., 30, 09: Kneadlessly Simple is now available at booksellers everywhere. It's on sale at Amazon.com. Nancy's latest book features a revolutionary new method that let's you make great yeast bread without any kneading or other bread-making expertise, and almost no kitchen muss or fuss. Check out the Kneadlessly Simple page or the Reviews page for more info.
Kitchenlane Fall '08–Check out Nancy's recent commentary (and recipe) on enjoying s'mores and homemade marshmallows on NPR's All Things Considered-Weekend http://www.npr.org/templates/story/story.php?storyId=94144409 And stay tuned for more commentaries in the future.
Kitchenlane Summer '08–Check out Nancy's commentary on cooling off with snowballs on NPR's All Things Considered-Weekend http://www.npr.org/templates/story/story.php?storyId=92976006
Kitchenlane Fall '07 News–Be sure to tune in to the Food Network on Monday evening, Dec. 3, at 8:30 pm to see Nancy as she invites a film crew into her kitchen and shares the secrets behind Sherrill's famous chewy-soft gingerbread cookies. If you miss the show, titled "The Secret Life of Gingerbread,"you can catch it the following week, on Dec. 10, at 10:30 pm on the Food Network.
Nancy also shows off holiday sweet treats from The All-American Dessert Book during an appearance on Retirement Living TV's "Daily Cafe" show around noon on Wednesday, Nov. 28. The bars-in-jars recipe demonstrated on the show is the one currently featured as recipe of the week on this website.
For a new, easier way to make yeast breads, take a look at Nancy's story and recipes in the Nov. 28 Washington Post Food section, or visit the Post on-line.
In mid-September, Nancy attended the Home Baking Association annual conference, where she capped off the President's Dinner with a talk called "Iconic American Baking Brands–History and Hype."
Kitchenlane Summer '07 News–Nancy's article, photo, and recipes on the banana split were published in June on the National Public Radio website. Check them out at www.npr.org; the search on Kitchen Window; then, banana split. And Nancy's story on s'mores (yum!) appeared in the Aug. 1 issue of the Washington Post Food Section. Nancy has also just completed a tv segment in her kitchen for a Food Network show that will air later on this year. Stay tuned for the details!
Spring '07 at Kitchenlane–After a relatively quiet winter spent revising her co-authored One Pot Meals for People with Diabetes cookbook (due out soon), Nancy is in the public eye again. In mid-April she appeared on a panel in Chicago at the International Association of Culinary Professionals conference. The presentation was called "The Cookie Chronicles;" cookies, of course, are one of her favorite topics! Then, in May, Nancy demonstrated some great seasonal desserts–a strawberry-rhubarb betty and a gorgeous "very berry" trifle from her All-American Dessert Book–on WUSA Channel 9, in Washington, DC.
November and December were busy at Kitchenlane. Nancy dropped in via satellite to TV stations in Denver, Memphis, Minneapolis and other cities around the country to show off her Lemon-Filled Coconut Triple Layer Cake, Hazelnut Honey Caramel Bars, and Homemade Peppermint Bark and to offer holiday baking tips and recipes from her All-American Cookie Book and All-American Dessert Book. She also demonstrated how to make holiday stained glass cookies in an appearance on Washington D.C. CBS station WUSA Channel 9 and participated with Washington Post food editors in an on-line q & a chat with readers seeking cookie baking advice.
January '07 by Nancy Baggett: Check out Nancy's "Chocolate Gems" story in the January-February issue of Eating Well magazine. Nancy serves up recipes for Chai Chocolate Pots de Creme, Mini Molten Chocolate Cakes with Mocha Sauce, and Chocolate Covered Berry Marshmallows (great for Valentine's Day!). She also offers guidance on choosing and working with chocolate.