NANCY BAGGETT'S COOKBOOKS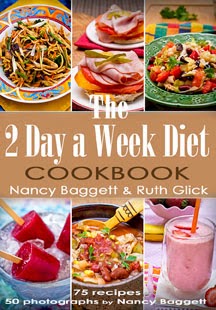 Nancy's latest work is a co-authored Kindle book, The 2 Day a Week Diet Cookbook. It provides 50 of Nancy's color photos and 75 quick, tasty lo-cal recipes that enable you to lose weight while dieting 2 days a week. More details on the book, pictures of the recipes and why the 2-Day, aka 2-5 Diet, is so effective for losing weight are here. To try the flavorful, healthful, simple-to-make soup from the book (shown below), go here.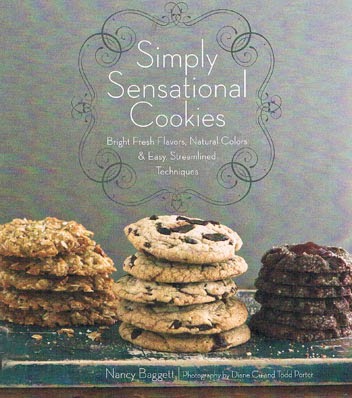 SIMPLY SENSATIONAL COOKIES–Bright, Fresh Flavor, Natural Colors and Easy Streamlined Techniques

Nancy's most recent hardcover book is Simply Sensational Cookies, an enticing collection that includes everything from updates of classics (like mom used to make, but streamlined for busy bakers using today's ingredients) to modern, innovative ideas and cutting edge treats. Suitable for novice bakers, experienced cooks, parents looking for never-fail goodies to try with the kids, and everybody else yearning for delectable cookies, the recipes range from super-fast and
simple no-bake, through everyday cookies, through healthy and savory, to fancy, special occasion kinds. For a sample recipe from the book, Nancy's monster chocolate chip cookies, go here.
Chocolate Chip Cookies–Simply Sensational Cookies
Nearly 200 recipes, from traditional cookies like one-bowl chocolate chips to sophisticated rose and lavender shortbreads to a variety of savory nibbles to serve as appetizers and cocktail snacks.
Includes gorgeous and inspiring full-color photography throughout.
Emphasizes pure, fresh, natural ingredients: A whole set of recipes (such as these decorated sugar cookies) is devoted to cranking up taste and decorating cookies with fruits, herbs, edible flowers, and other wholesome botanical ingredients rather than iffy artificial dyes and flavorings.
Simple Sensational Cookies made the National Public Radio "2012 TOP 10 Holiday Cookbooks" List (http://goo.gl/V2tHh ) and the Washington Post list of top 2012 cookbooks. It was also chosen a Best Baking Book nominee by the International Association of Culinary Professionals. Some of Nancy's cookies from the book were also featured in Better Homes and Gardens 2012 holiday issue and in Eating Well magazine.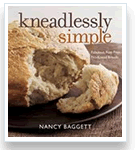 KNEADLESSLY SIMPLE FABULOUS,
FUSS-FREE, NO-KNEAD YEAST BREADS
By Nancy Baggett
Hardcover – 224 pages
Find and read reviews at Amazon.com
For years, countless home cooks have shied away from baking their own bread because they were intimidated by all the mess, the experience, and of course, all the kneading required. Now, with Nancy Baggett's revolutionary new Kneadlessly Simple method, even complete novices can bake bread quickly and easily in their own homes, with no kneading and no kitchen mess. The secret is in Baggett's slow-rise method, which allows the yeast to grow slowly and develop the same full, satisfying flavor of traditional bread, but without any kneading at all. The technique calls for minimal, economical ingredients, often mixed in one bowl with one spoon, eliminating all the mess of traditional bread recipes. It can be used to produce a wide variety of breads, from crusty artisan-style boules and English Muffin Loaves to Raisin Bread and Caraway Beer Bread. With this innovative new method, anyone who can read, measure, and stir can now make delicious, fine-textured yeast bread at home. This book will differ from others on the same subject because Nancy Baggett is an experienced food writer who understand home baker's needs. While techniques by other experts may sound similar, they still require messy dough handling. Nancy Baggett's technique is the simplest one yet; it's virtually fool-proof; and it yields superior bread.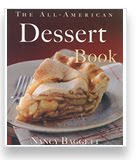 The All-American Dessert Book: Great Desserts and Sweets from the American Kitchen
Find and read reviews at Amazon.com
Nancy Baggett's The All-American Dessert Book takes us on a tour across the nation and back through time to celebrate the extraordinary array of uniquely American desserts and sweets. From modern marvels like molten lava chocolate cake and puckery key lime cookies to nineteenth-century creations like blackberry cobbler, butter layer cake and caramel frosting, this collection of 150 carefully selected and tested recipes lets us reproduce the very best sweet treats our country has devised. The recipesCsome well known, some newly rediscovered, and some newly createdCcome from all regions of the country and sources like inns, bakeshops, great home cooks, farmers, producers, vintage receipt boxes, old cookbooks, and Nancy's own kitchen. Many are accompanied by beautiful color photos, and all are in the style of America's best sweets full-flavored, satisfying, and unpretentious, yet grand.
But the All-American Dessert Book offers much more than recipes. It honors three centuries of the ingenious creators of American sweets and brings these cooks alive by telling their stories and by quoting their poignant words of kitchen wisdom. Nancy interweaves colorful snippets of history, culinary lore and regional details of America's dessert heritage to sample along with the recipes. For example, she explains the difference between a betty from a crisp, reveals who first called a dessert a cobler; who made the first ice cream sandwiches, and why early Dutch settlers called cranberries craneberries. She sketches the colorful origins of such favorites as the American cheesecake, banana split, saltwater taffy, and our beloved strawberry shortcake. She notes which ingredients (hint, think chocolate!) and kitchen equipment have most influenced the modern American sweets repertoire. And she highlights regional tastes for dishes like Banana pudding, fried pies, pandowdy, and the traditional sugarbush candy, maple-on-snow.
The All-American Dessert Book serves up a big, irresistible slice of American culinary life. It brings the past alive, explores our roots, delights, and invites participation. It makes it possible not only to remember our sweet treats and good times fondly, but to step into the kitchen and recreate them for ourselves. And it lets us share our American sweets heritage with our children and pass on our best desserts to future generations.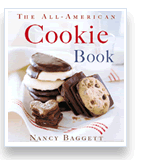 The All-American Cookie Book
Nancy Baggett's, The All-American Cookie Book, can be purchased in bookstores everywhere or online. It has been enthusiastically received by critics and home cooks alike, and there are now more than 125,000 copies in print. For comments of the critics, click on Reviews. For a nifty cookie decorating idea from the book, go to Nifty Stuff.
In creating The All-American Cookie Book, Nancy Baggett crisscrossed the nation searching out great cookie recipes, then sure-handedly reworked every one in her own kitchen. This beautiful, 400-page, full-color cookbook (with over 50 glorious photos throughout) celebrates modern and heirloom gems from every corner of the country: Pennsylvania Dutch Soft Sugar Cookies, New York Black and Whites, Florida Key Lime Frosties, and Seattle Mocha Espresso Wafers to name just a few. The collection also features both devastatingly delicious contemporary creations like Chewy Chocolate Chunk Monster Cookies and Cranberry-Cherry Icebox Ribbons, and homespun classics like Chocolate Whoopie Pies, Caramel Apple Crumb Bars, Molasses Applesaucers and a charming1796 Christmas cookie. For children and adults alike, one of the most exciting chapters is the lavishly illustrated "Cookie Decorating and Crafts," which includes everything from simple projects like colorful holiday cookies and Chocolate Gingerbread Bears to a festive "snow covered" gingerbread cottage. Along with the recipes, Nancy tells the story of America's cookie baking heritage and slips in fascinating bits of culinary history and lore.
THE INTERNATIONAL
COOKIE COOKBOOK

This big, handsome book contains 150 wonderful cookies from Jam-Filled Shorties and Fudge Brownies to Butter Spritz and Viennese Almond Crescents. Also there are interesting bits of lore, cookie-making tips, plans for an authentic German cookie house and 50 gorgeous color photos in this beautiful 240-page best seller. "Tempting and impressive," says The Christian Science Monitor. "A richly comprehensive sampling," says Publishers Weekly.
Stewart, Tabori & Chang, Trade Paper 1993 Praise for The International Cookie Cookbook:"I borrowed this book from the library at Christmas time and renewed it 3 times! Well, those 12 weeks just weren't enough. …I had to own this wonderful book. My husband said, "Go and buy it"! (He loves to eat cookies, who doesn't.) I found many new cookie recipes to try from the USA, Canada, Latin America, The British Isles, Scandinavia, All of Europe (3 chapters) and the Middle East, etc. There are BEAUTIFUL photographs. Indexed too!" Suzy R (thecookiebaker @furryfarm.com)
"The best Christmas stocking stuffer. Excellent cookie recipes (that work). Old and new favorites for year round." cltoyou@aol.com Atlanta, Georgia
This is the first cookie book elegant enough to give as a special gift, a beautiful coffee table book—but also a reliable collection of tested recipes."World of Cookbooks

DREAM DESSERTS:
LUSCIOUS, LOW-FAT RECIPESBeautifully designed book featuring 85 fine-quality recipes and 25 gorgeous color photos. Recipes include cinnamon coffee cake, fudge bundt cake, lemon tart, chocolate chip cookies, etc., plus helpful tips on creating light, yet luscious desserts. Excerpted in Ladies' Home Journal.
Stewart, Tabori & Chang, Hard Cover, 1993.
"The moment I heard about Dream Desserts, I wanted it. Now I've read it and I love it. This is one of those books that's kept in the kitchen and gets covered in spots…." Graham Kerr, TV Chef
"I've made many desserts from this book and people always love them. This book proves that you really can make good lowfat desserts. Dream Dessertsalso has beautiful photographs of the recipes and would make a great gift book." Dieter with a Sweet Tooth
"Dream Desserts is filled with recipes that taste terrific, look sensational, are easy to make and best of all, taste fattening. …. This book lives up to Nancy's reputation." Marlene Sorosky, author of The Dessert Lover's Cookbook"Nancy Baggett has succeeded the high-fat way, can she repeat her success on the low-fat route? The answer is yes!" Eating Well Magazine
Other Cookbooks by Nancy Baggett

100% PLEASURE:
THE LOW FAT COOKBOOK FOR
PEOPLE WHO LOVE TO EAT
From appetizers, main dishes, soups, salads, side dishes and desserts, a 200-plus recipe book with more than 75 pages of tips, menus and charts, 65 color photos and recipe nutritional analysis.
Chosen one of 1994's Best Cookbooks by USA Today, which praised its "… mouth- watering sampling of healthful recipes."
Rodale Press, Trade Paper, 1996 Rodale order: 1-800-848-4735
Praise for 100% Pleasure:
"I bought this book because I didn't know where to start with low fat cooking, and the other reviews were very favorable. What a find! The six or seven dishes we've already tried have been very tasty, and not too difficult to prepare. I was surprised to find that low fat dishes can actually taste good. Great photos, good info and a wide variety to select from." Greg Olson, Oregon"The recipes in 100% Pleasure are well-tested (an anomaly these days) and well explained…. The wonderful thing about these recipes is that they're seasoned. There is real flavor—making cooking and eating a 100% pleasurable experience." The Cook's Bookshop Newsletter
"I have made meals and baked desserts from this book on many occasions, and have always received compliments. This book proves that low fat cooking doesn't have to mean no flavor and no fun." lisad@put.com New York
"Making the move to low-fat cooking has been painful. So I was thrilled to discover a book with great recipes you would never dream were low-fat." Sterling Hill, Internet Diet-Food Newsgroup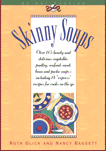 SKINNY SOUPS
Co-authored by Nancy, this popular book (50,000 copies sold) contains 115 well-tested recipes for delicious reduced-fat soups. From fancy recipes like crab bisque to quick like chunky chicken and pasta, from hearty like split pea and ham, and beefy vegetable to unusual like spicy apple-wine soup. Includes a chapter of "express" recipes for cooks in a hurry.
Full nutritional analysis of recipes included.Surrey Books, Trade Paper, Second edition, 1997. Surrey order: 1-800-326-4430
Praise for Skinny Soups:
"Skinny Soups by Ruth Glick and Nancy Baggett is possibly the best lowcal cookbook ever written. I love soup and thought the recipes in this book were fabulous. Each soup I made was delicious, spicy and yet very easy to make. I have been making soups each week from this book for the last 3 months. … Ruth Glick and Nancy Baggett have a award winning cookbook. I am purchasing several copies to give as gifts." kevans@crocker.com Rowe, Massachusetts
"… an excellent job of trimming the fat and calories without losing the thick, rich texture and full-bodied flavor of traditional soups. All (recipes) received ratings from 'real good' to excellent." Diabetes Forecast Magazine
"… Instructions are easy and clear. … soups are delicious … economical, nutritious." Tufts University Diet & Nutrition Letter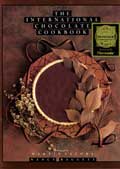 THE INTERNATIONAL
CHOCOLATE COOKBOOK
Large (288 pages), lavish coffee-table book filled with 150 of the world's best chocolate recipes including cakes, cookies, candies, pies and tortes, plus 50 superb color photos and directions for creating a miniature Swiss chocolate chalet. Awarded 1991 Best Book—Baking and Desserts by the International Association of Culinary Professionals.
"A stupendous book," raves Booklist.
Stewart,Tabori & Chang, Hard Cover, 1991, Trade Paper 1993
Praise for The International Chocolate Cookbook:
"The International Chocolate Cookbook has many wonderful recipes that will appeal to the chocoholic and the 'normal' audience. Complex techniques are carefully explained, step by step, with hints to understand WHY the chef needs to follow these directions. I particularly love the creative ways to use chocolate suggested by the author. She details how to make boxes, 'birds nests', leaves, small bowls, and more – all out of chocolate. To add to the enjoyment, the author gives descriptions about where the dessert comes from and what makes it so appealing. The pictures are stunning, and are part of what convinced me to buy the book originally. I strongly recommend it to anyone looking for a cookbook to guide them through the complex world of chocolate." A Chocolate Lover
"Chocolaphiles should make room on their shelves for this voluptuous volume. The oversize cookbook literally dazzles…. …The range is unusually broad."Publishers Weekly"… this glorious volume may be among the highest tributes ever paid to chocolate. The clincher—a miniature Swiss chocolate chalet." Country InnsMagazine