One vivid memory I have of my paternal grandmother's house was her kitchen drawers stuffed with recycled string, rubber bands, and paper bags. She'd grown up in the Depression, and was a ferocious advocate for the "waste not, want not" rule. Which is how I came to write this blog entry about homemade candied citrus peel.
My hubby and I had gotten a big box of Florida red grapefruits for Christmas. The leftover peels were piling up, but, remembering that my grandmother had turned hers into candy, I couldn't allow myself to pitch them out.
I was also expecting dinner guests, including my gluten-free daughter-in-law. Candied grapefruit peel and orange strips dipped in chocolate seemed like a lovely dessert tray treat she could enjoy along with the rest of us. (The candies in the middle were squares of pear pate de fruit I enrobed in pure chocolate, so they were gluten-free, too.)
I'd  actually learned to make candied orange and grapefruit peels in pastry school, but wanted to see if I could speed up and simplify the task. The classic method called for nearly a week of futzing around—but this one requires cutting, boiling and candying the peels one day, letting them dry overnight, and then rolling them in sugar the next day. (And they're just as good as those prepared the dithery, old-fashioned way.)
Candying citrus peel is still not super quick, but it's easy. And since the homemade tastes so-o-o much better than store-bought I definitely think it's worth the trouble. In addition to serving the pieces like candy (to rave reviews), I chopped some leftover orange peel strips and added them to a cranberry cookie calling for candied diced orange peel—the results were amazing! Plus, I was astonished at how much more color the homemade peels have. As the pics show, the homemade strips (ruby red grapefruit on the left, orange on the right) look gorgeous at every stage of preparation.
BTW, the peels make an excellent gift, especially for someone who needs to go gluten- or fat-free. (For an array of other nice kitchen gifts, go here.)
Candied Ruby Red Grapefruit or Orange Peel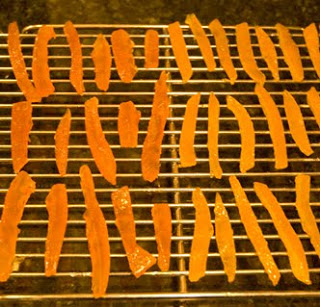 My grandmother only candied regular white-fleshed grapefruit; pink ones were rarely seen in her day. The ruby red peels come out much prettier, so if you have a choice, use them. Note that although you must remove the orange and grapefruit flesh from the peels, you don't need to scrape away the white pithy layer. Its natural bitterness is removed by boiling the strips in several changes of water before candying.
I've seen recipes that suggest combining the two kinds of peel in one batch, but I like to prepare each separately. Otherwise, the flavors of the fruits mingle and the unique appeal of each is diminished.
Optional step: If you wish to dip one end of the strips in chocolate as shown in the pic at the top, chill the finished strips in the refrigerator while melting chopped some semi-sweet or bittersweet chocolate in a microwave-safe bowl on 50 percent power. (If the chocolate needs to be thinner, stir in a couple teaspoons of corn or canola oil; never stir in water.) Stop and stir every 30 seconds until the chocolate is mostly melted, then just stir until completely melted and almost cool to the touch. Dip the strips in, shaking and scraping off the excess chocolate, then lay them, separated, on a foil-lined tray. Immediately place in the refrigerator to set the chocolate. To keep the chocolate firm and maintain its glossy appearance, store the dipped strips in the refrigerator when they aren't being served.
Tip: The candied peels dry most quickly when the humidity is low.

Homemade Candied Citrus Peel
Ingredients
2½ to 3 cups 2- to 4-inch long and ¼-inch wide fresh red or pink grapefruit peel strips
1½ cups granulated sugar
2 tablespoon light corn syrup
About ½ to ⅔ cups super-fine granulated sugar (or regular granulated sugar finely processed in a food processor)
Instructions
Combine the strips in a large, heavy non-reactive saucepan or pot with 1 quart of water. Bring to a boil over medium-high heat. Adjust the heat so the strips boil gently; cook, uncovered, for 10 minutes. Pour out the strips into a colander, then rinse them under warm water. Repeat the same process four more times, boiling them in fresh water each time. Rinse the strips a final time; let stand to drain.
In a heavy, non-reactive 2-quart saucepan combine the granulated sugar, corn syrup, and 1¼ cups water. Cook over medium heat, stirring, until the sugar dissolves and the syrup comes to a boil. Add the peels; bring back to a boil, then adjust the heat until the mixture boils gently. Cook, stirring occasionally, for about 15 to 25 minutes, or until the liquid has boiled down to about 1½ tablespoons and the strips are thickly coated with syrup. (Cooking will go faster in a wide-bottomed pan, due to faster evaporation.) Watch carefully at the end to avoid scorching. Remove from the heat. Let stand until cooled to barely warm.
Lay the strips, separated, on a wire rack set over paper (to catch drips). Let stand at least 12 hours, or until just slightly sticky to the touch. Roll them on all sides in super-fine granulated sugar. If the peels inadvertently dried too much and the sugar doesn't stick, wet your hands lightly and rub a little moisture on the strips (or use a pastry brush very lightly dipped in water), then continue. Let the sugared strips stand a few minutes, then pack them airtight along with a little leftover super-fine sugar. They will keep, airtight and at room temperature, for up to 2 weeks or frozen, airtight, for up to 6 months.