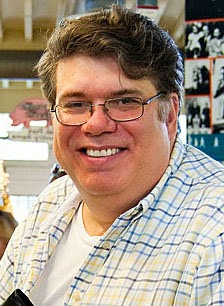 Recently I participated in a workshop called "Culinary Blogging 101" at the DC Les Dames d'Escoffier Seventh Salute to Gastronomy. I was excited to be there along with two other great bloggers and speakers, David Leite (left) and Monica Bhide.
I originally planned to post a handout of handy hotlinks for the session attendees. But the response to our presentation was so enthusiastic and the interest so high, I decided to recap my talk for anyone who might be considering plunging into the food blogging pool. Here are both my Powerpoint highlights and tips, as well as the hotlinks that may help you on your way to fame and fortune as a food blogger. Bon Appetit! (For more tips, see my post on Life's a Feast blogger Jamie Schler who generously shares her secrets to success.)
What You Need to Get Started Blogging
>A Keyword-Rich Domain Name
>An Effective Tag Line such as:
Leites Culinaria: Hot Food, Dry Wit
Kitchenlane: Where Food, Friends, & Fond Memories Meet
>A Nice Logo
>An Attractive Blog Design (unless you're a tech-geek hire a designer)
How Do You Get a Keyword-Rich Domain Name?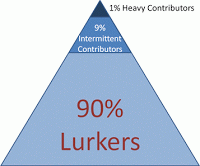 Go to the Google Adwords Keyword Tool. If you need help figuring out how to use it, check this great tutorial at: youtube here .
Understand the 90-9-1 Traffic Rule:
Of those visiting your blog, 90% will be "lurkers," 9% will comment occasionally, 1% will comment often.
For more info on this rule check out: http://www.useit.com/alertbox/participation_inequality.html
>To track your traffic (and learn from it) install traffic monitoring software, such as Google Analytics.
>To encourage blog comments, never make visitors register before commenting. Plus check the following link on increasing comments @ problogger here.
Culinary Blog Text Content
Always credit material borrowed from others (provide hotlinks if available).
>Recipes (always tested, always with intros).
>Culinary how-tos, techniques, dos & don't.
>Personal musings, comentaries, rants (if that suits your particular blog).
>Anything with a killer headline (must deliver on the promise, though).
>Favorites/Best-of Lists, Reviews
>Revisit your most popular topics with new info/takes.
Visual Content–Food Pics
>Shoot with a good DSLR (digital single lens reflex) camera.
>Shoot food in natural light.
>Keep compositions simple.
>Use a tripod. Learn to shoot tethered.
>Look at and learn from good food photography and food styling.
Things to Remember
Some tips borrowed from David Lebovitz @ http://www.davidlebovitz.com/
>It's a Big Time Commitment.
>Blogging Isn't Just You Writing–It's a Conversation. (Sort of; see next point.)
>Good Writing is like Good Broth—Strong, Clear, Concentrated.
>Don't Assume That When You Jump In the Pool, You're Gonna Make a Big Splash.
>Don't Start, Then Stop. Then Start, Then Stop.
>Like Good Wine, A Good Blog Takes Time.
>You're in a Community; Support/Interact with other Food Bloggers
Protocols, Rules & Regs
>Don't ask for link exchanges with other bloggers (unless they're close friends).
>Do leave comments (especially thoughtful ones) on other blogs you like.
>Don't leave your URL or link to your blog every time you comment; it's seen as self-serving.
>Do post a blog roll of sites you like on your blog.
>Fully Credit use of text & recipes of others.
>Must Disclose if you were given products endorsed.
>Must Disclose being paid for an endorsement.
Sources of Info on Blogging Basics
"How to Blog 101" has array of great topics/lots of links here.
This experienced blogger gives you 100 tips on how to be better at it here.
Some food styling and photo shooting tips are here and here.
Tips on getting your work published–see foodbloggersunite.com here.