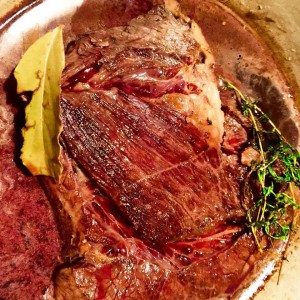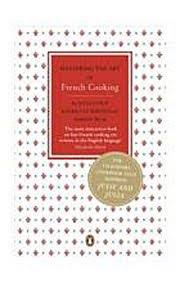 I wasn't hungry when I went to see Julie and Julia. Nor was I planning to run home, grab my well-used, personally autographed copy of Mastering the Art of French Cooking, and start cooking French food!  But that's what I did!If you're curious about whether the movie Julia was like the Julia I remembered, the answer is yes. She was smart, determined, and demanding of herself, yet always kind to others. I'll never forget that when we happened to be seated next to me at one of my first book signings, she picked up my book and seemed to look through it carefully. "It's lovely," she said in her usual lilting voice, "you must be sooo proud." For more details of how I remember Julia, click here.
The movie reminded me of how wonderful the recipes in Julia's landmark cookbook were. Like the Julie Powell character, I'd worked my way through the first volume of Julia Child's Mastering the Art of French Cooking—though I'd spent several years at it and long before anybody ever blogged or heard of e-mail. At the time I hadn't yet gone to pastry school, and I was just beginning to write articles about food. I aspired (surprise!) to write cookbooks someday.
Julia's masterwork taught me loads about French cooking, of course, but, by example, it served up even more priceless information on how to write a cookbook. All the recipes included generous, substantive, truly helpful introductions: They explained the particular role of the dish in French cuisine, detailed any unusual steps, and even suggested substitute ingredients and serving and storage options. It was as if Julia were actually there in my kitchen guiding me along.
Besides that, every single recipe I ever tried from Mastering the Art of French Cooking worked perfectly. Dishes that were completely beyond my cooking experience at that time were so clearly written I could always follow them and succeed. And I came to trust that the finished dishes would taste good—Julia and her co-authors had excellent palates and a well-honed sense of what their readers would enjoy.
As I later learned from others in the cookbook business, the fact that the recipes in the book worked beautifully was no accident. Here's what Julia had to say about the arduous process of devising just one recipe, the French bread that appears in Volume II. "Two years and some 284 pounds of flour later, we had [unsuccessfully] tried out all the home-style recipes for French bread we could find…" Eventually, after her husband, Paul, attempted 60 more loaves, Julia's long-time editor at Knopf, Judith Jones, says they packed up American flour, yeast, and salt, and went to Paris. There, France's foremost bread expert, Professor Raymond Calvel, finally provided the information they needed to create a creditable recipe.
At a culinary conference some years later, Julia actually summed up her approach to writing and testing recipes, a method which I've used myself and have passed along to aspiring authors ever since. "Test and hone every recipe as if it's the one the most critical reviewer around decides to make and judge your entire body of work on." I've never heard better advice for keeping your personal standards high and serving your readers well.
The Julia and Julia movie made me crave the slow-simmered boeuf bourguignon from Mastering the Art of French Cooking. But when I got home I decided I didn't want to just slavishly imitate another cook, even if it was Julia Child. So, I decided to create a beef pot roast instead of a stew. To lighten up my dish, I skipped the bacon, and substituted for it with extra thyme. I also simplified here and there, leaving out the mushrooms sautéed in butter and roasting the onions (as well as other veggies) rather than braising them in stock.
The result was this pot roast a la Julia, which my husband proclaims the best he's ever eaten.  (I'd be happy to have the caliber my work judged by it, too!)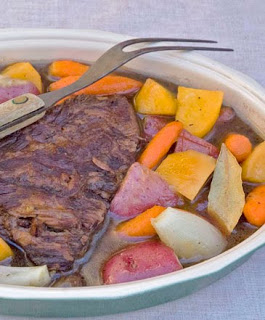 Hearty Beef Pot Roast a la Julia Child's Boeuf Bourguignon
In my opinion, this is cool weather comfort food at its best. During several hours of gentle oven braising in red wine and herbs, the chuck roast becomes tender, succulent and infused with flavor, And it permeates the air with a glorious scent.
Unlike typical American beef pot roast recipes, this one calls for a classic French technique that has served me well since I learned it from Julia–adding some beef bones to the pot to "beef" up the broth. The beef bones are oven-roasted first, which further enriches the flavor of the final dish. The step is fairly effortless, and I think nicely doctors the not-so-hot canned beef broth that's usually around.
Serve the stew with a green salad and bread. French bread, is fine, of course, but if you're in the mood for homemade bread, check out my sample recipes from Kneadlessly Simple in my recipe archives. Or if you are in the mood for something sweet to end your meal, I've got a great recipe for apple cake in my latest newsletter, here; if you'd like to sign up for my free newsletter here, you'll be sure not to miss the future exclusive recipes I provide my readers.
2 1/2 pounds boneless beef chuck roast, trimmed of excess fat
Salt and freshly ground black pepper
About 1 tablespoon all-purpose white flour
About 5 tablespoons olive oil or other vegetable oil, divided
2 cups full-bodied dry red wine
2 teaspoons dried thyme leaves
1 large bay leaf
2 to 3 pounds beef bones, preferably marrow bones
About 3 1/2 cups canned beef broth, preferably low-sodium
9 to 10 cups 1 1/4-inch chunks or lengths mixed vegetables, such as unpeeled red bliss potatoes, carrots, onions, rutabaga, parsnips, and celery
Preheat the oven to 400 degrees F. Pat the roast dry with paper towels. Sprinkle with salt, pepper, and lightly pat with flour on both sides. In a 4- to 6-quart Dutch oven or similar heavy stove-top and oven-proof pot, heat 1 1/2 tablespoons olive oil to hot but not smoking. Add the beef to the pot and brown, turning several times, until well browned on both sides. add a little more oil if necessary to prevent burning.
Add the wine, 3 cups beef broth, thyme, and bay leaf to the Dutch oven. Bring to a boil. Cover tightly. Transfer to the center oven rack. Reduce the heat to 375 degrees F. Braise for 2 1/2 to 3 hours, or until the beef is tender when pierced in the center with a fork.
Meanwhile, in a medium-large roasting pan, stir the beef bones with 1 1/2 tablespoons oil until coated. Roast the bones for 1 hour, or until very well browned. Discard the fat. Transfer the beef bones to the Dutch oven. Add the remaining 1/2 cup beef broth to the roasting pan. Using a wooden spoon, scrape up the browned bits from the bottom, then add the mixture to the Dutch oven. Continue cooking the roast, tightly covered.
Meanwhile, stir together the vegetables, 1 1/2 tablespoons oil, and salt and pepper to taste in the roasting pan previously used. Roast, stirring occasionally, 50 to 60 minutes, or until the vegetables are just tender when tested with a fork. Set aside.
When the pot roast is tender, arrange it and the vegetables in a large, deep, heat-proof serving dish or platter. Cover and return to the oven to stay warm. If the broth has not reduced to 3 cups or less, return the Dutch oven to the burner over medium-high heat. Cook briskly, uncovered, until the broth reduces to about 3 cups. (If the broth already measures less than 2 cups, add about 1/2 cup more canned beef broth or water to it.) Discard the bones. Place the broth in a 4-cup measure; let stand until the fat rises to the surface. Skim or pour off the fat. Pour the de-fatted broth over the pot roast and vegetables (reheat the broth to hot first, if necessary) and serve. The pot roast is also excellent reheated. It will keep, refrigerated, for up to 4 days. Makes 5 or 6 servings.
Another hearty, considerably quicker one-pot meal you may like, my kielbasa and veggie stew.