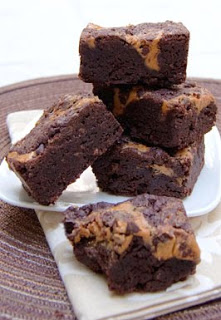 My heart always sinks when somebody says, "I made your recipe, but I didn't have all the ingredients so I substituted some things…." Like the anguished screamer in the famous (and disturbing) Edvard Munch image, I want to hold my head and run away. Only instead of suffering inexplicable existential angst, I'm crying, "No, no, just make it the way the recipe says!"
I'm particularly horrified to hear about substitutions in baked goods, because their chemistry is complex and even small, seemingly appropriate changes can cause big trouble. For example, swapping unsweetened cocoa powder for the unsweetened chocolate called in the following brownie recipe might seem harmless, but this step could turn the bars dust-bowl dry and bland. Why? Because cocoa powder contains far less cocoa butter than unsweetened chocolate, and this fat helps smooth the crumb, enhance the sense of creaminess (what scientists call mouth-feel), and carry certain fat-soluble flavor elements to the nose.
Despite my own intense aversion to people taking liberties with my recipes, I now have to admit to the Gluten-Free-Girl, Shauna James Ahern, that I have committed this very sin against her. Please, Shauna, don't run screaming from the room. I'm a professional, so I was able to modify the chocolate-peanut butter brownies in your new book without screwing then up—I promise! (But folks, please don't try this at home.)
First, I didn't have either gluten-free oat flour or sweet rice flour, so I substituted a home-made gluten-free flour blend I keep on hand to make baked goods for my g-f daughter-in-law. In fact, my mix contains mostly gluten-free oats ground into flour, plus white and brown rice flours, so it really is comparable to what Shauna called for. Really!
I also happened to have some gluten-free mini chocolate morsels hanging around, so I threw in a half cup of those. Now, the Gluten-Free girl's brownie batter was already dark, rich, and bittersweet, but I think my addition made the bars even more fudgey. You can add them, or leave them out, as desired.
As you can see from the pic, the brownies look as moist and succulent as good "regular" brownies made with white wheat flour. And since Shauna cleverly called for sifting the oat-rice flour mixture though a fine sieve to remove any large particles, the bars have none of the slight grittiness that sometimes gives away gluten-free goodies. (It's a step I plan to use whenever I bake g-f from now on.)
I think Shauna's brownies are going to seem like really tempting, normal brownies to everybody, not just to gluten-free eaters. I've made my share of "glutenless" sweet treats, and my goal is always to create ones that will "pass" with regular eaters. I'm pretty sure these will. They absolutely thrilled my g-f daughter-in-law! (BTW, if you aren't concerned about gluten, but worry about too much fat and cholesterol, my Better for You Chocolate Brownies might be just the recipe you're looking for.)Actually, I chose to make one of the handful of baked goods from Gluten-Free Girl and the Chef precisely because I know how highly gluten-free folks prize such recipes, and how rare it is to find truly tempting ones. Since Shauna succeeded with the trickiest assignment, baking, I'm betting her array of stylish soups, salads, entrees, and sides are going to pass with flying colors, too.
I can't say that I'm surprised that these brownies were successful, because when I met Shauna and Daniel (and their beautiful baby daughter, Lucy) at a blogging conference several weeks ago, Shauna emphasized that she had worked really hard on developing and testing the recipes in her new book. Disclosure: Shauna and I have the same editor at Wiley, and Wiley sent me a free review copy.
Bloggers and readers who have followed the love story of Shauna and Daniel will enjoy learning more about their life together in this new combination memoir and cookbook. They will also find a nice assortment of dishes—from Warm Polenta with Goat Cheese and Chicken Stew with Pistou Manchego to Gluten-Free Crackers and Berry Pancakes—to make it possible both to go gluten-free and eat well.
Gluten-Free Girl's Chocolate-Peanut Brownies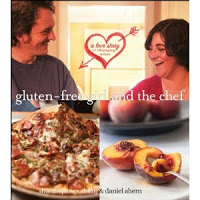 Besides adding in some gluten-free chocolate mini-morsel, I also modified a couple of other things in this recipe. (Don't cringe, Shauna!) I used an alternative method of melting the butter and chocolate that I've found always works well for me. And I started by lining the baking pan with aluminum foil rather than dusting it with flour. This means that the baked and cooled brownie slab can be lifted out to a cutting board and much more easily trimmed and cut into tidy-looking bars.
Although the peanut butter makes a pleasant addition, if you must avoid peanut products, I see no reason you can't leave it out. 8 tablespoons (1 stick) unsalted butter, cut into chunks4 ounces unsweetened chocolate, coarsely broken or chopped 1/3 cup oat flour (ground from certified gluten-free oats) (40 grams/ 1.4 oz)1/3 cup sweet rice flour 1 teaspoon zanthan gum1 teaspoon baking powder1/2 teaspoon salt1 cup granulated sugar2 large eggs, at room temperature
1 teaspoon vanilla extract1/2 cup gluten-free semisweet chocolate mini-morsels, optional4 tablespoons peanut butter, at room temperaturePreheat the oven to 350 degrees F. Line an 8-inch square pan with a large square of aluminum foil, allowing it to overhang slightly on two opposing sides.Melt the butter and chocolate in a metal bowl set over a pot of gently boiling water, stirring occasionally. (Or, alternatively, melt the butter in a heavy medium saucepan over low heat, stirring occasionally, until fluid. Add the chocolate and stir until melted and smoothly incorporated.) Remove from the heat; stir in the sugar until evenly incorporated into the chocolate mixture. Set aside until cooled to barely warm.Stir the oat and rice flours through a fine sieve into a large bowl, discarding the coarse bits that did not pass through. Stir the xanthan gum, baking powder, and salt into the flour mixture until evenly incorporated. Whisk the eggs, then the vanilla, into the cooled chocolate mixture until very smooth and glossy. Stir the chocolate mixture into the dry mixture just until well blended. Fold in the chocolate morsels, if using.
Turn out the batter into the foil-lined pan, spreading out until evenly thick all over. If using the peanut butter, dollop it over the batter surface. Using a greased table knife held vertically, swirl the peanut butter into the batter. Then smooth out the top with the knife.Bake, middle rack, until a toothpick inserted in the center comes out clean, about 23 to 26 minutes; if the pick comes out with wet batter clinging to it, continue several minutes longer, then check again. Continue, checking until just barely baked through, then set the pan on a rack to cool completely. For easiest cutting, refrigerate the brownies until chilled and firm. Lift them from the pan to a cutting board using the foil. Gently peel off and discard the foil. Trim away the brownie edges all the way around, then cut the slab into thirds in one direction and quarters in the other direction to make 12 brownies. Or cut them as desired.