Since I spend so much time playing around with recipes in my kitchen, casual acquaintances often imagine that I always fix fabulous meals. I hope you aren't bitterly disappointed to hear this, but I don't!
Sometimes, I'm just so involved testing one kind of recipe–like the 75 breads in my
Kneadlessly Simple
cookbook, or 150 desserts for my
All-American Dessert Book
–that I'm too busy to think about what's for dinner until it's nearly time to eat. And often, what I've been making that day–say three kinds of chocolate truffles– just won't do for dinner!Even when I'm working on entrees and other savory dishes, they aren't necessarily what a family might want or expect to be served Recently, in the depths of January, I was making and, out of desperation, serving my hubby some light, "refreshing" summer dishes that will appear a feature that will run in
Eating WelI
magazine in a few months. He was a good sport about it, but frankly it's really hard to muster enthusiasm for even a very tasty chilled soup and zesty salad supper when the wind chill is minus 2 F outside. (That meal actually cooled me off so much my teeth chattered and I had to put on an extra sweater!)This is one of those recipes I turn to when my counter tops are loaded with a day's worth of candies, cookies or other sweet treats, but dinner has to be on the table pronto. I should add that for health reasons, I really try to cook low-fat, nutritious meals, and since this one features lean chicken, beans , and instant brown rice, it fills that bill. (My hubby actually had to have scary heart surgery, which I blogged about
here
.)
Note that even though bottled picante sauces and salsas area wonderfully convenient way to quickly zip up dishes, they are high in sodium. So I don't add any extra salt to the recipe. Rinsing off the beans before using them also helps lower the sodium content.
The dish not only goes together quickly, but total cooking time is short. Carrot and celery sticks or a simple salad and perhaps a fruit dish or bread can round out the meal.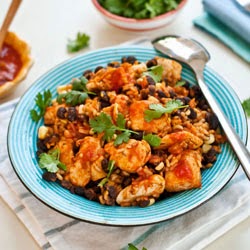 Tip: For even quicker preparation, substitute a time-saver package of cubed chicken breast meat for the breast halves. And to boost fiber, use instant brown rice; it's a very convenient "healthy" whole grain product.
1 tablespoon olive oil or canola oil
1 pound boneless, skinless chicken breast halves, cut into 1 inch cubes
1/2 teaspoon dried thyme leaves
1/2 cup mild or medium-hot bottled picante sauce or salsa
3/4 cup (uncooked) "instant" (or "5 minute") brown or white rice
2/3 cup reduced-sodium chicken broth or water
1 can (14-15 ounces) black beans, well rinsed and drained
2/3 cup frozen (thawed) corn, rinsed and drained, optional
Black pepper to taste, optional
Chopped fresh cilantro or parsley leaves, optional
In a 12-inch nonstick skillet over high heat, combine the oil, chicken and thyme leaves. Cook, stirring, 3 or 4 minutes, until chicken pieces begin to brown. Stir in the picante sauce or salsa, adjusting heat so mixture simmers gently; cook 3 minutes longer. Add rice, broth (or water), beans, and the corn, if using. Let return to a simmer.
Continue simmering gently, covered, for 8 to 10 minutes, until the chicken and rice are just cooked through. (Brown rice will take a little longer than white.) Fluff with a fork before serving. Season with pepper, if desired. Garnish with a little more salsa and chopped cilantro or parsley leaves, if desired. You can serve extra salsa at the table, but probably shouldn't if you're trying to lower your family's sodium intake.
Makes 4 servings.
For another dinner-in-a-hurry idea, check out my chicken curry, here.