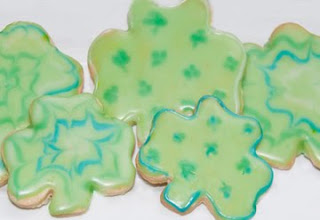 You may already know from previous posts that I'm a doting grandmother of two amazing grandchildren. Among the special little gifts I love to give to my favorite two youngsters are hand-decorated sugar cookies. I create them to give out at every holiday and special event. With St. Patrick's Day coming next, I've already readied my cookies and purchased cards. (Often I also usually make Irish soda bread; my favorite recipe is
here.
)
For Valentine's Day, I wrote a post about a decorating technique called marbling that I used to create pretty heart-shaped designs on cookies. Here, I've taken that same method in a different direction to decorate some St. Patrick's Day cookies. As you can see (above left), I've swirled and marbled several contrasting icing colors to creates attractive geometric designs on some cookies. On other cookies, I've just added little triads of dots, producing the look of simple shamrocks.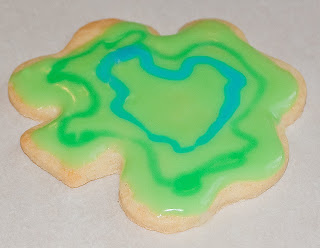 I always start by making and baking the sugar cookies ahead. Next, I ready a batch of fairly fluid powdered sugar icing or royal icing, then divide it among smaller bowls and create at least two and preferably three or four contrasting, complementary colors. (The background color needs to be a bit lighter than the others so the accenting designs will show up.) I lay out the cookies, a spreading knife, some toothpicks, paper towels and a plastic mat or sheet of parchment to serve as a work surface. Finally, I put the accenting colors in small pastry bags filtted with fine writing tips or in paper piping cones, or in sturdy baggies with a very small hole cut into one corner.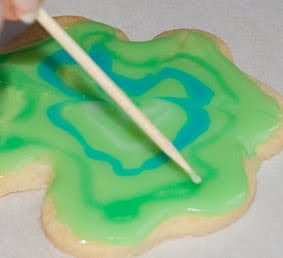 Working quickly, I spread the icing over a cookie, then immediately pipe the accenting icing or group of icings over top. For the swirled patterns, I pipe lines as shown in the pics–the idea is just to follow the general outline of the cookie itself, though this obviously doesn't have to be exact.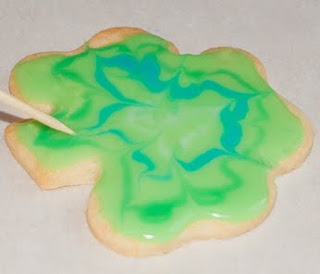 Next, using a toothpick, I start marbling, either by drawing the tip from the perimeter in toward the center, or vice-versa; it looks most interesting to marble in both directions.For the cookies with little shamrocks (see the center cookie below) I simply add three dots of icing spaced close together. Sometimes I create stems by drawing a pick from the center through the space between two of the dots, but "stemless" shamrocks look fine, too. Since the icing flows a little differently each time, every cookie is unique. As necessary, I wipe any icing build-up from the toothpick. Sometimes I also pipe a border around the outside of cookies–this is completely optional.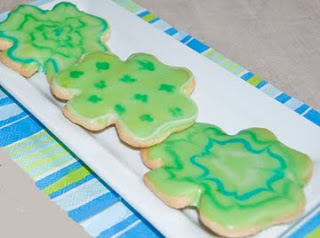 Finally I let the icings set up completely. Since they are fairly wet and soft, I let the cookies stand at least five or six hours before packing them away. Little individual plastic or cellophane bags tied with–of course!–green ribbon lend a festive look to the gifts.
PS. I've already given my grandkids a few of the cookies. Yes, they were a hit!
Click here to see some other cookie decorating methods.