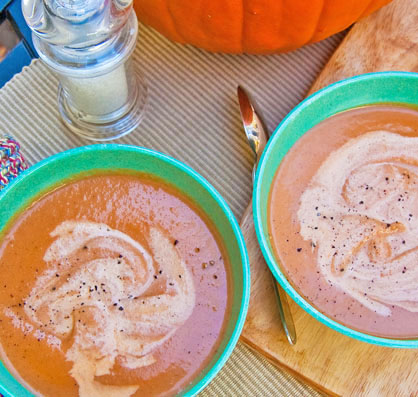 Perhaps it's the current economic downturn, or a heightened environmental awareness. Or maybe I'm just starting to turn into my paternal grandmother, whom I adored, but prefer not to become! At any rate, lately I'm showing signs of following in her slightly fanatical recycler footsteps.
Grandma was a staunch, uncompromising believer in "waste not, want not," compulsively saving all little paper sacks, pieces of string, and rubber bands—which nobody, even mild-mannered Grandpop, dared point out had mostly rotted and become useless from age. My stern yet doting grandmother was also convinced that wasting food was a sin: Anyone who left sandwich crusts on the plate at her house was scolded, and she carefully saved all bread heels and crumbs to feed the ducks during our delightful daily walks in the nearby park. Actually, I never saw her throw away any food.
Let me admit here that on several occasions my hubby has insisted that we toss out the jumble of cardboard boxes stashed in the garage in case I "have to send somebody something," and that at this very moment I have a huge bag full of recycled clean plastic salad containers out there ready to store leftovers, gloves, shoes, etc. (Does anybody else find it ironic, even discomforting that all those "natural, organic" greens come packed in totally environmentally unfriendly, non-biodegradable plastic boxes?)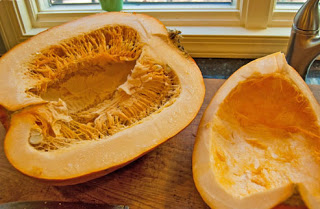 But to get to the point, I decided not to let the three Halloween pumpkins just languish on our stoop this year. Some precious natural resources, not to mention a farmer's sweat equity, went into growing them, so it seemed right to consider them food. Probably if I'd formulated this notion ahead, I'd have bought smaller ones. Their total weight of over 25 pounds is now causing the nonsensical "Peter, Peter, pumpkin eater," nursery rhyme to reverberate in my brain.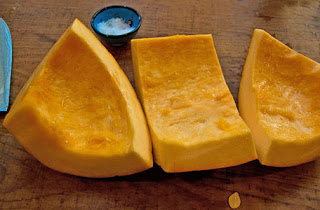 So far, I've tackled the largest—a thirteen pounder—and am speeding ahead. After scraping out the seeds and loose pulp and brushing the interiors with oil or butter, I broiled one quarter, roasted one quarter, and in two batches nuked the other half. Both the roasting (at 450 degrees F) and the microwaving worked fine, but I don't recommend broiling because it added nothing to the flavor and turned the skin dry and tough. We first ate some of the cut-up cubes of cooked flesh simply buttered and salted. They were tender and succulent, but, frankly, bland to the point that we couldn't face eating large quantities fixed that way.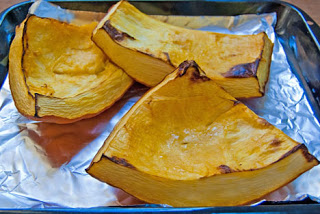 But the alternative dish, a pumpkin-tomato bisque has been—I have to say it—a smashing success. So far, I've made two batches, and am eagerly looking forward to the next pot. It's healthful, filling, easy, economical, and, oh yes, tastes really good. It can be gussied up for a dinner party or served for the most humble lunch. Readied with vegetable broth, it is suitable for vegetarians.
So, thirteen pounds down, and twelve to go– into pumpkin pies, more batches of bisque, or possibly pumpkin drop cookies with cream cheese frosting. Grandma would be very proud.
How about you? Are you more of a recycler or more environmentally conscious than you used to be? Does all that plastic food packaging, especially on organic products, bother you? Do let me know.
Pumpkin-Tomato Bisque
I imagine that if you wanted to substitute plain canned pumpkin, you could; probably 2 1/2 to 3 cups would be needed. But since my goal was to provide a way to use up fresh leftover Halloween pumpkins here, I haven't tested that approach. Incidentally, the pumpkins I bought were raised for ornamental purposes, yet they had a thick wall of succulent flesh inside. There's no need for the so-called sugar or pie pumpkin in this recipe; it will still have a robust, very appealing flavor, texture, and look.
You'll notice a secret ingredient, peanut butter, which may sound odd, but should not be left out. Most people don't even detect its presence, but it lends richness, body and underlying nutty character that really makes the dish.

Pumpkin-Tomato Bisque
Serves:
Makes about 1 quart soup, 4 to 6 servings.
Ingredients
About 3⅓ to 3½ pounds fresh whole pumpkin, including seeds
1 tablespoon melted butter or 1 tablespoon vegetable oil
½ teaspoon sea salt, plus more if needed
About 1½ cups vegetable broth or chicken broth, divided
1 teaspoon ground allspice
½ teaspoon ground cardamom (substitute ¼ teaspoon ground ginger if necessary)
⅛ to ¼ teaspoon ground cayenne pepper, to taste
1 14 to 15 ounce can garlic, basil and oregano seasoned diced tomatoes
¼ to ⅓ cup smooth peanut butter
Freshly ground black pepper to taste, optional
About 2 tablespoons table cream and/or chopped peanuts for garnish, optional
Instructions
Preheat the oven to 475 degrees F.
Cut the pumpkin in half vertically, and scoop out and discard the seeds and stringy pulp.
Rub the flesh surface lightly with melted butter or oil, then sprinkle lightly with ½ teaspoon sea salt.
Cut the pumpkin into three or four large pieces.
Place on a roasting pan or rimmed baking sheet.
Roast the pumpkin (middle oven rack), uncovered, for about 30 to 35 minutes, or until tender when pierced with a fork. (Alternatively, arrange the pieces on a microwave-safe plate. Cover with a microwave-safe cover and microwave on full power for 16 to 20 minutes, or until tender when pierced in the thickest part with a fork.)
Set aside until cool enough to handle. Then cut the flesh away from the skin. Coarsely chop the pumpkin and discard the skin. You should have about 3½ to 4 cups flesh. (Use it immediately or cover and refrigerate for up to 3 days.)
Combine the chopped pumpkin, ¾ cup broth, allspice, cardamom, and cayenne in a 4-quart pot or saucepan. Bring to a boil over medium-high heat and boil gently, uncovered, for about 10 minutes until the pumpkin is soft and the liquid greatly reduced. Transfer the mixture to a food processor and process until very smooth, at least 3 minutes; stop and scrape down the sides halfway through and don't under-process.
Return the pureed pumpkin to the pot.
Combine the canned tomatoes and peanut butter in the processor. Process until completely smooth, about 2 minutes; don't under-process.
Stir the tomato mixture into the pot. As necessary, thin the bisque with more broth or water. Taste and add more salt and black pepper as desired.
Heat to piping hot.
Garnish the servings by adding a teaspoon of table cream to the center top of each soup bowl and then partially swirling it in, or by sprinkling over chopped peanuts, if desired.
Top with freshly ground pepper, if desired.
In the mood for pumpkin but looking for sweet instead of savory–try this really good
pumpkin-cranberry bread
or
pumpkin bread pudding
.