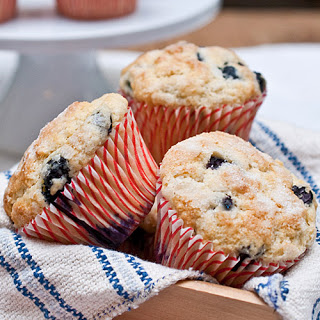 I know, I know. It's the dead of winter, so the blueberries in my  best blueberry muffins were definitely not grown here in Maryland. In fact, right now blueberries aren't in season anywhere on this continent. The staunch locavores who believe that shipping food huge distances is scandalously wasteful of resources will not be happy that these beauties were flown in from Chile.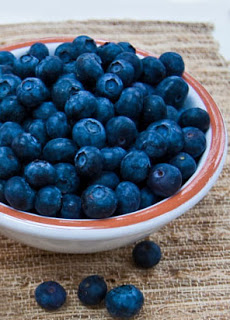 But they showed up in my supermarket looking so pristine and gorgeous that even though I myself have occasionally spouted the locavore line (especially when it comes to peaches, which IMHO are only worth eating fully ripe from local trees) I had to buy them. The thought of a big bowl of fresh, summery tasting berries for breakfast on a cold, dreary winter day got to me. And I'd been wanting my best blueberry muffins recipe for a while. (Yes, frozen berries will work, but they usually drip and turn the batter an odd purple-gray.)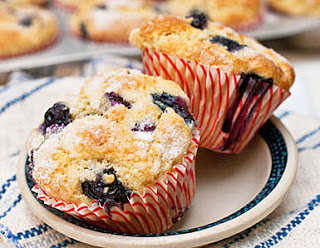 Anyway, these berries turned out to be every bit as tasty as they look—full of flavor, succulent and possessing a pleasing tang. And I'm not feeling guilty that I bought them either. Besides being a healthful winter treat on my table, these goodies are helping put food on the family tables of many hard working Chilean farmers.
Tom Tjerandsen, North American director of the Chilean Fresh Fruit Association says the export crop will be about 78,000 tons this season, three-fourths of it coming to the US. And farmers there are striving to expand production to perhaps 120,000 tons by 2015. If any of my locavore buddies try to chide me on buying shipped-in fruit, I'll point out that we're providing a vital market to agricultural workers elsewhere around the globe.
Best Blueberry Muffins 

It seems like blueberry muffins have been around forever in America. According to the American Institute of Baking they are our most popular flavor (banana-nut is second); and muffins in general are a huge category in the baking industry.
But actually, fruit muffins of any kind are relative newcomers to our baking repertoire. One of the earliest recipes I've found was published in the 1905 edition of Fannie Farmer's Boston Cooking-School Cook Book: It called for 1/4 cup sugar and 1 cup of berries (the berry variety wasn't specified). Note that 1/4 cup sugar is far less than most modern recipes require, so apparently muffins have gotten a lot sweeter over time. In fact, my version calls for a generous 3/4 cup of sugar in the batter and a little more sprinkled on top (which adds a wonderful crunch) and most people don't find the muffins overly sweet at all.
These are plump, generously studded with blueberries, and stay pleasingly moist. I call them the "best," because I tested a lot of recipes before coming up with this one. They are easy to make, too, as ingredients are quickly stirred together and no mixer is required. In case you are curious, the small amount of baking soda helps facilitate proper browning.
Tip: Fresh blueberries will look and taste best in these muffins. However, if you must use frozen berries add them before they are completely thawed and pat them dry with paper towels before folding them into the batter. You'll need to add a few minutes to the baking time to compensate for the cooler temperature of the batter.
2 cups unbleached all-purpose white flour
Generous 3/4 cup granulated sugar, plus 1½ tablespoons more for garnish
2 ½ teaspoons baking powder
1/8 teaspoon baking soda
Generous 1/2 teaspoon salt
1/3 cup (5 1/3 tablespoons) unsalted butter, cut into chunks
3/4 cup whole or low-fat milk
1 large egg, at room temperature
1 teaspoon vanilla extract
1 ½ cups fresh or partially thawed (and blotted dry) frozen blueberries
Place a rack in the middle of the oven and preheat to 400 degrees F. Grease 12 standard-sized muffin tin cups or coat with nonstick spray.
Thoroughly stir together the flour, 3/4 cup sugar, baking powder, baking soda, and salt into a large bowl. In a small saucepan, melt the butter till runny over medium heat; then set aside. Measure the milk in a 2-cup or larger measure. Stir the butter into the milk. Then, using a fork, beat the egg and vanilla into the milk mixture until well blended. Add milk mixture to flour mixture, stirring until just until dry ingredients are evenly moistened and incorporated; don't overmix or beat. Gently fold in the blueberries just until distributed evenly.
Using a heaping 1/4-cup measure or very large spoon, immediately divide batter among 11 or 12 muffin cups. (They should be fairly full.) Sprinkle the tops with the reserved 1 ½ tablespoons sugar, dividing it among them.
Bake for 14 to 18 minutes or until muffins are golden and springy to the touch; a toothpick inserted into the thickest part of a center muffin should come out clean. Cool on wire rack 3 or 4 minutes; gently run a knife around cups and remove muffins from pan. They are best when fresh.
Makes 11 or 12 standard-sized muffins.
In a muffin mood now? Check out my healthful applesauce raisin muffins here or my cranberry muffins here.