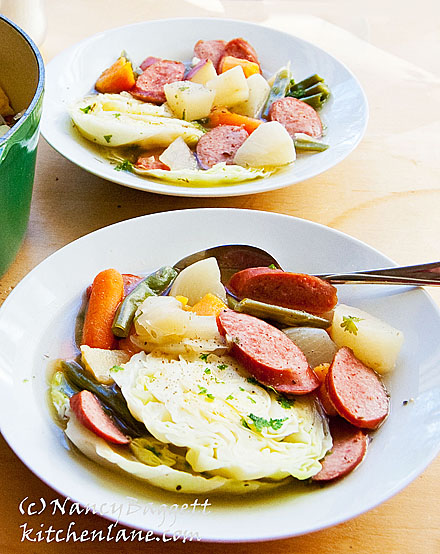 Back in the late 1970s, when I was just beginning to move beyond assignments for my hometown paper and step up to publications like the Washington Post, my hubby came home with the news that he'd been offered an assignment in Germany for three years.
How would I like to move there, he asked? My knee-jerk reaction: Oh no, I'm just starting to build my food writing reputation; it's not a good time to move away.  My second thought: Too bad it's Germany—France would be fab!
Both of these those thoughts were sooo wrong-headed! First, our years in central Europe were personally enriching—we visited many interesting, unforgettable places, got to know some wonderful people,  broadened our cultural  horizons, and improved our foreign language skills.
Professionally, the move to West Germany (the reunification was still over 10 years off though we could  just feel it was going to happen) opened doors that I could not in seriously  Pollyannaish dreams have imagined:  During our years there  my work was first published in both Bon Appetit and Gourmet, and  I also wrote a series of stories for the Washington  Post food section. I also landed a monthly column for a magazine published for overseas American military families. And I did research for The International Cookie Cookbook and The International Chocolate Cookbook, which I wrote after returning home.
I'm sure you're guessing that the Bockwurst stew recipe below fits in with this post. It does. Not long after we'd settled into our house on the Main River outside Frankfurt, I was drooling over a Bon Appetit story on some homey French regional stews, fleetingly wishing once more that I lived on the Seine instead of the Main (pronounced "mine"). Then it hit me: The story's well-known author was apparently already Bon Appetit's go-to source on Mediterranean cooking. The editors would not likely want a feature on French food from lesser-credentialed me.
But nobody seemed to be "covering" central or eastern European cooking for Bon Appetit or its ilk. I immediately decided to learn everything I could about the food and wine in my area and hopefully turn myself into a resource American food editors actually might need. Eventually I pitched Bon Appetit a story on hearty, rustic Eintopfe, or "one-pots" that German home cooks liked to serve for simple family meals. The recipe here is good example. The editors not only bought the piece and ran it with nice visuals and play (as you can see below left), but assigned me a follow-up story on cooking with winter root vegetables and cabbage and various other "Kohls," which were the produce staples of the central Europe.That piece ran as a cover story!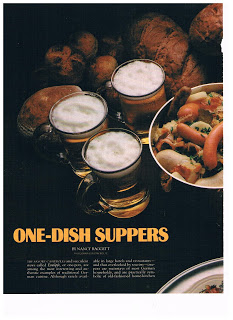 I later wrote for the Washington Post and several other publications about Rheingau (Rhine district) wine festivals, Christmas markets, holiday cookies, a potent after-dinner coffee made with a regionally famous brandy called Asbach Uralt, and the autumn custom of serving a thin, crusty, pizza-like onion dish called Zwiebelkuchen with Federweisser (a fresh, bubbly,  partly-fermented white wine grape beverage).  My forays to pick the wild blackberries along the banks of the Main led to a reminiscence piece on going berrying  that was published in Gourmet magazine.
The food writing lessons here are so obvious they hardly need noting. First, try to embrace change and go with even the unsettling or scary flow. It will afford astonishing, unexpected opportunities to grow and learn—and the more you know, the more you can write about.  At some point it dawned on me that everything I ever come upon—people, places, food and wine, agriculture, geography, cultural traditions, social history—is vital grist for my writing mill. The habit of being relentlessly inquisitive and acquisitive of information keeps you engaged, excited, and constantly primed with more fresh, new, interesting material  than you'll  ever have time to cover.
The second lesson is to think outside the box about how to carve a niche and become a valuable resource. What do you know (or are you interested in learning about) that food editors might like to know and share with their readers? It could be as prosaic and, um, down to earth as how to cook with root vegetables!  And while building expertise, don't forget that even the seemingly irrelevant details and arcane minutia contribute color, vivid sense of place, and  the air of authenticity and authority that make stories resonate with both editors and readers.
Finally, don't make the mistake of thinking that unless you go live Europe (or somewhere else exotic), you're out of luck. My most popular work to date has been The All-American Cookie Book—which I researched on American soil, mostly in the heritage cookbook collections in libraries and on-line databases, and by visiting home bakers and bakeries in towns and cities all over the U.S.  Countless other topics are equally accessible and there just waiting for you to see their potential and make them your own.
Bockwurst Stew
When I lived in Germany I made this homespun 30-minute stew with Bockwurst sausages. They were as widely available and popular there as hotdogs are in the U.S. Now, I tend to ready it with the more easily obtained kielbasa; you could certainly use plump, top-quality wieners instead.  I also like to throw in some chunks of sweet potato, though this vegetable was definitely not a staple called for in German cookery.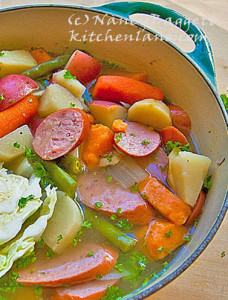 4 cups reduced-sodium chicken broth, plus more if needed
1 teaspoon each dried thyme leaves and caraway seed
1/4 teaspoon coarsely ground black pepper, or to taste
6 to 8 cups mixed fresh vegetable chunks (1- to 1 1/4-inch pieces), such as boiling potatoes, onions, carrots, parsnips, turnips, green beans
12- to 16-ounces bockwurst, kielbasa or similar link sausage, cut on a diagonal into 1/4 inch slices
4 or 5 green cabbage wedges
2 to 3 tablespoons chopped fresh parsley (coarse stems removed), optional
In a 4-quart or larger soup pot over medium-high heat, combine the broth, thyme, caraway, black pepper and mixed vegetables and bring to a boil. Adjust the heat so the mixture boils gently and cook, uncovered, until the carrots are almost tender when pierced with a fork, about 12 to 15 minutes.
Stir the bockwurst and half the parsley (if using) into the stew. Lay the cabbage wedges over the top.  Let return to a gentle boil. Cover and cook until the cabbage wedges are just tender when pierced with a fork, 3 or 4 minutes.  Taste and add  pepper and salt, if desired. Place the cabbage wedges in large soup plates. Spoon some meat, vegetables, and broth around them.  Garnish with more parsley. Serve piping hot.
Makes 1 1/2 to 2 quarts, 4 or 5 generous main-dish servings. For some food writing lessons that I did have to learn the HARD way, go here.