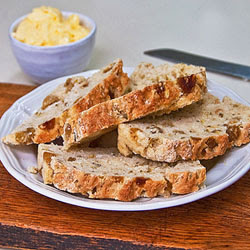 Thank you, thank you to the enthusiastic Irish-Americans who decided to turn St. Patrick's Day into such a huge annual food fest and bash. Yes, the custom of making a major deal of St. Paddy's Day originated in the U.S., though it's now caught on in Ireland as a fine way to promote tourism. I actually don't think the wonderful seeded Irish soda bread here is likely to be on menus in Ireland–though it should be!  Traditional Irish soda bread loaves tend to lack dried fruit and aromatic seeds and be on the plain side.
This recipe, from Chef Lee Duberman, of Ariel's Restaurant in Vermont is a brand new version for me. It's called Limerick Irish Soda Bread and was served at  her jewel of a restaurant in Brookfield, Vermont last fall. The bread was tender, nubby-topped, exceptionally fragrant, and heavily studded with golden raisins and seeds. I assumed they were anise, but turned out to be fennel, a nice surprise. Incidentally, we weren't the only ones smitten with this bread: Some of my King Arthur Flour buddies who had recommended Ariel's in the first place were there enjoying it mightily, too.
Of course for the home baker, one of the great advantages of the Ariel's recipe and most other soda breads is that they are leavened with baking soda, not yeast.  This makes them quick to mix up and bake and pretty much foolproof:  In contrast to yeast-raised recipes, with quick breads there's no chance that the leavening will be overheated or out of date and the bread won't rise. One caveat–it is important to pop your loaf in the oven promptly after mixing, as soda bubbles up quickly and needs to be caught and baked right in the act!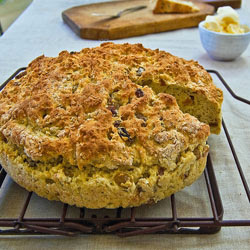 The bread pictured is nearly all gone now. We've polished off thick, butter-slathered wedges of it along with stew and as snacks. And, as the loaf began to dry out, I cut it crosswise into slices and toasted it—we both think it might be at its best that way.  In fact, I suggest making two loaves and stashing one (pre-sliced) in the freezer to pull out for breakfast toast–a terrific and convenient treat!
Though I've been happily readying  my mother's "seedless" soda bread for decades, I will now have difficulty deciding which recipe to prepare. Chef  Duberman's definitely makes a superior breakfast toast. Of course, there's no rule saying that soda bread is only for St. Patrick's Day. Maybe I'll follow up by making my mother's version next week–good idea!

Ariel's Limerick Irish Soda Bread
Anise seeds turn up more often in breads than fennel seeds, which taste a little less sweet and slightly more herbal, but still deliver a slight licorice hit that's very good. I'm sure that the anise could be substituted if that's what you have on hand or think you'd prefer. If seeded soda breads are just not your thing, my updated version of
my mother's recipe
may be more to your liking.
Ingredients
2 cups commercial buttermilk
1 large egg
1 cup golden raisins or currants
¼ cup whole fennel seeds (or substitute anise seeds, if preferred)
3½ cups all-purpose unbleached white flour
¼ cup granulated sugar
1 tablespoon baking powder
Scant ½ teaspoon baking soda
Scant 1 teaspoon salt
Instructions
Place a rack in the middle of the oven; preheat to 350 degrees F. Evenly coat a 9 to 9½ –inch round cake pan or similar baking pan with butter or nonstick spray.
In a medium bowl, using a fork beat together the buttermilk and egg. Stir in the raisins and seeds and let stand while the dry ingredients are readied.
In a large bowl, stir together the flour, sugar, baking powder, baking soda and salt until thoroughly blended. Pour the buttermilk mixture over the dry mixture and stir just until the ingredients are blended; for tenderest bread, don't stir vigorously or over-mix. Immediately turn out the batter into the pan, spreading evenly to the edges.
Bake on the middle oven rack for 50 to 55 minutes or until well browned on top and a toothpick inserted deep in the center comes out clean. Let the pan stand on a wire rack for 15 minutes. If necessary, run a table knife around the pan and under the loaf edge to loosen it. The loaf is best served fresh and slightly warm, or cooled and served as toast. It may be kept airtight at room temperature for up to 3 days. Freeze, airtight, for longer storage; thaw before using. If desired, reheat the loaf (wrapped in foil) for about 15 minutes in a preheated 375-degree F oven; or warm individual slices wrapped in paper towels for 20 or 30 seconds in a microwave oven on low power.
Notes
Tip: Check to see if the brand of buttermilk you're using contains salt, and if so, reduce the salt in the recipe by ¼ teaspoon. No, I don't know why buttermilk would come salted, but one of the kinds I buy does.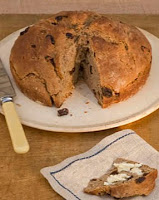 My
Irish Soda Bread–without seeds: