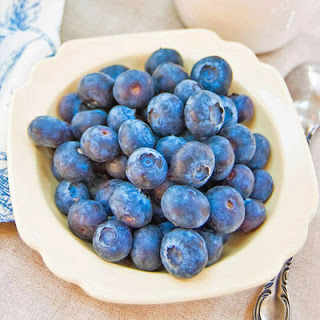 Big, plump American blueberries are just beginning to return to our markets now, and I'm celebrating by eating as many of these succulent frosty-blue beauties as I can. I had a big bowl "plain," this morning for breakfast, and then some with a dollop of yogurt for lunch. Just now, I snacked on these blueberry-apple crumb bars made this afternoon, though the batch was baked to be served as dessert tonight. No reason not to enjoy another bar with a scoop of ice cream after dinner, right?
Blueberries are native to North America, and together the U.S. and Canadian growers produce over 200 million pounds annually, about four-fifths of the world crop. Considering that nobody was even marginally successful at cultivating wild blueberries up until 1916 and many said it was impossible, we should be grateful that they're plentiful today.
The first breakthrough came around 1912, when a Whitesbog, New Jersey, horticulturist, Elizabeth C. White, whose family was already well-known in the cranberry business (and still is today as I learned during a visit there) teamed up with USDA agricultural scientist Dr. Frederick Coville. First, Miss White drew up specific criteria and sent out local woodland inhabitants called "Pineys" to collect the best possible wild blueberry specimens from the surrounding area. She paid $2 a bush, and promised that any that turned out to be successfully cultivated would be named after the finder.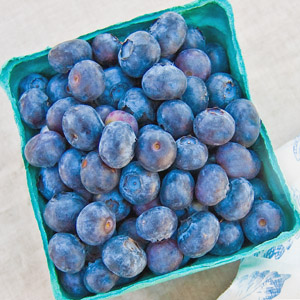 She and Dr. Coville began trying to propagate the plants, as she later described in an article published in Success magazine in 1927: "Next we cut up the bushes into pieces, sometimes as many as a hundred pieces to a bush. These were planted under glass in carefully prepared propagating beds. But for a long time we had very poor luck; only about 10% of the plants lived. Finally, we narrowed down to six varieties which seemed in every way suitable for commercial production, Rubel, Harding, Sam, Grover, Adams and Dunfee."
She explained that the Sam variety was named for finder Sam Lemmon; calling it the Lemmon bush was deemed too confusing. The Rubel was named for Rube Leek; she said that neither Rube nor Leek seemed suitable for the variety that turned out to be "the keystone" of their blueberry breeding program. (It is still important, perhaps due to the high antioxidant content and flavor of the berries; nurseries continue to sell the Rubel today.) For more info on early blueberry cultivation at Whitesbog, go here.
The research eventually led to a whole new North American agricultural crop that's in demand today, as well as a new business at the farm. Propagated plants were shipped all over the country, and are now extensively grown in North Carolina and Michigan, as well as in Washington, Oregon, British Columbia and New England. Little wonder that the blueberry is the official state fruit of New Jersey. (The bluberry muffin is also Minnesota's state muffin; no, I don't know why, but you can find my very fine blueberry muffin recipe here and pictured at the bottom.)
Michigan and New Jersey produce 66% of all the U.S. cultivated blueberries, and here in Maryland, New Jersey seems to be our primary source. I used to have a contact who drove up to New Jersey each year and bought as many boxes as his station wagon could hold. He sold them to neighbors back here at his cost—for $1 each. Today, I have to pay what everybody else pays, but, they are definitely worth the price.
For a change of pace from simple bowls of berries, I suggest these succulent, buttery, streusel-topped blueberry bars. The blueberry filling is actually stretched with some chopped apples, which add a little texture and are also more economical. To keep prep as simple as possible, the same crumb mixture serves in the base and streusel topping, though an egg gets mixed into the crust portion so it will hold together during cutting.
These make a fine dessert served with a dollop of ice cream or whipped cream–or perhaps with a dish of berries!  (For a berry dessert that's gluten-free, check out my bumbleberry crumble recipe here.)
2 1/3 cups old-fashioned or quick-cooking oats
1 1/4 cups all-purpose flour
1 3/4 cups packed light brown sugar, divided
1/2 teaspoon ground cinnamon
3/4 cup unsalted butter, melted and slightly cooled
1 large egg, lightly beaten with a fork
3 cups fresh or frozen (thawed) blueberries
2 cups peeled, chopped tart apples
2 1/2 tablespoons cornstarch
Juice and zest of 1 large lemon
Place a rack in the middle of the oven; preheat to 375 degrees F.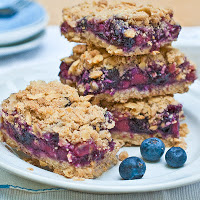 Grease a 9- by 13-inch baking pan; set aside.
In a large bowl, stir together the oats, flour, 1 cup sugar and the cinnamon. Stir in the butter until the mixture is well blended. Remove 2 1/2 cups and reserve for the topping. Stir the egg into the remaining mixture until evenly incorporated; it will be slightly clumped. Press this mixture evenly into the baking pan; press down to form a crust.
Bake, middle rack for 10 minutes, then set aside; the surface will not be browned.
Meanwhile, in a saucepan, thoroughly stir together the blueberries, apples, cornstarch, lemon juice and remaining 3/4 cup sugar. Stir in 1 tablespoon water. Bring to a boil, stirring, over medium heat. Boil for 2 minutes, stirring constantly. Spread evenly over the par-baked crust. Sprinkle evenly with the reserved crumb mixture.
Bake at 375 degrees F for 25 minutes to 35 or until lightly browned all over. Cool before cutting into thirds or fourths lengthwise and fifths crosswise (or as desired).
Makes 15 to 20 bars.
Read more about Whitesbog, and check out Elizabeth White's cranberry pudding recipe here. It is delish!  So are my blueberry muffins here.