I didn't actually  plan to make tomato-peach chutney! It all started when I spied this large basket of shiny, dead-ripe-red tomatoes with a hand-written sign reading $6 at the local farmers' market. Wow, a real bargain for that amount—maybe, 6 or 7 pounds, I guesstimated as I inspected them more closely.
It was the fruity, fresh-from-the-field, sweet-acid smell that reeled me in. Well, that and the knock-out punch delivered by the clerk in the stall: "Taste just as good as the bigger ones," he said. And as good as the ones that are completely unblemished and a bit more shapely, I silently added, climbing onto my mental soapbox. The common foodie habit of rejecting less beauteous seconds in favor of "premium" produce that simply looks more photogenic has a serious downside: It wastes a lot of wholesome, succulent fruits and vegetables that farmers have spent time, energy, and natural resources to grow.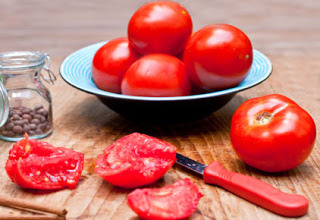 Once we closed the deal and I was heading home, the tomato fragrance filling the car reminded me that I really needed a tomato sandwich. Which I immediately fixed using only some crusty seeded wheat bread, a generous swipe of mayo and one of the large tomatoes cut in fat slices and sprinkled with a little salt. One tomato down, 21 to go!
With only two of us to eat chopped tomato salads with our dinner, they didn't dwindle quickly. But I dispensed with eight more by toting them to a family supper Saturday night. Sliced, drizzled with olive oil and balsamic vinegar, and garnished with shredded basil leaves, they disappeared right away.


Today I'm getting serious and taking more drastic steps. The decision on whether to ready a tomato-summer vegetable sauté, or oven-dried tomatoes, or a batch of  this lively tomato-peach chutney was a difficult one.
But I love any tomato chutney, and my stash of this tomato-peach chutney, which is my favorite, has just run out. I depend on it all winter long, to brighten up dishes that need a really zippy tomato taste.
Note that  this tomato-peach chutney requires no preserving skills or boiling in a hot water bath. I just tuck the finished jars in the freezer or refrigerator and retrieve them as needed.
Spiced Tomato-Peach (or Plum) Freezer Chutney
This zesty chutney is a fine dresser-upper for almost any grilled or roasted poultry or meat. I also often combine about 1/2 cup of it along with 2 teaspoons of chili powder or curry powder for a quick, very tempting marinade for chicken or pork headed for the grill. Another option: Stir a tablespoon or two of chutney in to zip up a meat or vegetable sauté. And, no surpise, tomato-peach chutney is a pleasant compliment to many Indian curry dishes.
In the interesting trivia department: The word chutney comes from the Sanskrit word caṭnī, a term for a class of spicy preparations used as an accompaniment for a main dish.
Tip: If you have a mortar and pestle, use it to crush the dried spices; otherwise, put them in a small, sturdy plastic bag and crush them until very fine using a kitchen mallet or rolling pin.
Tip: The best way to peel the tomatoes is to plunge them into boiling water for 40 to 60 seconds. Let them drain in a colander until cool enough to handle, then core, peel, and chop.
1 small yellow onion, peeled and coarsely chopped (or 3 to 4 tablespoons very coarsely chopped green onions)
1 1/2 tablespoons peeled and finely chopped fresh ginger root
1 3-inch long cinnamon stick
1 teaspoon allspice berries, crushed fairly fine (or 1/2 teaspoon ground allspice)
1/2 teaspoon black peppercorns, crushed fine (or scant
1/2 teaspoon coarsely ground black pepper)
1/4 teaspoon salt
1 pinch to 1/8 teaspoon dried hot red pepper flakes, crushed, to taste
3/4 cup granulated sugar
Scant 2/3 cup apple cider vinegar
2 tablespoons water
2 cups pitted and chopped (3/4 inch) unpeeled tart red or yellow plums or peeled under-ripe peaches or nectarines
2 1/2 cups chopped (3/4-inch) peeled tomatoes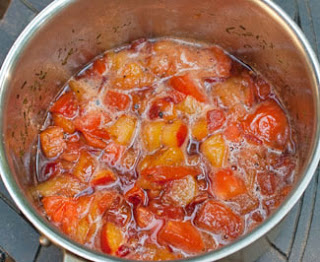 Thoroughly stir together the onion, ginger root, cinnamon stick, allspice, black pepper, salt, red pepper flakes, cloves, sugar, vinegar, and water in a medium-sized non-reactive saucepan. Bring to a boil over medium-high heat. Adjust the heat so mixture boils briskly and cook, uncovered, for 5 minutes.
Add the plums (or peaches); simmer gently for 3 to 4 minutes or until they just begin to soften. Add the tomatoes and continue simmering about 2 to 3 minutes longer, or until the plum and tomato pieces are cooked through but still hold some shape. The liquid should be almost syrupy. (The chutney may still seem somewhat fluid, but will thicken a bit when chilled.)
Let the chutney cool 5 minutes. Remove and discard the cinnamon stick. Ladle the chutney into well-washed (preferably in boiling water) jars, allowing about 3/4-inch headroom for expansion during freezing. Wipe any drips from jar rims and threads; screw on the lids. Let stand until barely warm. Tighten the lids. Store in the freezer for up to 1 year, or refrigerated for 1 month.
Makes about 3 3/4 cups chutney.
My oven-dried tomato recipe uses up a lot of tomatoes. My summer veggie skillet uses quite a few. For a really novel recipe, check out the tomato jam here.