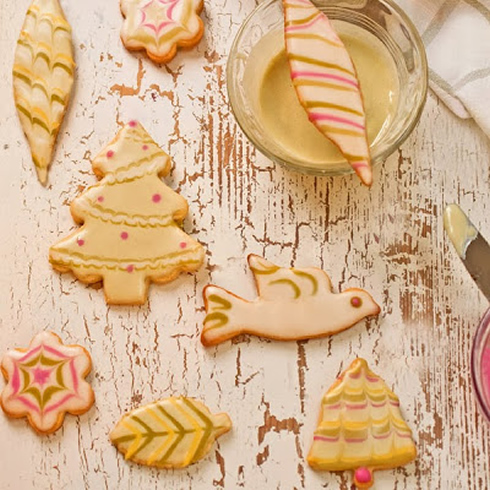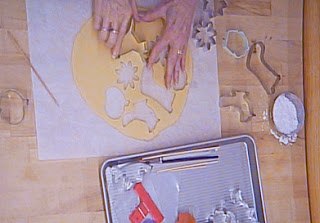 "Wow, I wish I'd known that technique thirty years ago," an enthusiastic student in my cookie class at King Arthur Flour's Baking Education Center told me last weekend. She was referring to the incredibly easy, yet effective method (shot as I demonstrated it above) for rolling and cutting out rolled cookies. (Check out my YouTube video that shows how to roll out cookies here.) BTW, the method works for pie dough, too. Basically, it involves sandwiching and rolling out a slightly soft disc of dough between pieces of baking parchment or wax paper as shown below right; then transferring the sheet of dough (paper still attached) to the refrigerator or freezer until cool and firm; then finally cutting out the cookie shapes right on the paper. (For pie dough, just peel off the paper and center the dough round right into the pie plate and trim it to fit.) I am so high on the method that I created a video to spotlight it called, "The BEST Way to Roll Out Cookie Dough." For step-by-step details, plus pics of some pretty decorated cookies, do check it out. For a good sugar cookie recipe, plus more nice pics, go here.
I think it's the best technique for most doughs because it offers a number of big advantages over the classic, roll-out-on-a floured-board approach:
→  It eliminates any chance of over-flouring the dough, ensuring very tender cookies with no dusty look or unattractive floury splotches.
→  It allows for very clean, clear cuts by the cutters and easy transfer of perfectly shaped cookies (like the ones set out for sampling below) to the baking pan because the dough can be kept cool and firm. If it becomes limp and soft, you simply slide it and the paper onto a tray and re-chill until easy to handle again.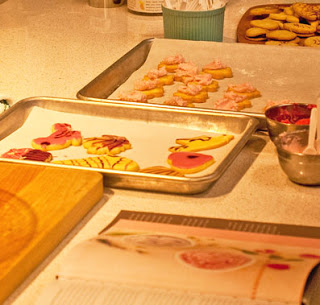 →  It greatly reduces countertop cleanup, as all rolling and cutting out are done right on the paper.
→  It facilitates producing more delicate and buttery cookies than otherwise possible, as the usual tricky handling due to greasiness is avoided by refrigerating and firming up the dough whenver necessary during rolling.
→  It offers the convenience of readying the dough for cutting out either shortly after mixing or after a longer stay in the refrigerator, if preferred.
As the pic at the very top reveals, the method is both highly efficient and tidy. As long as the dough is kept cool (either by returning it to the fridge as needed or placing it and the paper on a well-chilled baking sheet during the cutting out process), the shapes are firm enough that they can be simply lifted by hand to baking sheets; no wide spatula is needed. By the way, that's not a cup of flour in the pic but powdered sugar. The daisy cutter and others with deep indentations and grooves release from the dough more readily if dipped into powdered sugar first.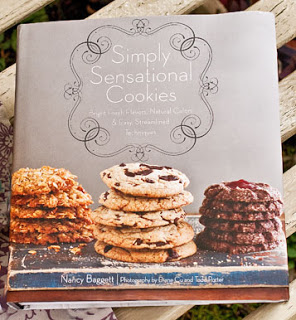 Here are some other tips that I covered in my class and present  in my new book, Simply Sensational Cookies.  I'm passing them along here so  you, too, can be  on the path to best, easiest holiday cookies ever.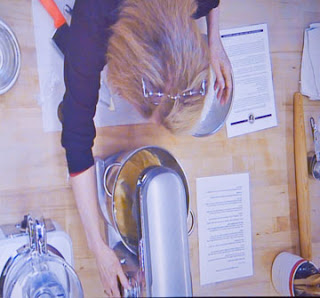 →  Butter that's too cold won't fluff up properly  or form a creamy mixture as shown at left. Do a "press test" to be sure it's warmed up and soft enough at the start; an indentation should readily form when you press a finger into the butter. But if it's squishy-soft, it's too warm and should be chilled slightly before being used; overly-soft butter won't fluff, melts too quickly during baking and can cause cookies to run or flatten too much.
→  Always check your baking powder, spices, nuts, and dried fruit for freshness. Baking powder loses its oomph with time, so be sure to note the "use by" date (normally on the can bottom), and replace if necessary. With spices, the nose knows: Fresh, quality spices smell intensely fragrant, sweet and pungent; old ones smell blah. Stale nuts can lend an off, rancid taste, and old dried fruits can suck moisture from dough and yield dry, crumbly cookies, so if necessary replace with new supplies.
→  Never, ever substitute reduced-fat, diet, or tub-style margarine if butter is called for; these contain less fat and more water than butter and can wreck recipes. If you feel you must economize, use half regular stick margarine and half unsalted butter.
→  Resist the urge to firm up overly-soft cookie doughs by adding extra flour–too much will make them dry and tough. Instead,
let the dough stand in a cool spot or refrigerate for 5 to 10 minutes; this allows it to fully absorb the flour already added. Then, if absolutely necessary, add in the minimum of flour needed for manageability.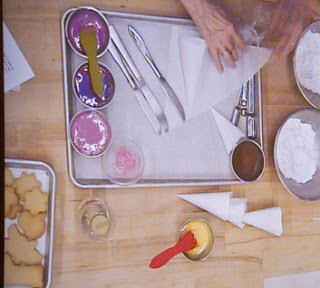 →  Remember that different brands of cookie sheets cause different amounts of spreading, browning, and crisping. For most even baking and browning, choose sturdy, light-colored pans with low rims or no rims, so the air can flow over the cookie tops. If you care about uniform appearance, keep the cookie size consistent and bake the entire batch on the same kind of pans.
→  Be sure to preheat the oven at least 15 minutes before beginning baking. For even baking, place any slightly thicker or larger cookies around the perimeter and thinner or smaller ones in the pan interior, as heat exposure is greater around the edges.
→  Allow baking sheets to cool to room temperature before reusing. Warm sheets can cause cookies to run and flatten too much. If cookies still spread too much, chill the dough in the refrigerator a few minutes. The butter will firm up, so the cookies hold their shape better.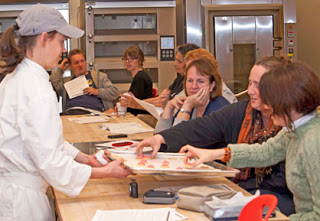 Besides the making, rolling and cutting out, we covered how to decorate using beautiful, dye-free icings and sprinkles made from fruit juice concentrates. You can learn more about this and see pics in posts here and here.
This last image shows a whole lot of sampling going on at the end of the class. Yes, all the cookies were a hit and everybody, including me, had a good time!
Hungry for more on cookies?
A nice all-purpose icing (shown on the 4 cookies at right)  is here. Lots of holiday cookie decorating ideas and pics are here.