I'm pleased to share with you this recipe from my Simply Sensational Cookies book that was featured in the The Washington Post. It ran on December 12, 2012, in the Food Section holiday cookies issue. (Note that the photo at left was shot by Deb Pearlman for the Post. The cupcake photo below is mine.)

Reprinted from the Washington Post:
'Au Naturel' Confectioners' Sugar Icings

Cookbook author and cookie maven Nancy Baggett is
proud of this icing, which doesn't rely on commercially made food dyes
for its colors. "Simply by relying on the gorgeous natural colors of
frozen (thawed) fruit juice concentrates from the supermarket . . . you
can create a whole rainbow of tempting and tasty cookie icings," she
writes.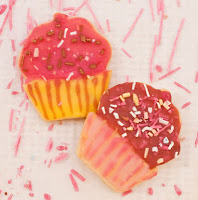 She's also proud of the colorful homemade sprinkles that can be made
from the same recipe. The sprinkles deteriorate in high heat and are
best applied to cookies as they are being iced.
The optional meringue powder or dried egg white powder helps set the
colors so contrasting shades don't bleed together as the icing hardens.
Meringue powder is sometimes sold with cake decorating supplies; many
supermarkets stock Deb El Just Whites or another brand of pure dried egg
whites in their baking aisle.
This recipe makes enough icing to generously decorate twelve to fifteen 2 1/2-to-3-inch cookies.
MAKE AHEAD: The icing can be refrigerated in airtight containers for
up to 1 week. If it has thickened, thin with a small amount of water,
stirred in thoroughly. The sprinkles can be stored in airtight
containers for up to 6 months.
Makes about 1/2 cup icing
1 cup confectioners' sugar, sifted after measuring, if lumpy, plus more if needed
1 teaspoon commercial meringue powder or pure dried egg white powder (see headnote; optional; omit if preparing sprinkles)
1/2 teaspoon light corn syrup
2 tablespoons frozen (defrosted) cranberry,
orange, Concord grape, raspberry-white grape or cherry-grape juice
concentrate (or a combination), plus more if needed
1/2 to 3 teaspoons unsweetened natural
(non-alkalized) cocoa powder or Dutch process cocoa powder, sifted after
measuring, if lumpy (optional)
Directions:
For each color of icing you want to make, vigorously stir
together the confectioners' sugar and the meringue powder, if using, in a
small, deep bowl. Stir in the corn syrup. Add the juice concentrate (or
a blend of concentrates) and stir until completely smooth. If a brown
color or tint is desired, stir in cocoa powder as needed. You want a
uniformly colored icing that's thick enough to coat the cookie but not
so thick that it's hard to spread. Adjust the texture as needed by
adding confectioners' sugar, juice or cocoa powder, stirring to combine
thoroughly.
Use a table knife, pastry brush or artist's paintbrush to spread a
thin, even layer of icing on the cookie. This is your base color. To add details, stir in more confectioners' sugar so that the icing
has some body. Spoon the icing into a small cone of parchment paper with
just the tip of the pointed end snipped off, or into a plastic food
storage bag with the tip of one corner snipped off. (Don't fill a bag
more than half full.) Use the bag to pipe accents onto the cookies. If
you want the accents to blend into the existing icing, pipe when the
icing base is still wet; if you want them to stand out and hold their
shape, wait until the base has dried.
To make homemade sprinkles, omit the meringue powder from the icing.
Pipe very fine lines of icing onto a sheet of parchment, spacing them
far enough apart so they don't run together. Let the icing dry for at
least 12 hours, or at least 18 hours if the weather is humid. Slide the
parchment onto a cutting board and use a large knife or pizza wheel to
cut across the piped lines, creating sprinkles that are 1/2 inch long or
shorter. Let stand for at least 4 hours, then transfer to airtight
containers and store in a cool spot, away from bright light, for up to 6
months.
Recipe Source: Adapted from
"Simply Sensational Cookies,"
by Nancy Baggett (John Wiley & Sons, 2013).
Another post you might like: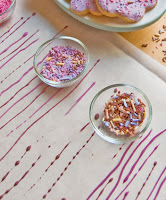 Use the same icings to make your own decorator sprinkles to use on cookies, cakes, and other sweet treats, too! Or perhaps you'd like to check out my short video on the BEST way to roll out cookie dough; it's been very popular.
For another all natural icing, my green tea icing, go here.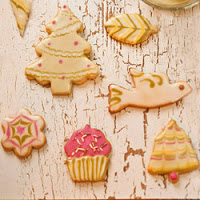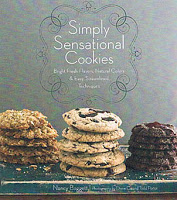 News: My new Simply Sensational Cookies has been featured in a number of stories on holiday cookbooks and baking lately. I'm particularly proud to tell you that it made the TOP TEN 2012 cookbooks list of National Public Radio, as well as the Washington Post top cookbooks list, and many others around the country.