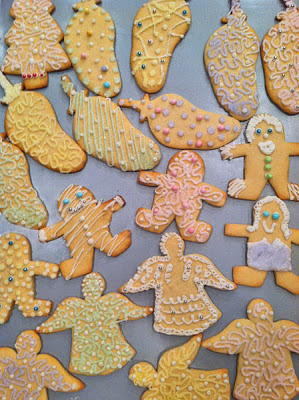 All over the country and around the world, avid home bakers, including me, are happily gearing up for the holidays. We're pulling out favorite recipes, assembling ingredients, and already our kitchens smell sooo good! We simply have to bake this time of year.
The oh-so-charming sugar cookies at top right are the creations of my cookbook colleague and friend, Sandra Gutierrez, author of The New Southern Latino Table. Look carefully and you'll see amongst the angels and gingerbread people some pretty iced jalapeno-shaped cookies; Sandra says they've been in the family repertoire since her girls were young. (The cookies just below and at the bottom feature only dye-free fruit icings recipes here and green tea icing here, and are ones I'm preparing for my grandchildren. They are from my Simply Sensational Cookie book available on-line here.)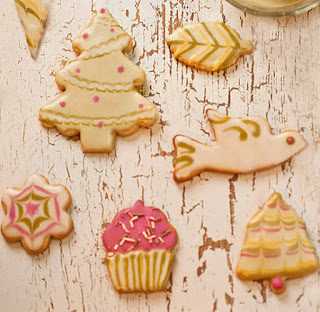 The gingerbread houses were fashioned in the kitchen of my baker friend Maria Springer. She specializes in the rightly famous Viennese pastries of her homeland and hosts a huge make-your-own gingerbread cottage class for kids and their parents at her home every year.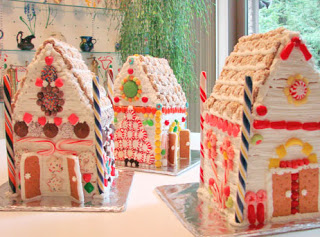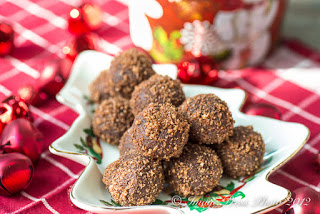 The chocolate brandy balls below left are the work of Bunky Cooks, Gwen Pratesi.
(She made them from a recipe from my Simply Sensational Cookies.)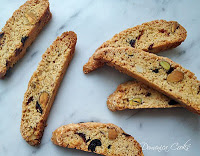 For all of us baking is an integral part of  our holiday celebrations. For me personally, rolling, cutting out and decorating sugar cookies brings back vivid recollections of getting ready for Christmas in my mother's kitchen.  For my husband and son, the heady aroma of my mother-in-law's family famous spiced Lebkuchen call to mind the many dozens she lovingly prepared for them over her eighty plus years. Continuing to bake their treats helps us keep our memories of them strong.
This year I'm mostly baking from my new book Simply Sensational Cookies. I'm proud to tell you that it has been on number of this season's cookbook gift lists, including the Washington Post's "Cook the Best Books" roundup and NPR's "Top Ten Holiday Cookbooks" list.
I've also published several helpful blog posts on making and decorating cookies here; and you may want to see my popular video on the best way to roll out dough go here; for a good sugar cookie recipe, go here.)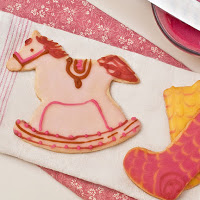 If you are now in the mood for more cookies, you can hear NPR's All Things Considered host Melissa Block talk and eat heirloom molasses cookies  and with me and a guest listener here; two recipes including one of my faves from Simply Sensational Cookies, my Glazed Double Ginger Molasses cookies, are posted with the story.