It's quiet here now. And peaceful.
Yesterday, the grandkids, my son and daughter-in-law, and their exuberant eight month old Westie puppy blew in, and for about six hours of  controlled chaos we opened presents, feasted, and then, in teams, competed in a boisterous game of scrabble. (Well, the puppy and our mini-poo skipped the scrabble game; they concentrated on trying to tear up their new chew toys.)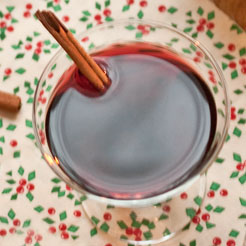 Today, the empty boxes  and wrappings are dispensed with, and the china is now washed and stowed away. As a reward for the tidying, I'm curled up on my sofa in the den, watching the snow flakes drift down and sipping a warming mug of Glühwein–German-style mulled wine.
Like ginger cookies, this brew is almost worth making just for the aroma–the intoxicating scents of red wine, allspice, cinnamon, cloves and citrus swirl up and fill the entire house. And like ginger cookies, this libation is almost impossible to resist.
I first sampled Glühwein (it means glowing wine in German) in the foothills of the Bavarian Alps while on a family vacation nearly thirty years ago. Nominally, it was summertime, but due to the Alpine altitude and three dark days of drenching downpours, we were shivering and damp in our flimsy, inadequate rain gear. Even our huffing and puffing up the steep, winding road to the famous Neuschwanstein castle (it was the prototype for the Disney Magic Kingdom castle) at the mountain summit hadn't chased the chill from our bones.
Then, around  a bend, we spied a kiosk selling hot, steaming cups of Glühwein, an offering at least as welcome as an oasis to parched travelers in a desert. The combination of heat, spice and alcohol was a nearly instant tonic, quickly reviving our spirits and raising our body temperatures. We finished our climb to the top with renewed energy and enthusiasm. (Yes, of course Ludwig's castle was worth the climb! Both the ornate decor and views of the region were spectacular.)
I have never come upon a better warmer-upper than Glühwein, and in fact it's still my beverage of choice on a cold winter's night. I'll be serving it at a family party this weekend. I'll also be fixing it to enjoy while we watch the Super Bowl. (And maybe I'll fix these gluten-free parmesan wafers, too.)
Glühwein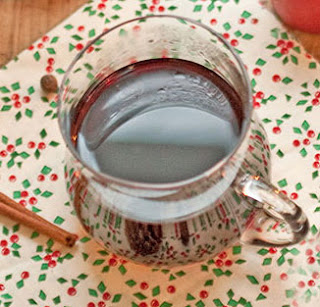 A German dry red table wine was what I used to make this recipe when I lived in Germany, but here in the U.S. an inexpensive Chianti, or California merlot or cabernet are much easier to find and will do equally well. Note that depending on the dryness of the wine and desired level of sweetness for the drink, the amount of sugar used may vary greatly. Start with the smaller amount; stir in until dissolved; and then taste and add more if desired.
Tip: For a slightly less potent libation, create a  punch by adding up to a quart and a half of apple juice to the brew.
1 1.5 liter bottle of dry red table wine (or use two 750 millimeter bottles)
1/4 to 1/2 cup granulated sugar, or to taste
2 or 3 cinnamon sticks, broken into short pieces
2 teaspoons whole allspice berries
1 teaspoon  whole cloves
3 or 4 1/2-inch wide and 2-inch long strips of fresh orange peel, plus several whole orange slices for an optional garnish
Combine the wine, 1/4 cup sugar, the spices, and strips of peel in a 3-or 4-quart stainless steel or other non-reactive saucepan or pot over medium heat. Heat until the sugar dissolves and the mixture is hot but not boiling, stirring occasionally.  Taste and stir in more sugar, if desired. Adjust the heat so the mixture mulls but does not come to a boil; let it heat for 15 minutes. Then let stand for at least 1 hour and up to 6 hours for a fuller spice taste.  Strain the mixture through a fine sieve into a serving pot, discard the spices. Reheat to piping hot. Garnish the top with several thin orange slices if desired. Serve with a ladle directly from the pot, or heat a pitcher under water to pre-warm it, then immediately serve the mulled wine from it. Makes 12 half-cup servings.  Recipe may be doubled if you like.
Other similar posts to check out– Arizona Sunset Cocktails (left) and ratafias (right) :
Or perhaps you'd like to prepare some homemade Limoncello using a recipe I brought back from Italy?