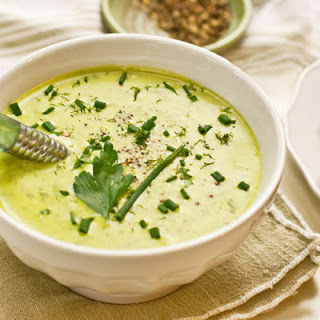 "Do you test your recipes?"  This is the first question people usually ask when they hear I write cookbooks. When I answer, "Yes, always!" and they look highly skeptical, I always wonder if they've been burned by somebody's cookbook recipes in the past.
But, truly, I do test–a lot. Sometimes, a dish is tested and tweaked many times before I consider it publication worthy. (For much more on this topic, go here.) This has led the hubs, a supportive companion but honest critic, to say of many rejects, "It's good enough for me to eat, but not good enough to go in a cookbook!"
The inevitable follow-up question, "Where do you get your recipes?" is tougher. I'm always tempted to respond with what people often say of relationships: "It's complicated."
Take the German Green Herb and Potato Soup here. It just sort of evolved and emerged from about a dozen ideas rattling around since I first made and got hooked on Julia Child's Potage Parmentier, a classic French potato-leek soup back in the early 1970s. FYI, Parmentier was a French horticulturist born in 1737; his name is always a tip-off a dish contains potatoes.)
Volume I of Julia's  Mastering the Art of French Cooking served up another revelatory recipe–a watercress potage. At that point in my culinary education using a fresh herb such as watercress in any cooked dish was a most exotic and exciting notion!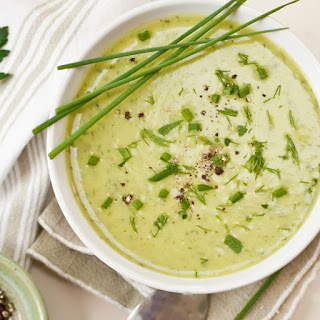 A few years later when my family lived in Germany I discovered a traditional heavily herbed springtime potato soup called "Grüne Suppe, Frankfurter Art," (meaning Green Soup, Frankfurt Style). Assorted fresh green herbs not only contributed a distinct green color but enticing fresh vegetable flavor to the local seasonal specialty.
Another bit of inspiration came in Denmark when I ate boiled potatoes heavily sprinkled with fresh chopped dillweed. They were just terrific.
I think you get the picture! This recipe (like many) is somehow drawn from a whole grab bag of culinary samplings, experiences, kitchen experiments and know-how amassed over the decades. (For another, totally different but equally good potato soup, try this curried version.)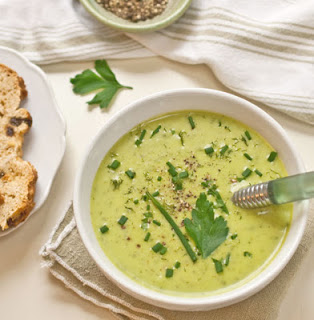 German Green Herb and Potato Soup
What's up with the cauliflower in this recipe, you wonder? I discovered while working on a book called Skinny Soups some years ago that cauliflower not only reduced the calories, but added nice flavor and valuable nutrients to a potato dish .
To pare down the prep time and get this very tasty soup on the table a bit faster, I call for leftover mashed potatoes. Don't tell anybody, but I have even used purchased, ready-to-serve mashed potatoes, and they will do just fine.
You do need to remove the coarse stems from the dillweed and parsley and use only the leaves though. The stems are too tough to produce a pleasant texture.
Of course, the color makes this soup a perfect choice for St. Paddy's Day. In the left side of the pic above, you can see the edge of a slice of Irish soda bread, likewise an appropriate option if you're interested in marking the occasion in a traditional fashion. Another possibility–my Guinness Extra Stout no-knead bread is here.
1 tablespoon unsalted butter, cut into bits
1 medium yellow onion, peeled and
chopped
1 1/2 cups chopped cauliflower florets
4 cups reduced-sodium or regular
chicken broth
1/2 cup each fresh coarsely
chopped dillweed and parsley leaves (no stems)
3 tablespoons finely snipped
fresh chives, plus more for garnish
1 1/2 tablespoons cornstarch
1/2 cup half-and-half (or ¼ cup
each regular milk and light cream)
1 1/2 to 2 cups leftover mashed potatoes, as needed
Salt and freshly ground black pepper to taste
In a 4-quart saucepan or similar-size soup pot, melt the butter over medium-high heat. Add the onion and cauliflower and cook, stirring, about 3 minutes, until the onion softens but does not begin to brown. Add 1 1/2 cups broth; adjust heat so the mixture simmers and cook for 5 minutes, then set aside.
In a food processor, combine the herbs and cornstarch and pulse until the herbs are finely chopped. Scoop up 2 cups of cauliflower mixture (drain the excess broth back into the pot) and add vegetable mixture to the processor. Process until the herbs are finely chopped and
the mixture well blended and as smooth as possible.  Add the pureed mixture back to the pot, along with the remaining 2 1/2 cups broth.
Bring back to a boil, and cook, stirring, until slightly thickened, about 3 to 4 minutes. Whisk in the half-and-half and 1 1/2 cup mashed potatoes until smoothly and evenly incorporated. For a thicker soup, whisk in more potatoes as needed. Taste and add salt and pepper if desired. Return the soup to the stove, and heat, stirring to piping hot. Serve garnished with chopped chives and sprigs of dillweed, if desired. Makes 1 1/2 quarts of soup, 4 or 5 main dish servings.
Fine accompaniments to this soup recipe: Guinness stout bread, left, and Irish soda bread, right. Or perhaps you'd like my curried potato soup instead of this one.