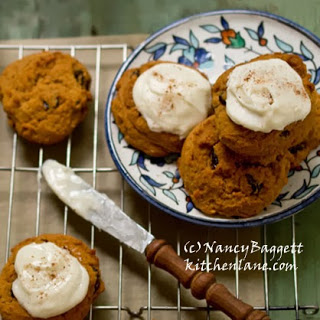 In a blog post a while back, I mentioned that my very first submission to the Washington Post was almost turned down due to my recipes. The food editor at the time, Bill Rice, told me that while he liked my writing, the accompanying recipes just didn't seem very interesting. Clearly on the brink of rejection, I countered by offering to submit several more, then raced to the kitchen and tested like crazy to create additional choices for him to consider. This tack worked; he deemed a couple submissions from the second batch worthy, and– ta-da!–I soon saw my food feature appear in the paper.
I'm telling you this because that was the beginning of several enjoyable decades I've spent diligently focusing on creating quality recipes and stories for the Washington Post, and just yesterday I received a most remarkable payback for my efforts. I was thrilled to discover that the food section staff was spotlighting and sharing with readers some of my baking tips, plus a whole sampling of cookie recipes I'd created for the newspaper. Most exciting of all was the high praise I was given by staffer Jane Touzalin in her story: She called me a "cookie baker extraordinaire," and then added: "We've featured more than fifty of [Nancy's] recipes in our database over the years and they're always foolproof." Wow, I am so humbled to learn they feel that way! (To read the Post story or check out the various cookies, go here.) 
Since it's Halloween season, I recently pulled out and baked one of my all-time favorite fall cookie recipes,  pumpkin rocks with cream cheese frosting. I created the cookies for my 2006 All-American Dessert Book, and didn't really remember much except that I'd thought that they were exceptionally good. I'm happy to report that the cookies were indeed delicious, and that the instructions guided me clearly and easily through the steps. I'm proud of this recipe and happy to share it with you here.
Pumpkin Rocks with Cream Cheese Frosting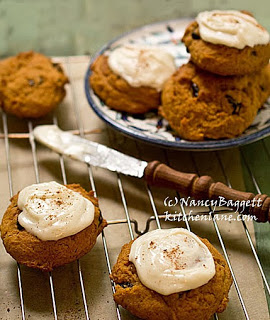 No, no! Don't think that because these cookies are called "rocks" they are hard and crunchy.  In fact they are soft, almost cakey. And even though I generally don't like cakey cookies at all, let me assure you that these are quite special. The cookies feature the same mild but distinctive flavor that has made pumpkin pie a favorite since Colonial times.
They smell wonderfully fragrant and can be topped with a smooth and mellow cream cheese frosting that goes nicely with the pumpkin and spice. You can definitely omit it if you prefer your cookies plain or are short on time. The curious name "rocks" refers not to the texture, but to the fact that this kind of old-fashioned drop cookie looks vaguely boulder-like.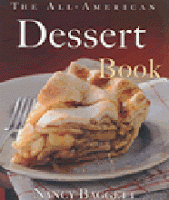 If you are looking for pumpkin-shaped or other autumn-themed sugar cookies instead of pumpkin cookies such as these, check out my decorated cut-out pumpkin cookies and fall leaf cookies.
Tip: In case you wonder whether eggs have been omitted from this recipe by mistake, they haven't–no eggs are required. (If you skip the frosting and sub stick margarine for the butter the cookies can be served to
vegans.)

Pumpkin Rocks with Cream Cheese Frosting
Serves:
35 2-3/4 inch cookies
Ingredients
1 cup (5 ounces) dark seedless raisins
3 cups all-purpose unbleached white flour
1 ½ teaspoons ground cinnamon
¾ teaspoons each ground cloves and nutmeg
1 teaspoon baking soda
Scant ½ teaspoon salt
⅔ cup (10⅔ tablespoons) unsalted butter, slightly softened
1⅓ cups granulated sugar
½ cup corn oil or other flavorless vegetable oil
¼ cup light molasses
1 cup canned pumpkin (not seasoned pumpkin pie filling)
1 ½ teaspoons vanilla extract
Frosting (Optional)
1 3-ounce package cream cheese, slightly softened
2 ½ cups unsifted powdered sugar
¼ teaspoon vanilla extract
1 tablespoon orange juice
Instructions
Preheat oven to 350 degrees F.
Lightly grease several large baking sheets, or spray with nonstick spray.
In a small bowl, cover raisins with hot water.
Let stand 10 minutes; drain thoroughly.
In a medium-sized bowl, thoroughly stir together flour, cinnamon, cloves, nutmeg, soda, and salt.
In a large mixer bowl with mixer on medium speed, beat butter and sugar until very well blended and fluffy.
On low speed, beat in the oil, molasses, pumpkin, and vanilla until smoothly incorporated.
Beat or stir in the flour mixture, then raisins until evenly incorporated.
Drop dough into golf ball-sized mounds, spacing about 2½ inches apart on the baking sheets.
Bake one pan at a time in upper third of the oven until cookies are lightly browned all over and slightly darker at the edges, 13 to 15 minutes.
Let stand just until firmed up slightly.
Using a spatula, transfer cookies to wire racks; let stand until thoroughly cooled.
To prepare for icing, set racks of cookies over sheets of wax paper.
For frosting: In a mixer bowl with mixer on low, then medium speed, beat together cream cheese, powdered sugar, and vanilla until well blended and very smooth.
Beat in orange juice until smoothly incorporated. If frosting is very stiff, add enough water to thin it to a spreadable but still firm consistency; if too thin, add more powdered sugar.
Using a table knife or small, thin-bladed spatula, swirl about a teaspoon of frosting over center of each cookie top.
Let stand until frosting sets, at least 1 hour.
Store, airtight, with wax paper between the layers.
The cookies may be frozen, airtight, for up to a month.