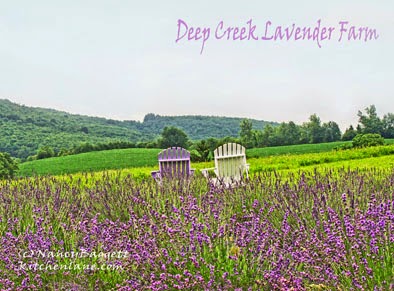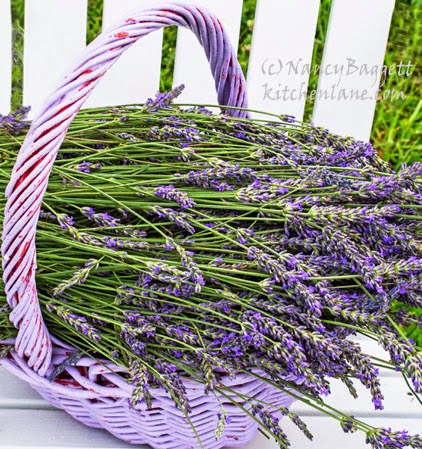 I've been creating fresh and dried lavender recipes lately, and I'm more smitten than ever with the beauty, fragrance, and haunting, spicy-floral taste of this wonderful herb. My most recently created recipe is lavender limoncello. One of my recipe testers, who is a great limoncello fan, says this lavender limoncello is the best version she's ever tasted. I hope you'll try it, too. It's fun and surprisingly simple to make, though you do need a little patience while it sits and develops its rich, citrus-floral flavor.
Day Trip to a Maryland Lavender Farm
As you can see in the pics here, yesterday, I decided to revel in lavender for a whole day, and took a road trip to the Deep Creek Lavender Farm in rural western Maryland. I'll just say the experience was calming and uplifting–if I'd seen pearly gates there, I'd have been certain I was in heaven! The soothing scent of the flower spires swaying in the breeze, the  constant contented humming of the bees, and the cheerful bird songs combined to treat me to a magical, therapeutic day.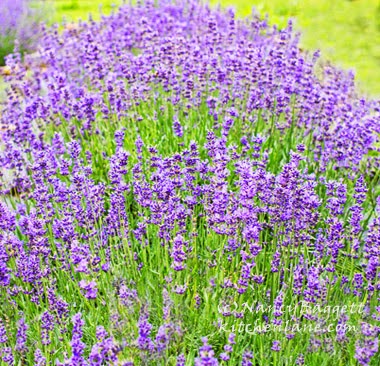 Mostly, I'm going to let the photos here tell you the story. The farm is tucked down a  winding little road in the Appalachian range in Garrett County. (You can see the low, gentle mountain slopes out beyond the lavender fields in the photo at the top.) But luckily for the day tripper in the DC-Baltimore metro area, it's only a few miles off scenic Interstate Route 68 and is easy to find.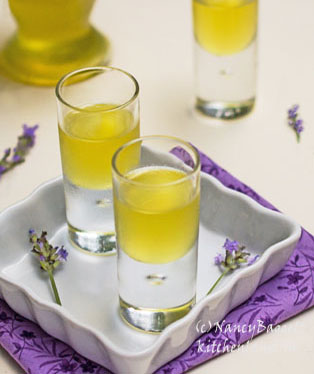 I was also fortunate to visit near the height of the blooming season. The owner, Anne Davidson, explained that some varieties had already been harvested, but as you can see, there were more than enough lavender plants in full purple display to enchant me as well as the other guests who dropped by.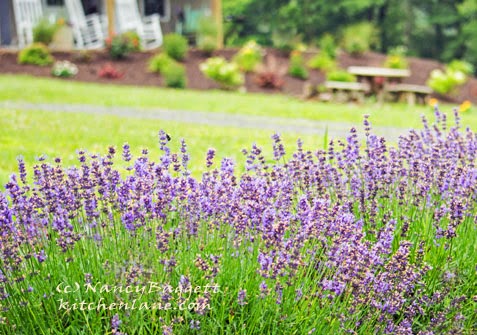 The farm and gift shop are open on Saturday, Sunday, and Monday from Memorial Day through Labor Day. Anne said she makes a point of carrying as many locally handmade items as possible, including the apple lavender jelly she prepares, and her sister's scent pillows and tote bags (shown in the picture at left above). She has rocking chairs set out on the front porch of the gift barn so you can sit and enjoy the lovely view and sip her lavender-infused lemonade.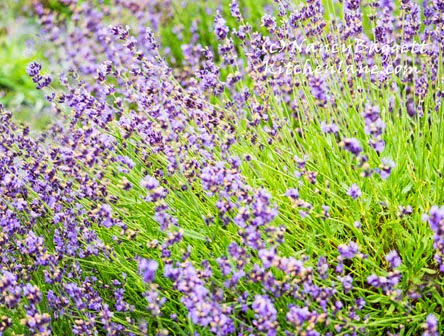 I was amazed at the number of kinds of lavenders–different colors from deep purple to soft lilac to even white. And different growing habits too, from short, almost straight-stemmed varieties to tall, graceful ones with spikes that seem to sweep out and reach for the sun. One thing they all had in common–they smelled spicy-sweet and attracted bees.

Lavender-Infused Limoncello
I took some of my lemon-spiked limoncello for Anne to try and, since it seemed the perfect setting, I placed it out in her lavender patch to take a picture. No, the lavender doesn't lend any color to limoncello, but it has a strong affinity for lemon and definitely adds an enticing flavor note. One of my recipe testers, who loves limoncello, says it's the best she's ever tried!
Lavender Limoncello is best made with fresh lavender flower heads. Just tuck some in along with the lemon peels and let them steep in the alcohol for a week. (It's hard to wait, but at least give your brew five or six days.) Once you've readied the sugar syrup and finished making the liqueur, keep it stashed in the coldest part of the refrigerator. Then it will be ready whenever you're in the mood to treat yourself or guests.
This limoncello recipe is adapted from one I brought back from the Amalfi coast of Italy. The original recipe and more details on how the Italians enjoy the liqueur
are here
.
Serves:
about 1 liter (1 quart)
Ingredients
5 or 6 well-washed, then dried lemons
7 or 8 fresh culinary lavender spikes (flower heads) or 2 teaspoons dried culinary lavender buds
½ liter (about 1 pint) Everclear grain alcohol or unflavored vodka, warmed to barely hot
300-350 grams (about 1 ½ to 1⅔ cups) granulated sugar
Generous ½ liter (2 to 2½ cups) spring water, use smaller amount for a very potent limoncello
Instructions
Peel the yellow part of the peels from the lemons using a sharp peeler; be careful to remove only the thin layer of yellow and not the white pith underneath (it's bitter). Combine the strips of peel, lavender, and the warmed alcohol in a large jar or other non-reactive container. Be sure the peels and lavender are covered with alcohol. Cover and set aside in a cool spot for at least 1 week and up to several weeks for an even more pronounced lemon and lavender flavor.
Combine the sugar and water in a medium nonreactive pot or saucepan. Stir until the sugar is just incorporated over medium high heat. Bring to a boil and let the mixture boil gently, covered and without stirring, for 10 minutes. Let cool. Strain the infused mixture through a sieve into the sugar syrup, stirring just to blend the two; discard the lemon peels and lavender. Transfer the limoncello to a large measuring cup or pitcher. Pour it into sturdy storage bottles; stopper with corks. Store in a cool spot or, better yet, the refrigerator.
Chill the limoncello in a very cold refrigerator or freezer until ice cold before serving. It's traditional to serve it serve straight up in chilled vodka or shot glasses.
Other recipes you may like:
Lavender Buttercream Frosting/Filling for cookies and macaroons
. Or learn more about lavender and make a
Lavender Blackberry Syrup for fruit, berries or ice cream.