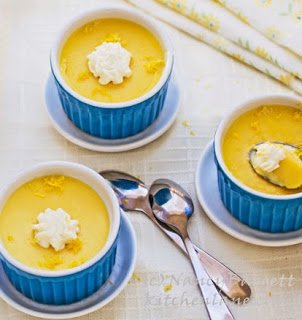 Over several decades of writing mainly baking books, I've created countless dessert recipes. Cakes, pies, ice creams, cookies …. oh yes, loads of cookies for three different cookie books! But never, until recently, did I think to come up with a recipe for Lemon Pots de Creme.  This, it turns out, was a terrible oversight, as IMHO these to-die-for little puddings rank right up there with the most sublime treats ever devised. Think tart-sweet, intensely lemony, and as rich, smooth, and luxurious on the tongue as a couture satin shirt is on the skin.
I don't know why lemon pots de creme were missing from my repertoire. I'd created a deeply chocolatey Chocolate Pots de Crème recipe for my 1991 International Chocolate Cookbook that has been a favorite ever since. And lemon meringue pie and lemon shortbread bars are two of the sweets I remember most vividly from childhood and still often crave.
Despite the chi-chi name, lemon pots de crème call for no fancy French patisserie techniques other than baking the individual custards in a bain marie, a warm water bath. Etymologists say the phrase, translated as "Marie's bath," comes from Medieval Latin. Some scholars think the Marie mentioned may have been Maria Prophetissa, an early alchemist who lived some time between the first and third centuries AD.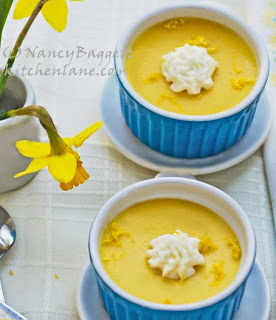 Baking the cups in a water bath is a simple step and requires no skill whatsoever, but never skip it.  The water partly shields the yolks—all seven of them!—from curdling due to harsh oven heat. Which means they cook gently and slowly and thicken the custards (without any assistance from flour or cornstarch) to a lush, silken state that is the mark of all well-made flans and baked custards and puddings.
Supremely Good Lemon Pots de Creme
Make and serve these little gems, and your reputation as a dessert maker will be assured. No gluten, no artificial flavors or colors, nothing but the freshest, creamiest most  lemon taste  imaginable.  (Note that I don't throw superlatives like supreme around lightly!)
You will need 6 to 8 ramekins, pot de creme cups, or custard cups; ramekins that are 2 1/2- to 3-inches in diameter and hold around 2/3 cup are ideal. The classic tempered glass custard cups are on the large side but will do fine, if that's what you have; set them on teacup saucers to dress them up a bit.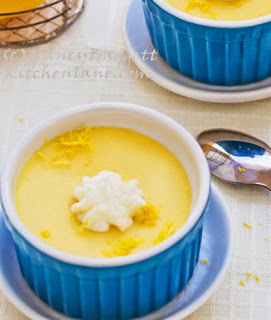 2 cups heavy cream
1/4 cup clover honey
3 to 4 tablespoons granulated sugar, to taste
1 tablespoon lemon zest (yellow part of the peel)
Pinch of salt
7 large egg yolks
1/4 cup fresh lemon juice
Lemon peel curls, coarsely grated lemon zest, a few perfect
raspberries or whipped cream dollops for garnish
In a medium non-reactive saucepan, bring the cream, honey, sugar, lemon zest, and salt just to a boil, stirring until honey and sugar are dissolved. Turn the heat off and let the mixture steep for at least 30 minutes and preferably 1 hour. For a more intense flavor or convenience, make ahead, then cover and refrigerate for up to 24 hours.
When ready to complete preparations, position a rack in the middle third of the oven; preheat to 325 degrees F. Lay a tea towel in a deep roasting pan or flat baking dish large enough to hold the ramekins. Set 6 to 8 oven-proof ramekins or cups, spaced slightly apart, in the pan. Reheat the steeped cream mixture to very warm, stirring; set aside.
In a large bowl, whisk the egg yolks until very frothy and smooth. Gradually pouring in a thin stream, whisk the cream mixture into the egg yolks, continuing until all the cream is incorporated. Whisk in the lemon juice until evenly incorporated.  Strain the custard mixture through a fine sieve into a 2 cup glass measure, stirring and pressing down on the zest. Pour the mixture into the ramekins, dividing equally.Pour hot water into the roasting pan until it comes at least halfway up the sides of the dishes.
Bake for 20 minutes. Begin testing by jiggling a custard cup; as soon as the crème is set except for about the center 1-inch, the custards are done. Carefully remove the pan to a cooling rack and let stand until the custards are cooled, then cover and refrigerate them for up to 4 days. Let warm up just slightly before serving. Makes 6 medium-sized and 8 small desserts.
You may also like my Chocolate Pots de Creme recipe here.  My favorite "crackless" NY-style cheesecake also bakes in a warm water bath; check it out here.