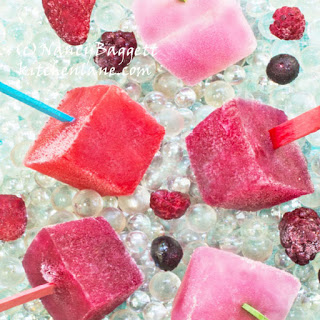 These homemade real fruit juice ice pops are light, bright, colorful, and guaranteed to bring on goose bumps.  They capture the taste of summer's favorite fruits and berries, but in  more intense, much colder form.
If you use the right brands of real frozen juice concentrates instead of artificially colored and flavored powders to make your ice pops, your juice ice pops can also be much healthier and far tastier than the usual bought ones. They'll provide vitamins and antioxidants and skip artificial dyes and other iffy additives, too.
Caveat: While most fruit-based frozen juice concentrates available in supermarket freezer cases are fat-, dairy-, and gluten-free, do read labels if you are determined, as I am, to avoid petrochemical food dyes and artificial flavorings. On occasion I've discovered "fruit-flavored" and frozen "punch" blends that were jazzed up with red dye #40 and other suspect chemicals and which contained only 10% actual juice!  (FYI, Welch's has some 100% pure, dye-free frozen juice selections; check them out here.)  For real fruit juice ice pops, choose your frozen juice concentrates carefully.
Once a batch of fruit pops is readied ahead, frozen, and then removed and placed in individual baggies, treating the kids or yourself and chilling out is totally spontaneous. Just pluck a pop from the freezer and start licking. No need for a bowl, scoop, or spoon! If you happen to live in a neighborhood with a trolling ice cream truck, homemade juice pops are a wholesome and economical alternative to offer when the Good Humor man rolls by.
More good news: These are super-convenient and easy to make. Just dilute a can of frozen concentrate with water. Each grocery store seems to have a different assortment of flavors and brands. I used the pink lemonade, strawberry-raspberry, and berry-white grape for the pops here, but have found that limeade, pineapple juice, and Concord grape juice work well, too. Note that this recipe calls for frozen juice concentrates; the bottled and canned juice concentrates stored on supermarket shelves are totally different products. Some not nearly as fresh tasting and brightly colored as the frozen kinds.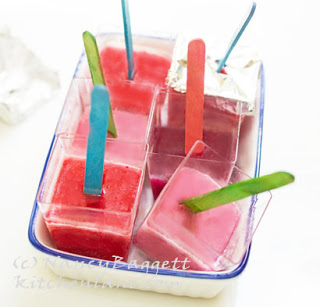 You don't need to buy popsicle molds–though they are convenient if you or your kids make pops often. Here I used acrylic cubes that hold about 4 to 5 ounces, along with sticks purchased in a craft store. The containers are sturdy enough to recycle; I've reused them several times already and they are holding up nicely. The 4-ounce plastic drinking cup designed to fill bathroom dispensers are another easier-to-find and more economical option.
As you can see from the pic above, the trick to holding the sticks upright while freezing the popsicles in cups is to cut a tiny slit in the centers of squares of foil; secure a foil square over each cube or cup; then slip the sticks through the slits until they touch the bottom. The pops are easier to manage if the cups are set in a tray or a dish before going into the freezer.
 Real Fruit Juice Ice Pops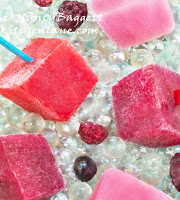 The only real way to find out which brand and variety you like best is to try different frozen concentrates. The kids in my family seem to prefer their juice ice pops with berry flavors and blends; grownups also find the lemonade (either pink or plain) and limeade quite refreshing. Depending on the brand and flavor you may want to stir in a little honey to sweeten the ice pops slightly. The lemonade and limeade juice concentrates are often especially tart and likely to need some taming; plus the honey lends an extra touch of pleasing flavor.
Tip: Most cans frozen juice concentrates are good diluted with 1 1/2 cans of water to make ice pops, but if the mixture seems too strong, just add in more water to taste. Note that if you think you'll be incorporating some honey, use hot water and let the frozen juice concentrate thaw a bit first; honey takes a lot of stirring to blend into very cold liquids.
1 10- to 12- ounce can frozen fruit juice concentrate
1 1/2 juice cans water, plus more if desired
Several  tablespoons clover honey or other mild honey, optional
Put the frozen juice concentrate in a large glass or other nonreactive measure. Stir in the water; if you plan to add honey, use hot water.  As needed, add several tablespoons of honey to taste; keep stirring until it completely dissolves.
Pour the mixture into the molds or cups; it's best to under-fill slightly to reduce spills and allow for the frozen mixture to expand. Add the popsicle mold inserts, or cover the cups with squares of foil and insert sticks through tiny slits cut in the foil. Put the cups in a rimmed flat dish or tray and freeze until frozen solid, at least 3 hours.
To unmold, dip each mold or cup in hot water for 8 to 10 seconds, then squeeze the sides to loosen the ice pop and push it up and out. Repeat the dipping in hot water as necessary.  Don't try to remove the pops by pulling on the sticks, as this may just pull the sticks out of the popsicles. Depending on the size of the cups or molds and how full you fill them, the yield will usually be 6 to 8 pops.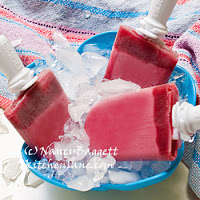 Another ice pop recipe you may like, pomegranate-yogurt pops here.