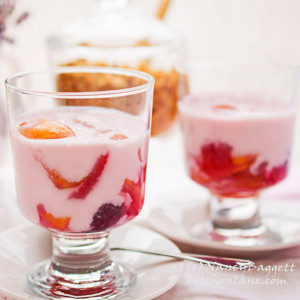 In the beginning I loved my microwave oven. But soon I realized it had limitations, and began to look down my nose at microwave cooking. I reheated coffee and tea and routinely thawed blocks of frozen meat with the microwave oven, and I occasionally warmed up leftovers. And when I baked I depended on the microwave oven for several rudimentary tasks, like melting chocolate and butter (caveat–reduced power only!). Eventually I started taking my microwave a little more seriously. Which lead to a number of more interesting uses–including preparing these healthful, and tasty 4 Minute Baked Fruit Breakfast Parfaits. They are quick, tempting, attractive, and healthful, and (with or without granola on top) make a perfect light breakfast (or brunch) dish.
The fruits for the parfaits  fully "bake" in about 1.25 minutes (along with a little honey or a homemade or purchased gourmet fruit syrup, such as my blackberry-lavender syrup  used in the version pictured here). The quick zapping brings out the flavor and color and allows the fruits to instantly become tender and absorb the sweetness. Microwaving also bursts the fruit cell walls and releases their juices, which get whisked into a plain Greek-style yogurt to produce a nearly instant fresh-tasting fruity yogurt sauce.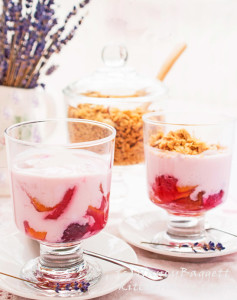 I still believe that those electromagnetic waves bouncing about bombarding food molecules are cruel to certain ingredients, so am not going to give up my stove or regular oven. But some dishes  definitely do benefit from being zapped. My microwave-baked apples here come out tasty and even more succulent than classic oven-baked apples, yet they take a fraction of the time. I love to cook or par-cook winter squash, sweet potatoes, and potatoes in the microwave for the same reason; a fine microwave-assisted pumpkin-fruit soup is here and my home-fried potato recipe is here. Another shortcut use: I lightly "toast" nuts by  spreading them in a heatproof dish and microwaving briefly–I stir every 30 seconds until they smell fragrant and "done"–usually in 2 minutes!
I asked my Facebook (mostly culinary) friends for other clever ways to use the microwave for cooking and almost immediately they responded with loads of great suggestions. These peeps are amazingly creative! Here are their contributions and comments, edited just slightly for conciseness. (Thank you everybody!)
Great Microwaving Tips from My Facebook Friends
Don Chow   A decent polenta… Steam veggies… Mug cake… Chocolate… Cook root vegs… No,  not ashamed of microwave.
Nathalie Dupree   I do chocolate and butter melting too, and always use a large glass measuring bowl with handle (Anchor Hocking)! for things like grits.
Chris  Grimm   To make syrups, grenadine, etc., for the bar and the home bar.
Wendy Tien  I microwave a beaten egg to use for a sandwich. 45 seconds, turn, another 17 seconds. Perfectly cooked for a breakfast sandwich.
Jennifer A. Wickes   For reheating, melting, steaming veggies, baking potatoes and cooking bacon.
Mike Nuestrom   For making kale chips.
Martha Hopkins   I sanitize sponges and steam whole artichokes.
Elizabeth Perhac Schmitt  Quick blanching of veggies.
Melanie Preschutti   To cook potatoes and sweet potatoes for small-batch mashed potatoes. No peeling, no mess, no fuss, no pots. Just scoop 'em out of their skins, mash 'em in a bowl with some butter, salt, pepper & milk or cream.
Joseph V. Coniglio   Fast hot water above the boil temp, or low temp liquifying of lard in baking or warming a spot of milk, warming ready-made appetizers, pre-soften baked potatoes I then finish in the oven or on the grill.
Ken Albala   I prefer a few things cooked in there. Potatoes are better than baking in an oven and much quicker. And I swear by eggplant in the microwave.
Susan Cohen   To melt butter and chocolate and to begin the process of caramelizing onions.
Traci Yamane   I used it to impress my son with a mug cake.
Missing Bell    We cook plates! It is the best possible use for a microwave oven. We detest hot food being served on a cold plate and with a microwave oven there is no excuse. Right at the last minute can make sure the food stays warm when it is served on a hot plate.
Linda Hayes   Start pierced potatoes in the microwave till tender, then finish off in toaster oven until skin is crisp.
Linda Zimmerman   [Cook ] green beans, asparagus, broccoli, brussels sprouts, artichokes, zucchini, oatmeal, steamed sweet potatoes, and fingerling potatoes. Couldn't live without it.
Terry Paetzold   Use it with the power level feature for defrosting, melting butter and chocolate, heating honey, rewarming food, to cook asparagus, for pre-cooking winter squash, sweet potatoes or russets to cut roasting time, to heat tortillas.
Maria Speck   The best tool to refresh and rewarm bread, straight from the freezer. Many baked goods in fact  fast, efficient, and simply amazing. Never used a microwave before coming to the US.
Kathy Gold   I steam artichokes in the microwave, and make oatmeal if I'm in a hurry.
Norene Gilletz   Wrote a whole book on microwave cooking – MicroWays. Love it for salmon! Broccoli or other veggies.  Chocolate pudding.  Chili. Some of my recipes on www.Gourmania.com.
Eileen Buckholtz   Breakfast dishes–like my oatmeal and plum dish–or egg, vegetables, and feta cheese. Silicone cookware works great.
Cristina Potters   Use it as a bread box 90% of the time.
Tom Killian  Occasionally cook asparagus in the microwave. Also make popcorn.
Hanaa TheBaker    Bunch of "baking" usages: proofing yeast dough with cup of boiling water, bring frozen butter to room temp using the "power level" feature, make ganache, melt butter, melt chocolate (again, "power level" feature), heat water to bring eggs to room temp, soften cream cheese….
Ruth Glick   Cook sweet potatoes. Make "baked apples" almost daily because they are such a good, low cal dessert. For a cobbler or crisp, I start the fruit in the microwave. Tip: Use a measuring cup instead of a bowl—for a handle that's not hot.
Erin Duggins Ramage   Once a day for my homemade frozen green chile and chorizo breakfast burritos. I pop one in while the coffee is brewing.

4 Minute Baked Fruit Breakfast Parfaits
A baked fruit compote just has a more "breakfasty" feel than one with fresh fruit--the warmth is comforting, plus with some granola sprinkled on top it's a bit reminiscent of a cobbler or crumble (always a good thing!). I also like that the hot fruit juices take the chill off the yogurt-- which makes it seem both homier and more flavorful. This recipe makes 2 parfaits. To double it , double the ingredients; use a 2-quart microwaving bowl; and increase the microwaving time by 20 to 30 seconds. Tip: If you choose a gluten-free granola, the recipe will be gluten-free.
Recipe type:
Breakfast, Brunch
Ingredients
2 medium-sized peaches (peeled), small pears, or large plums, pitted and cut into slices
1 cup mixed berries, such as blueberries, blackberries, raspberries or strawberries (sliced if large)
2 tablespoons clover honey, or 2½ tablespoons gourmet fruit or vanilla syrup or Grand Marnier liqueur
¼ teaspoon vanilla extract
1 5.3 ounces (or similar) carton of sweetened vanilla-flavored Greek-style yogurt, drained of any liquid
Bowl of honey-almond or cinnamon granola, or gluten-free granola for serving
Instructions
Spread the fruit in a 9-inch glass pie plate or similar sized square or oblong glass baking dish. Drizzle over the honey or syrup and stir. Cover the dish with a microwave cover or wax paper. Microwave on high power 1 minute. Stop and stir. If the fruit is not bubbly hot and juicy, continue microwaving, stopping and checking at 15 second intervals until the fruit is done. Stir in the vanilla.
Drain the juice from the fruit into a small deep bowl. Add the yogurt and whisk until the sauce is well blended and smooth. Divide the fruit between 2 pedestal dishes or glass bowls. Divide the yogurt sauce between them, spooning it over top. Serve immediately, along with a serving bowl of granola that can be added to the parfaits as desired.
Alternatively, cover and store the ingredients separately, then briefly reheat the fruit in the microwave and assemble the parfaits up to an hour before serving time. Makes 2 servings.
Here are some microwave-assisted recipes you might like:  
Autumn Pumpkin-Apple Soup,
Quicker Home Fried Potatoes and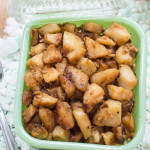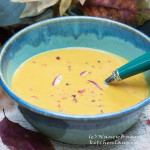 Microwave-Baked Apples