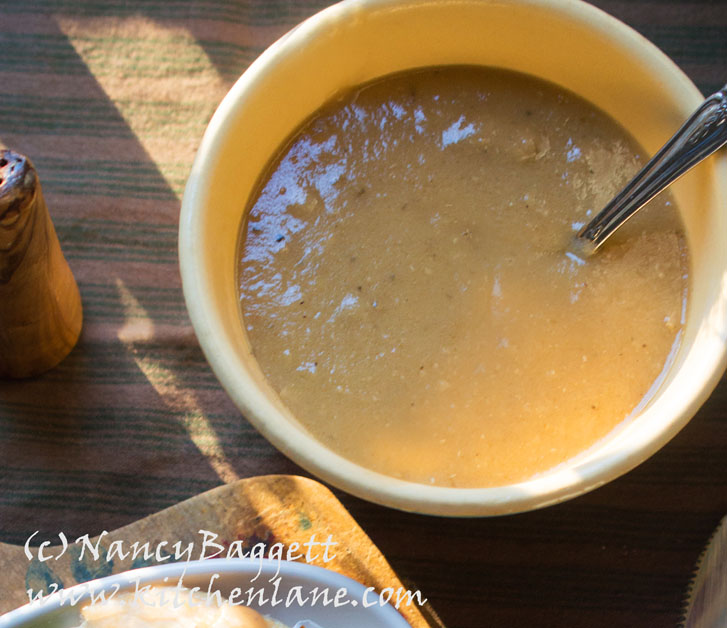 In a couple of days many of us will be enjoying the most traditional of American menus, turkey, stuffing, cranberries, and, if we're lucky, lots of rich, deeply satisfying gravy. I know from experience that a really good turkey gravy can save the whole meal by perking up a ho-hum bird, or disguising dry, bready stuffing or diverting attention from super-gluey potatoes. (Side note: Don't ever try, as I once did as a newbie cook, to mash or de-lump mashed potatoes in a food processor. You will get glue!) Be assured that with this recipe you can make an outstanding turkey gravy—even when the bird fails to provide the desired well browned bits and generous pan drippings. Normally these are essential for gravy success, but not with this recipe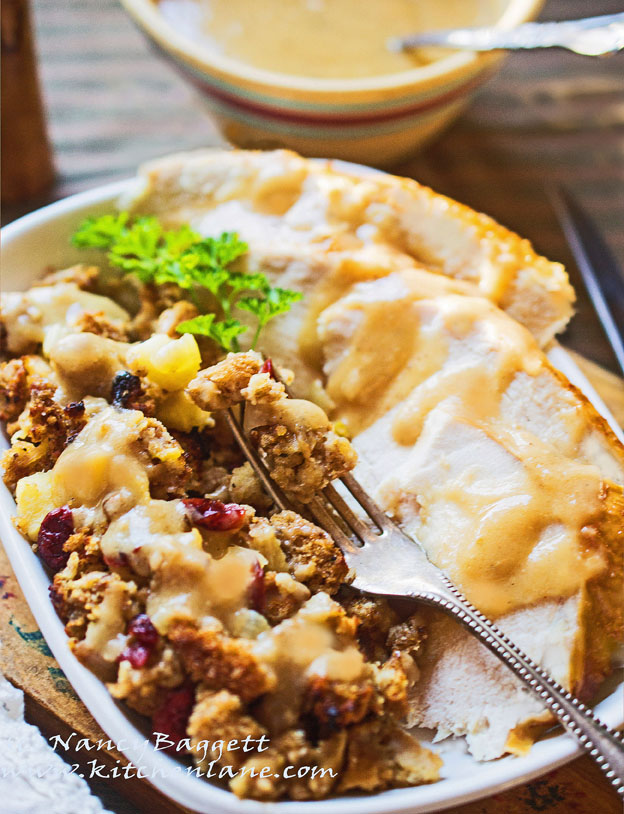 The first step is to make a strong, full-bodied turkey stock to use instead of bland canned chicken broth (or worse yet, water) in the gravy. Its flavor is robust enough to fully compensate when the pan drippings are skimpy. In fact, I came up with this recipe after several seasons of struggling to make passable gravy from nearly drippings-free turkeys. If you like, make the stock ahead and stash it in the fridge or freezer. But do bring it back to room temperature before using.
I prefer to use wings for the stock because they have a particularly enticing turkey flavor. But necks and backs will do.  Even chicken wings are okay if that's all you can find in the market.  In case you don't know, stock is one of the fundamental techniques of classic French cooking for making tasty soups, stews, and sauces. The French word for stock is "fond;" it means foundation. The word is apt, since the stock is indeed the foundation of a tempting turkey gravy.
The only other key gravy flavor-enhancing trick (besides seasoning carefully with salt and pepper)  is to start the cooking by browning the flour with some butter, vegetable oil, or fat from the roasted bird. This, too, is a French technique, called making a roux. The browning turns the starchy flour taste nutty and its color reddish brown, as shown in the photo below. This both deepens the gravy color and taste.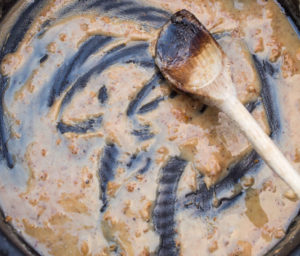 Tip: If you require a gluten-free gravy (as I often do to serve my daughter-in-law), here's how to adapt the recipe: Omit the flour and skip the making of the roux. Stir 2 cups stock into the fat and drippings in the skillet until evenly incorporated. In a small bowl whisk together 1 cup stock and 1/4 cup cornstarch until smoothly blended. Stirring constantly, immediately add the cornstarch mixture into the skillet. Raise the heat and bring the gravy to a full boil, continuing to stir. Boil until the gravy thickens and turns clear, 3 or 4 minutes. To compensate for skipping the roux, be sure to stir in some gluten-free soy sauce along with the lemon juice and salt and pepper. If necessary, thin the gravy with more turkey stock before serving.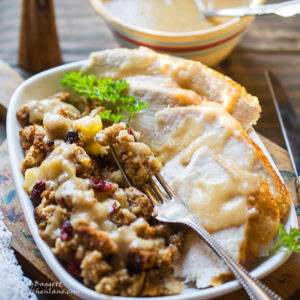 Really Good Turkey Gravy
A really good turkey gravy makes the meat, stuffing and potatoes taste better and can ensure your reputation as a fab holiday cook. Make ahead a great stock; great gravy will follow.
Serves:
3½ to 4 cups gravy
Ingredients
Turkey Wing Stock
2½ pounds fresh or frozen (thawed ) turkey wings (not smoked), or other bony turkey pieces
1 small onion, peeled and quartered
1 small stalk celery including leaves, very coarsely chopped
2 tablespoons coarsely chopped fresh parsley
¾ teaspoon dried thyme leaves
⅛ teaspoon each fresh coarsely ground black pepper and sea salt
1½ tablespoons olive oil or other vegetable oil
6 cups very low-sodium canned or boxed chicken broth
Really Good Gravy
1 to 1¼ cups turkey roasting pan drippings (add water if needed to yield at least 1 cup)
5 tablespoons all-purpose unbleached white flour
3 to 4 cups room temperature turkey stock, as needed
Sea salt and freshly ground black pepper to taste
2 to 3 teaspoons low-sodium soy sauce, optional
½ to 1 teaspoon fresh lemon juice to taste, optional
Instructions
For the stock: Preheat the oven to 375 degrees F. Put the wings, onion, celery, parsley, thyme, and pepper and salt in a large, shallow, wide-bottomed Dutch oven or large deep-sided skillet. Stir in the oil to lightly coat the other ingredients. Place the pot in the middle of the oven and roast, uncovered, stirring several times for 1½ hours, or until the wings are nicely browned all over.
Stir in 6 cups low-sodium chicken broth; if necessary add enough water to cover the wings. Replenish the water as necessary if the liquid reduces to less than 4 cups. Continue roasting, uncovered, 1½ to 2 hours longer, until the wing meat is tender and falling off the bone and about 4 cups of liquid remains.
Pour off the stock into a 1-quart glass measure, canning jar or other heat-resistant storage container. Let stand to cool slightly, then refrigerate until the fat solidifies on the surface. Skim off and discard the fat. Store the stock, covered and refrigerated for up to 5 days or freeze for up to a month; thaw before using. Reserve the turkey for making soup or hash, if desired.
For the gravy: Let the turkey and roasting pan cool slightly; set the turkey and roasting rack aside. Set the roasting pan on a burner over medium heat. If the pan is dry, add some hot water, then scrape up all the drippings. If they are stuck to the bottom add a little more hot water and scrape until they are loosened. (The deeper the liquid color, the better.) Turn out the drippings into a gravy separator or heat-proof glass measure and, if necessary, add water to yield 1 cup. Let stand until the fat rises to the surface. Measure out 2½ tablespoons fat from the drippings and place in a 12-inch nonstick skillet. Discard the remaining fat from the container surface but reserve the drippings mixture.
Over medium-high, heat the turkey fat to bubbling hot, then stir in the flour until smoothly incorporated. Cook, stirring constantly, until the flour bubbles and turns the color of peanut butter, about 5 minutes; adjust the heat so the mixture doesn't burn. Pour the reserved drippings into the skillet, stirring, or if a smooth gravy is preferred stir and press them through a sieve into the skillet, then stir well. Immediately gradually add 2 cups turkey stock, stirring until evenly incorporated and the gravy comes to a boil. Boil, stirring, about 4 minutes longer until the gravy thickens. As necessary thin the gravy with more stock; it shouldn't be thick as it will thicken more upon standing and during cooling or storage. Stir in the lemon juice and salt and pepper to taste. Serve the gravy immediately or cover and refrigerate for up to 4 days. Reheat to piping hot at serving time.
Another good recipe for a Thanksgiving menu, a silky
maple custard pie
.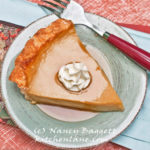 Or try this unusual option, cranberry-pear-ginger muffins.