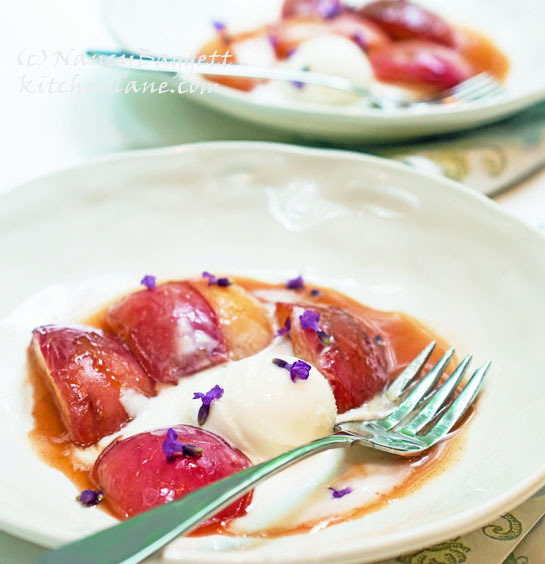 Oh joy! It's the height of stone fruit season. Finally, I am lucky enough to find straight-from-the-orchard peaches, nectarines, apricots, and red, purple and yellow plums at area farmers' markets. Every week I buy a few pounds of the most fragrant-smelling varieties and turn them into sorbets, fruit salads, jams, cobblers, betties, and, now, this delightful side dish or simple dessert.  The recipe here is called Lavender-Scented Peach and Apricot Compote. As shown, with a dollop of ice cream, it makes a lovely, light summer dessert. If you skip the ice cream, the compote also makes a fabulous side for grilled pork chops, ham, or smoked duck. Another option: Let the fruit compote cool slightly, then serve it with slices of fresh Mozzarella or balls of buratta for a spectacular appetizer or first course.
As you'll notice, I've featured culinary lavender in my Peach and Apricot Compote–it is a wonderful enhancement to all kinds of fruit, especially peaches, apricots, and plums.  Here, it's in the syrup that dresses the compote. And it is on top of the servings in the form of fresh-plucked "bloomlets." Technically, these are called corollas and open at the end of the lavender buds just as the spikes come into full bloom. Since the lavender flowering season is short, strewing over the bloomlets  is entirely optional.  But if you are fortunate enough to have them on hand, they not only add gorgeous, memorable touches of color, but pleasing little pings of lavender flavor and aroma.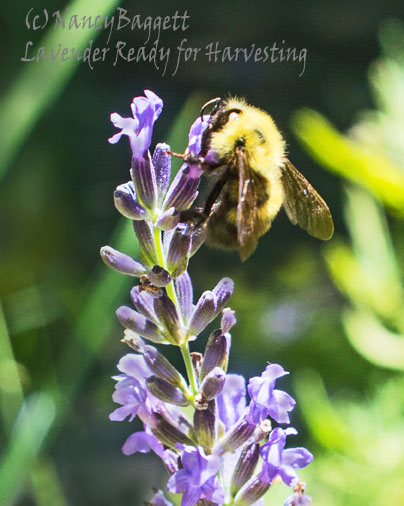 The appearance of the little bloomlets on the lavender spikes, or flower heads, also signals the bees and butterflies that it's time to come partake of the nectar. Once about half the corollas are open as shown at left, the spikes are at their peak and ready for humans to harvest as well. The essential oil held in the buds is most abundant and flavorful before a spike is in full bloom. Do remember that if you decide to garnish with the fresh bloomlets, they need to be added right before serving, and dishes should be at most warm and preferably at room temperature.
Be a Lavender Locavore
While the fresh lavender bloomlets are optional, a good-quality fresh or dried culinary lavender is essential. For best flavor and fragrance, be a lavender locavore and buy from a local or regional lavender farm or farmers' market. It will pay off  in the Lavender-Scented Peach and Apricot Compote and any other savory or sweet lavender-accented dish you make. Almost all American growers use organic farming practices and, perhaps surprisingly,  they offer a wider number of fine culinary varieties than importers do. Furthermore, their lavenders are fresher and cleaner, and when you buy from them, you'll be supporting American family farming. If there are no lavender farms close by, just look on-line. Most farms have e-shops and are happy to ship anywhere in the country.

Lavender Scented Peach and Apricot Compote
The syrup is lovely in this dish, but also delish with almost any fruit. Use any that's left over as a drizzle for fruit plates or compotes. Or stir a few tablespoons of syrup (to taste) into plain unsweetened Greek-style yogurt and serve as a dipping sauce for fresh strawberries. Another option: Add a little syrup to sautéed smoked duck or pork at the end of cooking for a quick fruit-honey glaze. Tip:If desired, make the syrup in advance and refrigerate up to 14 days.
Ingredients
Honey-Orange Lavender Syrup
⅔ cup clover honey
½ cup plus 1 tablespoon orange juice or blood orange juice
1 tablespoon chopped fresh culinary lavender spikes (flower heads) or 1 tablespoon dried culinary lavender buds
1 teaspoon coarsely crushed coriander seeds
1 teaspoon freshly grated orange zest (orange part of the skin)
Fruit
6 or 7 medium-sized just ripe peaches or nectarines, or 8 or 9 large just ripe apricots (or a combination
1 tablespoon unsalted butter
1 teaspoon olive oil or safflower oil
Pinch of fine sea salt
About ⅓ cup to ½ cup honey-lavender syrup, to taste
Instructions
For the syrup: In a medium nonreactive saucepan stir together the honey, juice, lavender, coriander seeds, and orange zest until well blended. Bring almost to a boil over medium high heat, stirring occasionally. Remove from the heat and let stand 1 hour to allow the flavors to infuse. Taste and if a more pronounced flavor is desired, cover and continue infusing the syrup for up to several 3 or 4 hours until the desired flavor intensity is developed. Reheat the syrup to warm, then strain it through a fine sieve into a glass jar or other nonreactive storage container. Refrigerate, covered, for up to 2 weeks. Makes 1 generous cup.
For the fruit: Thoroughly wash the fruit and pat dry. Cut each peach or nectarine into 5 or 6 thick slices; cut apricots in 4 or 5 slices. In a 12-inch skillet over high heat heat the butter, oil, and salt until bubbling and hot, but not smoking. Add the fruit pieces, flesh-side down and sear them until nicely browned, about 2 minutes. Stir in ⅓ cup syrup, lower the heat slightly and, cook, stirring and gently turning the fruit. Continue cooking 2 to 3 minutes more until the liquid boils down and begins to caramelize, but the fruit pieces still hold their shape. Immediately remove the fruit to a plate. Add 2 or 4 more tablespoons syrup (larger amount for tarter fruit) to the skillet. Continue cooking, stirring, until reduced and slightly thickened. Set aside until serving time.
Return the fruit to the skillet and cook, gently stirring, just until reheated and coated with syrup. Immediately serve the fruit alongside grilled or roasted meat, or in individual dessert bowls or plates. Strew the fruit with fresh lavender "bloomlets" right before serving, if desired. If desired, pass the remaining syrup in a pitcher so diners can add more to their desserts. Makes 5 or 6 servings.
Other recipes you may enjoy:
Peach Betty,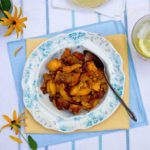 Peach-Orange Marmalade