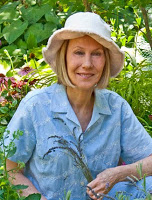 Hi, I'm Nancy. I've been focused on the fun of food my whole life and have been writing about it for over three decades in both cookbooks and articles. I love creating dishes that make my family smile and that I think will make you and your loved ones happy, too. (Perhaps you can guess from the pic that I also love to garden. I occasionally post about enjoying the herbs in my yard. The lavender in the pic at left is featured in the buttercream recipe here. (BTW, I'm a huge lavender fan and grow a lot of it in my garden.)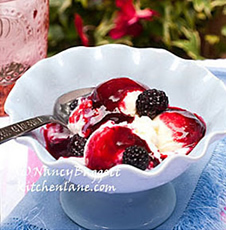 When I'm developing and writing up recipes I try to think about what might be confusing or tricky, and concentrate on eliminating any trouble spots so things will go smoothly for you every single time. I sometimes include little tips or dos and don'ts that I would tell you if I were right there in your kitchen. (I'm big on explaining the why's behind the rules; peeps are then more likely to follow them!)
The Recipes
Mostly, I post my own recipes at Kitchenlane, and these are always tested at least twice (and if I'm not completely satisfied, much more than that). My wonderful hubby has been one of my top tasters for so long he has gotten very experienced at the job. Sometimes he'll say,"That one is good enough for me to eat, but not good enough for you to publish." He knows from experience that I want my dishes not just to "pass," but be so good you'll keep them in your repertoire and feel are well worth paying for in my cookbooks. A lot of what I know about food, I learned just by testing, changing things and observing the results, then testing again.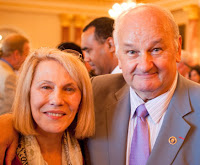 I also graduated from a year-long pastry chef training program taught by the former White House Executive Pastry Chef, Roland Mesnier.  We happened to run into one another at a culinary event in DC recently; and Roland's former colleague at the White House, Frank Ruta (now of the acclaimed Palena restaurant) took this pic of us. It was great to have a little time to catch up.
Occasionally people ask why I don't post more recipes from other bloggers. For one thing, creating my own, not borrowing from others is what I've always been expected to do when I write cookbooks and for food magazines and newspapers, so it's become a habit. For another, developing my own recipes is an enjoyable process that I've gotten good at. I have my own way with food, as well as with words, so why not share what I have to offer with you!?  And please remember that every recipe I create and post on Kitchenlane is thoroughly tested  to be sure it is as tasty as possible and will work in your kitchen as well as mine.
The Pics
For my blog posts I style and take my own photos such as the chicken curry in a hurry pic at left, and the maple custard pie recipe below. Other than a couple introductory classes for bloggers, I have no formal training in this area, but I have been concentrating on improving and feel my pics now do look more appetizing and better show off my food. Here are my shots that have been published on Foodgawker.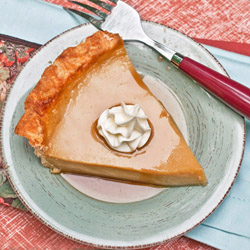 I have worked with some extremely talented food photographers and stylists during photo shoots for some of my cookbooks, and am gradually trying to put in practice what I learned from them. (Recently, I worked with Diane Cu and Todd Porter on the photos for my  book, Simply Sensational Cookies,  and they were truly inspiring.)  I shot the 50 photos for my most recent book, The 2 Day a Week Diet Cookbook.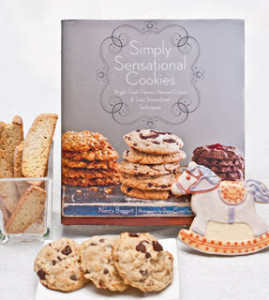 I shoot in natural light, usually on a year-round porch that serves as an informal studio or on the deck right off the kitchen. Recently I upgraded to a Nikon D 200 camera and definitely see an improvement in image quality. For more formal details on how I got started, books and articles I've written, and such, check out my official full bio below.
Enjoying and Using My Work
Everything on this site is copyright protected. Like most writers and food photographers, I spend a lot of time and money creating my work. I am happy to post material for viewers to come look at and enjoy, but please do not borrow any content for publication without obtaining permission. If you wish to republish a recipe, by law, you need to rewrite the text and recipe instructions in your own words, credit the original recipe to me, and link back to it on my site. Should you wish to contact me, open the Contact tab on the right side of the navigation bar across the top and send me an email.
Official Bio
Nancy Baggett was first introduced to the pleasures of cooking in her family's farmhouse kitchen at the age of five, when she began helping her mother bake cookies and cinnamon sticky buns. "I probably wasn't much real help at that point," she notes, " but those hours with her in the kitchen gave me a sense of pride and accomplishment that I still feel whenever I cook or bake today."
Nancy also recalls the times her grandmother, aunt and mother gathered to prepare traditional family recipes for the holidays. "Early on I realized that the baking together was really preserving part of our family's heritage and providing continuity from one generation to the next," she says.
By the time Nancy was 13, she was accomplished enough to cook supper on the nights her mother, a school teacher, had after-school meetings. "Usually, my menu consisted of tuna casserole made from a recipe on a cream of soup can, plus applesauce and canned corn — hardly gourmet, but my meals always got eaten so I was thrilled," she recalls with a laugh. Though Nancy continued to enjoy experimenting with recipes during her teen and early adult years, cooking was just a hobby until her son was born. "After college I'd worked as a technical writer and editor and was looking for a way to keep professionally active while being an at-home mom." Once she thought about it, she says, the idea of combining her writing background with her interest in cooking "just seemed like a natural."
Eventually, Nancy decided to focus on baking and desserts and spent a year in a professional pastry chef program taught by the White House Executive Pastry Chef, Roland Mesnier. She says that the professional schooling helped reinforce what she'd learned on her own over the years.She began selling food features to the local weekly, then to the two large newspapers in the area, The Baltimore Sun and The Washington Post.
Known for both lively writing and ultra-reliable recipes, Nancy has since contributed to many major magazines and newspapers, including Food & Wine, Bon Appetit, The Ladies' Home Journal, Woman's Day, House Beautiful, Chocolatier, Cooking Light, and The Los Angeles Times. She is a long-time contributor for Eating Well magazine and The Washington Post food section.
Nancy has authored and co-authored numerous cookbooks.
Her most recent books, The 2 Day a Week Diet Cookbook; Simply Sensational Cookies; and Kneadlessly Simple–Fabulous, Fuss-Free No-Knead Breads, have all won praise from both buyers and reviewers. Simply Sensational Cookies was nominated for an Internantional Association of Culinary Professionals "Best Baking" book and made the 2013 NPR and Washington Post "best gift books" lists.  Her very popular The All-American Cookie Book, has more than 100,000 copies in print and was nominated for a 2001 Best Baking Book Award by both The International Association of Culinary Professionals and the James Beard Foundation. Her International Chocolate Cookbook was selected 1992's best dessert book by the International Association of Culinary Professionals.
Nancy is a frequent television and radio guest chef and has appeared on "Good Morning America," "CBS This Morning," CNN, the Food Television Network, the Discovery Channel, Lifetime Television, and scores of other national and local shows. She has also been an occasional culinary commentator for National Public Radio's "All Things Considered–Weekend Edition." Additionally, she presents workshops, classes, talks and demonstrations for organizations including the Smithsonian Institution, the International Association of Culinary Professionals, the Home Baking Association, and at many events around the country.
Nancy Baggett is a member of the Washington, DC chapter of Les Dames d'Escoffier and the International Association of Culinary Professionals. The mother of a grown son, David, and grandmother of two children, Charlie and Lizzie, she lives in Maryland with her husband Charlie and mini- poodle Remy. "After almost thirty years, I still love writing and creating recipes, so I must have made the right career choice for me," Nancy sums up.