After being tempted  but resisting last year, I bought myself a razzle-dazzle hanging strawberry basket at a local garden center this spring. Strawberry blooms are usually white or pale pink,  but the ones on these plants are a brilliant pinkish red–by far the most vividly colored I've ever seen.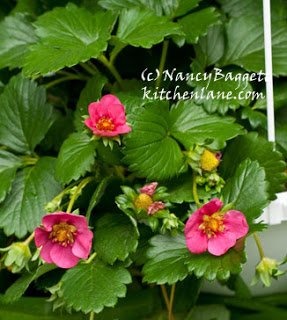 It turns out that what I'd  fallen for was a hot new, award-winning European hybrid strawberry named Toscana that was developed by a Dutch company, ABZ seeds. The variety has apparently been turning other heads besides mine; it won the prestigious European FleuroStar award for its wow power and usefulness as both a decorative and edible "patio" and container garden plant.
The flowers and attractive dark green foliage with red berries add such a cheerful touch I hung the basket on a hook right by my front walk. A tangle of vines cascades gracefully over the pot sides, blooming profusely and even setting a goodly number of berries. The only downside is that the berries are a bit smallish. (They are not as small as alpine strawberries, but they do have a similar elongated shape; see below.)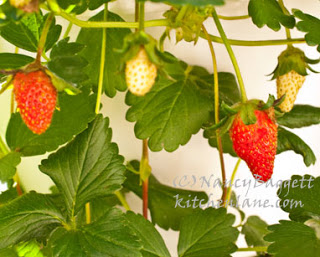 Well, actually, another drawback of these berries is that with only one hanging basket, my yield is just a few fruits every day or so. But, so far, the blooms, and, subsequently, the berries do keep on coming, and from what I've read, it seems that they will continue to produce throughout the summer. Depending on the results this season, I may buy more baskets next spring.
Of course, I needed to purchase most of the strawberries needed to make the following cobbler. Likewise, my crop of garden rhubarb was modest this year, so the recipe features stalks purchased from a local produce store. If you have never tried the strawberry-rhubarb pairing, I urge you to stop and make this cobbler now! The two create a wonderful flavor synergy, with the strawberries lending a full-bodied berry taste and the rhubarb providing a terrific zing.

Strawberry-Rhubarb Cobbler
This homespun strawberry-rhubarb cobbler is one of my hubby's favorites, and I think it's a winner, too. Part of the secret is that the berries and rhubarb are briefly roasted first, which helps concentrate their juices. Plus, just a bit of orange juice and zest brings out the taste of both the berries and the rhubarb. And the cobbler is mellowed with a crumbly-crispy crust that's buttery and much easier that many cobbler toppings to make. (It's just sprinkled over top of the fruit.)
If you like the rhubarb-berry combo here, do check out my easy
strawberry-rhubarb freezer jam here
; it's been a huge hit with visitors to Kitchenlane. Or try my
strawberry-rhubarb sorbet (& some regular pink strawberry blooms) here
.
Ingredients
Strawberry-Rhubarb Filling
Generous ¾ cup sugar, plus more to taste
4 cups coarsely sliced fresh strawberries
1½ cups ¾-inch-long pieces fresh rhubarb
2½ tablespoons cornstarch
¼ cup orange juice
¼ teaspoon finely grated orange zest

Cobbler Crumb Topping
1⅓ cups unbleached all-purpose white flour
¼ cup packed light brown sugar
¼ cup granulated sugar
¾ teaspoon baking powder
¼ teaspoon salt
5 tablespoons unsalted butter, melted and cooled
1 large egg, lightly beaten
Instructions
Preheat oven to 375 degrees F.
For the fruit filling:
In a very large glass pie plate or rectangular baking dish, thoroughly stir together the sugar, the strawberries and the rhubarb. Roast the fruit, stirring several times, for 15 minutes to concentrate the flavors. Meanwhile, ready the topping.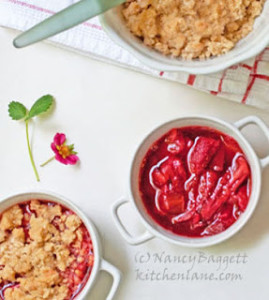 For the topping:
Thoroughly stir together the flour, brown and granulated sugar, baking powder, and salt in a medium bowl. Add the melted butter, stirring until incorporated. Add the egg, stirring with a fork until mixture is blended and clumped. Set aside. Set the roasted fruit aside to cool slightly; then add more sugar to taste if the filling is too tart. Stir together the cornstarch and orange juice and zest until well blended. Whisk the mixture into the fruit mixture.
Divide the filling equally among the individual casseroles, or place in a single 2½- to 3-quart (or similar) large casserole. Sprinkle the clumps of dough mixture evenly over the fruit. Bake (middle rack) of the oven for 35 to 45 minutes, or until well browned and bubbly on top. Test the center with a tooth pick; the crumb particles should look dry and crumbly-crusty. Transfer to wire rack and let cool to barely warm or cooled before serving. The cobbler will keep, refrigerated, for up to 3 days. Serve at room temperature or reheated to warm in a low oven.
Notes
Tip: Use 1-cup oven-proof casseroles for appealing individual cobblers. Or use a single large baking dish and serve the cobbler from it.