NANCY BAGGETT'S NEW COOKBOOK — Simply Sensational Cookies (Watch Quick Video) Bright Fresh Flavors, Natural Colors and Easy Streamlined Techniques
Chosen one of the 2012 TOP TEN Holiday Cookbooks by NPR
Nominated for an International Association of Culinary Professionals Best Baking Book Award
Available on Amazon
Available at Barnes and Noble.com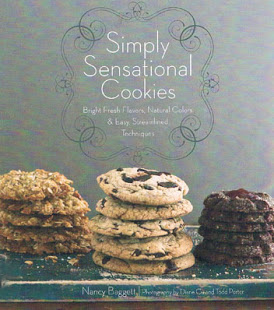 Pro's Praise for Simply Sensational Cookies:
"Nancy is the Cookie Queen and her cookie-making directions and guidance in cookie making are FLAWLESS. She teaches Americans to make great cookies that they'll bake again and again."
—Nancy Wall Hopkins, Senior Deputy Editor, Food and Entertaining, Better Homes and Gardens
Simply Sensational Cookies — What's in the Book
Homemade cookies are one of life's simple pleasures. They don't require a fancy kitchen or special skills, or a big investment of money or time. And what kitchen activity is more fun or creates more fond memories than baking cookies?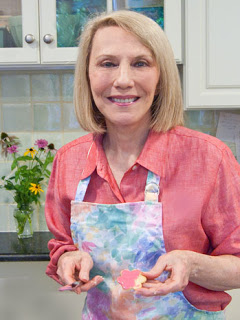 From bestselling cookbook author and cookie expert Nancy Baggett comes SIMPLY SENSATIONAL COOKIES (Wiley Hardcover; $29.99; October 9, 2012), a delicious collection of more than 200 recipes ranging from fast and simple no-bake preparations to some more challenging projects for experienced bakers, all with gorgeous and inspiring full-color photography throughout.
Whether you're a novice baker, an experienced cook, or a parent looking for fun new treats to make with the kids, this book will suit your needs. Nancy offers  both updated versions of classics and modern, innovative ideas for the adventurous baker. You'll find recipes for favorites like Sweet & Simple Sugar Cookies and the punched-up Double Ginger Gingersnaps, as well as exciting combinations like Fire and Spice Chocolate Cookies (zipped up with hints of smoked paprika and cayenne); Sun-Dried Tomato & Tapenade Rugelach, a savory "cocktail cookie" twist on the classic sweet treat; or Lavender Macaron with Lavender Buttercream Frosting that serve up an irresistible spicy-floral character you're bound to love.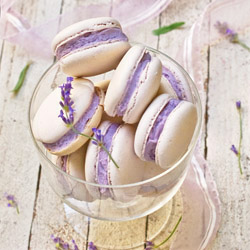 SIMPLY SENSATIONAL COOKIES celebrates what's on-trend and up-and-coming in cookies. You'll find many new, easy, and all-natural ways to heighten flavor, aroma, texture, and eye-appeal in both classic and modern cookies, as well as clever methods for streamlining and simplifying preparations. Here's just a sampling of what's  included:
Easy one-bowl mixing — Many recipes skip the traditional "creaming" of butter and sugar in favor of a method that calls for melting the butter first. This yields a more concentrated flavor and chewy texture, and is easier, too.
Cranked up flavors — Nancy uses everything from fresh and dried herbs, sea salts, citrus zests and green tea, to the occasional ground chiles, peppers and edible flowers to pack an amazing flavor punch.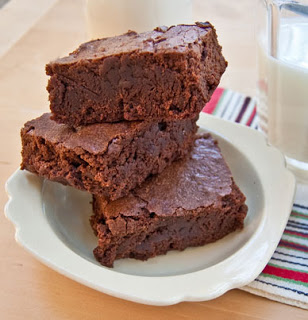 More memorable textures — Exhaustive recipe testing ensures that the snaps really snap, brittle wafers will shatter, and ooey-gooey cookies and brownies are exactly as promised. You'll also find cookies with enticing dual personalities—that is, two textures in one—like Butterscotch Chewies, or Ultimate One-Bowl Chocolate Chippers with their chewy-crispy edges and succulent melt-in-your-mouth middles.
Dye-free, "Au Naturel" decorating options – Besides offering the usual array of recipes, for those wishing to minimize the use of synthetic food dyes, Nancy includes groundbreaking ways to create eye-catching cookies by capitalizing on naturally colorful fruits, berries, and, occasionally, edible flowers.  There are even easy recipes for dye-free sprinkles and garnishing sugars that not only look, but taste good.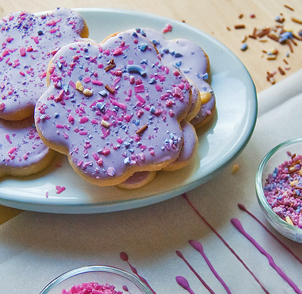 Many of the recipes in SIMPLY SENSATIONAL COOKIES are "one bowl wonders" that can be mixed up, baked and ready for nibbling in less than 20 minutes—that's near instant gratification! Nancy even provides handy chapters of No Bake, Semi-Scratch and Extra-Easy Cookies for when you need your sweet fix fast, with recipes like One-Pot Honey-Oatmeal Drop Cookies and Chocolate-Marshmallow Crispies Drops. You'll also find some  gluten-free recipes and variations that the whole family can enjoy.  From quick treats for the kids to fancy fare for your next party to everything in between  you'll find recipes guaranteed to satisfy every cookie craving.
ABOUT THE AUTHOR
Nancy Baggett is a baker, cookie expert, food journalist, and author of fourteen cookbooks, including the IACP Award–winning International Chocolate Cookbook and her most recent and very popular Kneadlessly Simple. A longtime contributor to Eating Well and the Washington Post, she has also written for Bon Appétit, Food and Wine, Woman's Day, and other periodicals.  See some tips, techniques and recipes from the book in a short video here. For Nancy's full bio, go here.