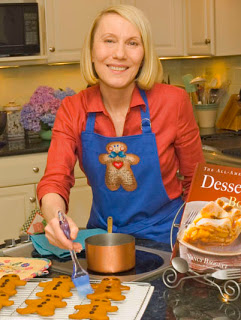 I've been getting requests today for a recipe that just appeared on a Food Network show on gingerbread. The pic here was taken in my kitchen several years ago when the segment was originally shot.
If you didn't see the feature here, let me fill you in: Some years back, when I was researching recipes for my All-American Dessert Book, I heard about a locally famous glazed gingerbread cookie that was prepared at a Capitol Hill diner called Sherrill's Restaurant. Trouble was, by the time I'd found out about these plump, chewy-soft goodies, the restaurant was no longer in business.

Some of my foodie colleagues with the Washington Post food section were in touch with the retired pastry chef who had made the cookies at Sherrills. They offered to see if he would give me the recipe for my book. When he declined, I then tried to pay him to make me a sample batch; I thought this would help me in trying to duplicate his recipe. Alas, he wasn't interested in doing this either.
Still determined, I talked at length to several of the Post food staffers who had eaten his cookies, writing down all the details of what the cookies looked and tasted like. Then for several months, I just kept making up versions and sending them to my Post colleagues for feedback. After numerous attempts and a lot of helpful comments like, "too sweet," "not spicy enough," "getting there," etc.,  I finally produced a batch that they declared "very, very close to the original."
I wish I could tell you that the original creator of  the Sherrill's gingerbread boys thought so too, but I never heard from him, so I don't know. But my cookies were extremely popular with those who tried them.
Several years after my All-American Dessert Book  containing my knockoff version came out, I was asked to do a video segment featuring my cookies for a show on gingerbread. It's since run several times on the Food Network, and now again this year. Since I'm getting requests for the recipe, here it is.  Enjoy!
Almost Sherrill's Soft Gingerbread Boys


Rolled gingerbread cookies are usually on the crisp and crunchy side, but these are plump, lightly glazed, sweet and not too spicy, and, most important, noticeably chewy-soft. Note that this recipe does not contain any eggs.
Incidentally, the glaze (being added at left) is similar to that used on doughnuts, so it often becomes more opaque and flaky as it stands and cools. This is normal.
Tip: To keep this dough from warming up and softening too quickly, thoroughly chill a large baking sheet. Then lay the dough on it as you cut out the cookies. Chill the baking sheet as needed for successive batches.


Dough
16 tablespoons (2 sticks) unsalted butter, cut into chunks
2/3 cup light molasses
Generous 1/2 cup clover (or other mild) honey
1/3 cup corn oil (or other flavorless vegetable oil)
1/3 cup packed light brown sugar
3 1/3 cups all-purpose flour
2 1/2 teaspoons ground cinnamon
1 1/2 teaspoons ground ginger
1/2 teaspoon ground cloves
1 1/2 teaspoons baking powder
Scant 1/2 teaspoon salt
Dark raisins or dried currants (for eyes and buttons)
Glaze:
1 1/3 cups powdered' sugar, sifted after measuring if lumpy
3 1/2 tablespoons water
1 1/2 tablespoons corn oil (or other flavorless vegetable oil)
To make the dough:
In a large saucepan, stir together the butter, molasses, honey, oil and brown sugar until blended. Cook, stirring, over medium heat until the butter melts and the mixture just comes to a full boil. Immediately start timing and cook, stirring occasionally, for exactly 1 minute. Remove from the heat; let cool slightly.
In a large bowl, thoroughly stir together the flour, cinnamon, ginger, cloves, baking powder, and salt. Working carefully to avoid splashes, pour the molasses mixture over the flour mixture. Beat with a mixer on low, then medium speed until very well blended. If the mixer motor labors, stop and complete the mixing by hand. Cover and refrigerate for 30 to 40 minutes, or until barely warm and stiffened.
To roll the dough:
Divide the dough into thirds. Roll out each portion between sheets of baking parchment or wax paper until a generous 1/4-inch thick. Stack the rolled portions (paper still attached) on a baking sheet. Refrigerate for at least 1 hour and up to 12 hours, or freeze for 30 to 40 minutes, or until very cold and firm.
When ready to bake:
Position a rack in the middle of the oven and preheat to 350 degrees F. Grease several baking sheets or coat with nonstick spray oil.
Working with one dough portion at a time and leaving the others in the refrigerator, gently peel off the top sheet of paper, then pat the paper loosely back into place so it will be easy to remove later. Invert the dough and peel off the second sheet.
Using a 4- to 5-inch gingerbread boy (or girl) cutter, cut out the cookies. Using a spatula, transfer cookies to baking sheets, spacing about 2 inches apart.* If at any point the dough softens too much to handle easily, transfer the paper and cookies to a baking sheet and refrigerate or freeze until firm. Re-roll any dough scraps. Continue cutting out the cookies until all the dough is used. Very firmly press raisins into the cookies for eyes and buttons.
Bake for 9 to 14 minutes, until the tops are lightly colored and the edges are slightly darker; don't underbake. Transfer the baking sheets to wire racks over sheets of baking parchment or wax paper. Let the cookies stand for 4 minutes to firm up. Using a wide spatula, transfer them to the racks.
To make the glaze:
In a 1-quart saucepan, stir together the powdered sugar, 3 1/2 tablespoons water and oil until well blended. Bring to a boil, stirring, over medium-high heat, for 30 to 45 seconds (the glaze will be clear). Stir to recombine the glaze, then use immediately while it is still hot. (If the glaze is allowed to stand and cool, it may thicken and become sugary. In this case, add a teaspoon of hot water to thin it again, place over medium heat, and continue stirring until the sugar dissolves. Immediately remove from the heat and use.)
To glaze the cookies:
Using a pastry brush or a paper towel, brush the cookies with glaze until their tops are coated all over with an even layer; the more glaze you use, the softer the cookies will be. Stir the glaze frequently to prevent it from separating. Let the cookies cool completely, at least 1 hour. It's normal for the glaze to become slightly sugary and flaky.
The cookies will keep, packed flat with baking parchment or wax paper between the layers and stored airtight, at room temperature for up to a week or frozen for up to 2 months.Makes 16-18 gingerbread boys.
If you're a cookie fan you might also like my
cranberry white chocolate drop cookies
, or thoroughly tested, popular 
sugar cookies recipe shown at left.  
Another post details how to ready homemade
cookie sprinkles such as those here.