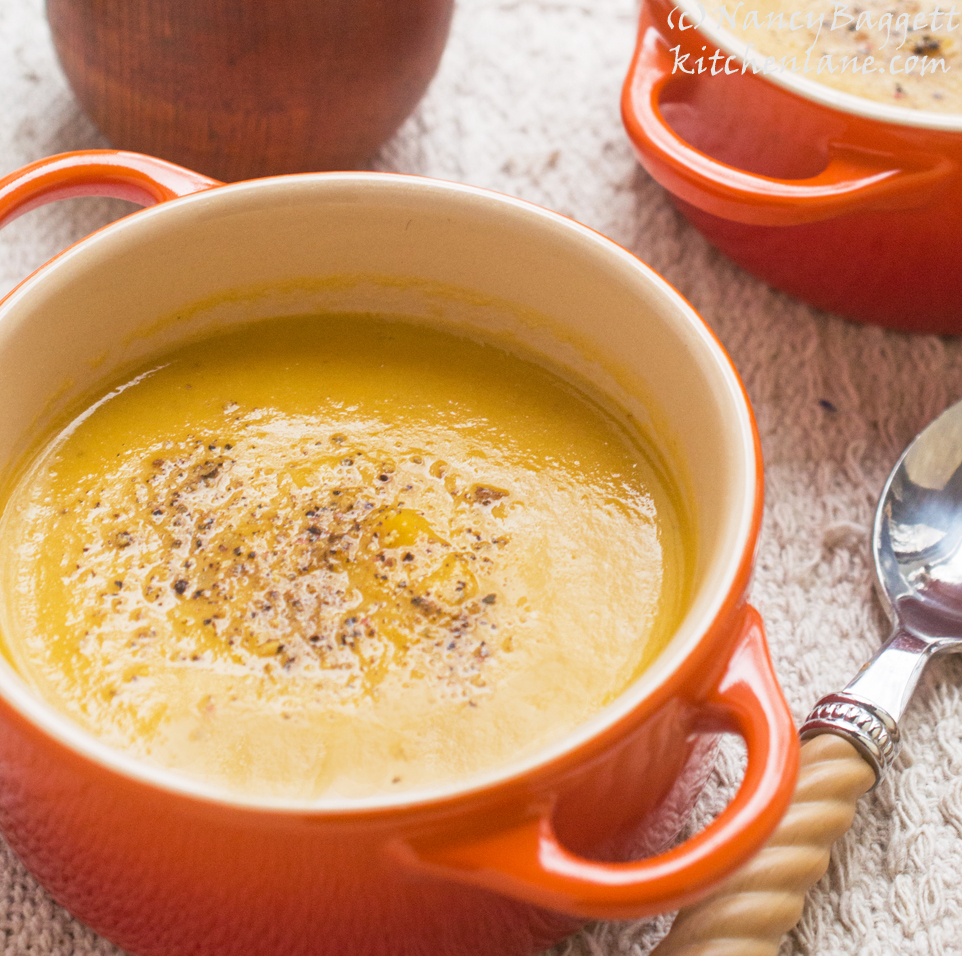 Featuring apples, several root vegetables including carrots and parsnips, and some winter squash, this simple, healthful bisque really captures the spirit of the season. It is  fragrant, delicious and colorful, and makes a fine starter for Thanksgiving dinner or any festive fall or winter meal. I often enjoy it for lunch, too.
Frankly, I was surprised at how tasty all these ingredients are together; I think you will be, too. You may even find that people keep asking for the recipe.
For another appealing autumn recipe, pumpkin bread pudding, click here.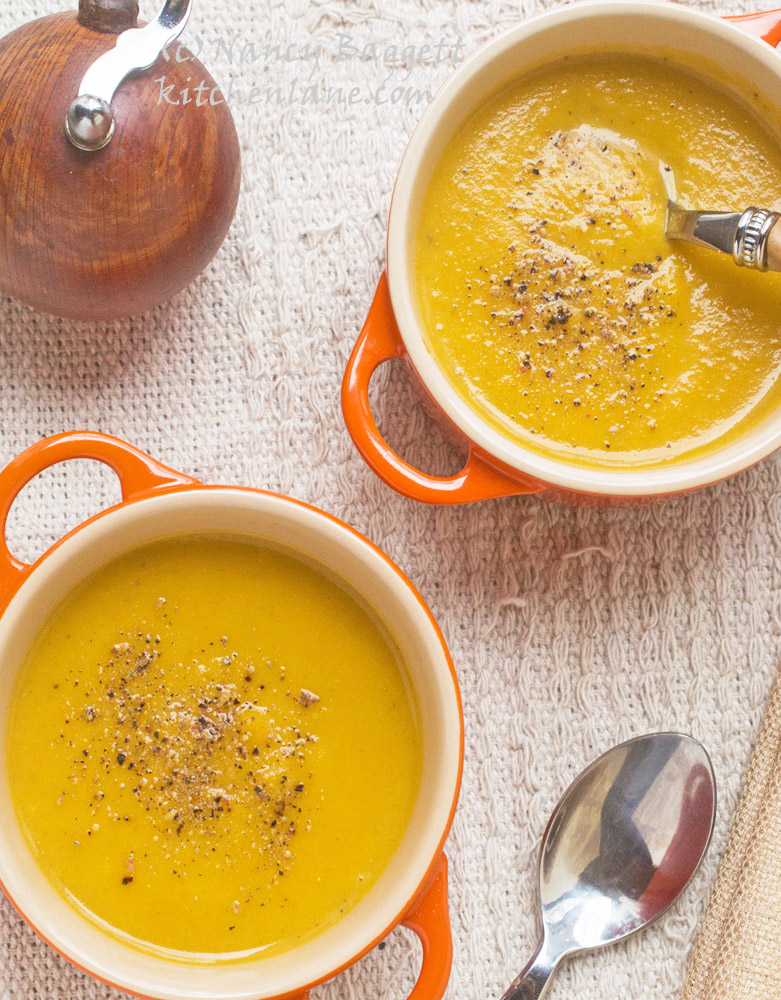 1 large onion, chopped
1 1/2 tablespoons unsalted butter
2 cups peeled and chopped sweet-tart apples (such as Golden Delicious or Honeycrisp)
1 1/2 cups peeled and chopped parsnips
2 1/2 cups peeled and coarsely chopped peeled Acorn, Hubbard or other winter squash
1 1/2 cups peeled and finely chopped carrot
1 teaspoon ground coriander
1 teaspoon minced fresh ginger root
1/2 teaspoon dried thyme leaves, crumbled
About 4 cups reduced-sodium or regular chicken broth
1/2 cup regular or heavy cream
Salt and black pepper to taste (optional)
Fine slices unpeeled apple for garnish
In a 4-quart saucepan or similar-size soup pot, combine onion and butter. Cook over medium-high heat, stirring frequently, 3 or 4 minutes, until onion softens and begins to brown.
Stir in the apples, parsnips, squash, carrot, coriander, ginger root, and thyme. Stir in 3 1/2 cups broth, cream, and bring to a boil over high heat. Reduce the heat; simmer, covered, stirring occasionally, until parsnips and carrots are just tender when pierced with a fork, about 15 minutes. Let cool slightly.
In batches, puree until fairly smooth in a food processor or blender. Return pureed mixture to saucepan over medium heat. Thin the bisque to the desired consistency with more broth as desired.Simmer, uncovered, about 5 minutes until flavors are well blended. Taste and add salt and pepper, as desired. Serve in cups, bowls, or soup plates. Garnish servings with freshly ground black pepper or  fresh apple slices just before serving.
Makes about 1 1/2 quarts.
In the mood for more soup–try my hearty lentil-rice-veggie soup here.