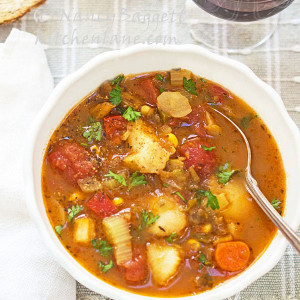 I'm always looking for easy, homey ways to serve fish, and a hearty, zippier than normal Manhattan-style fish chowder has long been in my repertoire. Due to it's name, I used to think of it as an all-American dish, but in fact chowder in general and Manhattan-style in particular  has European roots. Breton fishermen likely introduced the word chowder into Newfoundland, and it gradually drifted down the Atlantic coast. It probably comes from the French words chaudiere, a cauldron, or chaud, which means hot.  The Portuguese have a variant of the word, caldeirdada, which also means a hot pot of stew.
A look specifically into the history of the tomato-based clam, mixed seafood, or fish chowders popular here in the U.S. reveals that despite the New York designation they almost certainly originated in Europe. Some culinary historians claim that red clam chowder made it's way to New York from the Portuguese settlers in coastal Rhode Island and Massachusetts. Others speculate that it was the creation of Delmonico's famous chef, Alessandro Filippini, who hailed from the Italian-speaking region of Switzerland. Still others note that the Manhattan-style chowder is similar to San Francisco's ciopinni, widely believed to be Italian-American in origin. (For several other Italian-inspired vegetable soups, check out my basil-pasta soup or minestrone.)
I don't know exactly which country should get the most credit, but just tossing in a pinch or two of saffron instantly gives this  very good but rather traditional Manhattan-style fish chowder recipe a delectable Old World twist: Think bouillabaisse, or Portuguese caldeirada de peixe (fish chowder), or Spanish sopa de mariscos, for example.  In fact, with just this single heady, fragrant addition, the dish is transported from New World back to old.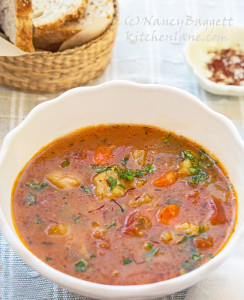 This chowder makes a warming, hearty, nutritious, one-dish lunch or supper. Many such dishes require long, slow cooking for full flavor, but this one is plenty savory with less than a half hour on the stove. Actually it's even better made completely ahead, as this gives the flavors time to mingle. Then it can just be reheated for an instant meal. Like most of home-style stews and soups, it pairs beautifully with warm crusty bread or rolls. (For a delicious & easy no-knead bread to try, click here.)
With or without the saffron, I like this chowder on the spicy side, but you can tame it by omitting the cayenne pepper and cutting back on the black pepper. If you're serving this to kids, going mild and skipping the saffron is probably your best bet. On the other hand, grownups who like zesty Provencal, Italian, Portuguese, or Spanish fare, will probably love the slightly exotic hint of saffron as well as the extra heat.
Tip: Frozen one-pound packages of boneless, skinless fish fillets work well in this recipe. If necessary, partially thaw the fish on lowest power in a microwave oven before using. In a pinch you can also use vegetables from a loose-packed frozen combo bag. Just thaw them under warm water, and pat dry with paper towels first.
Fix-It-Fast Spicy Fish Chowder
If you omit the cayenne pepper and saffron threads, this recipe will taste like the familiar tomato-based Manhattan-style fish chowder. However, if you add these (especially the saffron), the dish will taste remarkably like bouillabaisse, or other similar rustic fish soups and stews found in the coastal regions of Portugal and Spain. I like the saffron so much, I even set out a little bowl of it so diners can add a few more threads and boost the slightly exotic flavor of the dish even further. Be forewarned though--saffron is frightfully expensive.
Serves:
4 main dish servings
Ingredients
2 tablespoons each olive oil and butter
2 to 2½ cups mixed diced veggies, such as onions, celery, and sweet red or green pepper (fresh or frozen, thawed)
2 cups peeled and cubed (1/4-inch) diced boiling potatoes (or 1 cup potatoes and 1 cup fresh or frozen corn kernels
2¾ to 3½ cups reduced-sodium chicken broth
1 teaspoon each dried thyme leaves and dried marjoram leaves
½ teaspoon dried oregano leaves
¼ teaspoon black pepper
Generous pinch each cayenne pepper and crumbled saffron threads, or to taste (optional)
1 14½-ounce can diced tomatoes, including juice
1 pound boneless, skinless cod, haddock, halibut, sea bass or other mild, white fish fillets, cut into chunks
Salt to taste
Parsley for garnish, optional
Instructions
In a very large saucepan or soup pot over medium-high heat, stir together the oil, butter and mixed veggies. Cook, stirring frequently, until the onions are tender and just beginning to brown.
Stir 2¾ cups broth, thyme, marjoram, oregano, black pepper, and cayenne and saffron (if using) into the pot. Bring to a gentle; cook 10 to 15 minutes to finish cooking the vegetables and to blend flavors. Add the tomatoes and fish and cook, gently stirring several times, until the fish pieces are just opaque and cooked through, about 3 minutes longer. Thin the chowder with more broth, as needed. Serve piping hot, garnished with chopped fresh parsley if desired.
You might also like the
minestrone here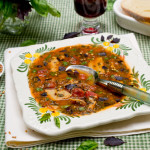 . or perhaps the
basil pesto soup here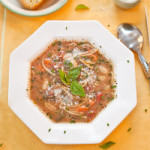 .