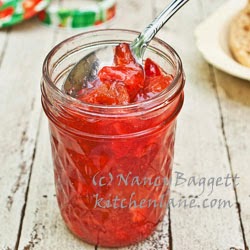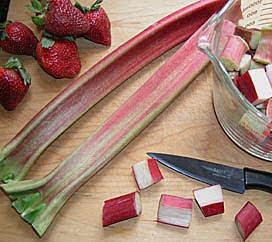 Yes, fresh garden strawberries taste sweet, succulent and completely irresistible on their own. And rhubarb has a refreshing zing, old-fashioned charm and simple goodness.
But strawberries and rhubarb cooked in concert–that's a miraculous match. The berries contribute fragrance, complex fruity flavor, and bright color to balance the rhubarb's greeness. The stalks lend astringence, plus body and boldness to amplify the sweet. Together the two sing a lusty song of spring–especially in this spectacular strawberry-rhubarb freezer jam.
I'd often eaten strawberries and rhubarb solo, but first tried them together in a compote during a visit to my cousins' old farmhouse when I was about five. I still vividly remember how wonderful the combination tasted, and have loved it ever since.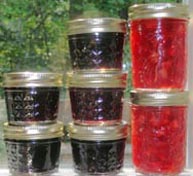 My relatives had a big garden and strawberries and rhubarb were major spring crops, so they prepared the two often and in many different, memorable,ways. I ate my first slice of strawberry-rhubarb pie sitting at their huge dining room table, and my first peanut butter and strawberry and rhubarb jam sandwich in their kitchen. In fact the early pie and jam experiences were the inspiration for my easier cobbler recipe here and the quick, luscious "freezer" jam recipe below. It has been a huge hit, especially with those who like their jams fresh-tasting and not too sweet.
Incidentally, so many people have loved this strawberry-rhubarb freezer jam, that they have asked if I had a similar recipe using a different fruit. I do!  A terrific freezer jam that's  also wonderfully fruity and natural tasting is my Peach-Lavender Freezer Jam, here. Pictured left below, it includes a bit of orange and ginger as well as lavender, and they beautifully highlight the  fresh peach taste. (Or, if  you want to do more with  the rhubarb and strawberry combo try the easy brunch parfaits  here or a fab strawberry-rhubarb cobbler here.)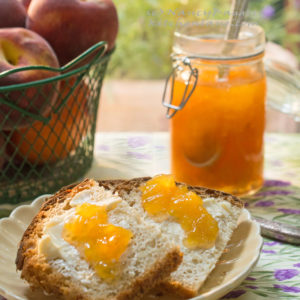 Strawberry-Rhubarb Freezer Jam
This is one of the best jams I've ever tasted–the fresh fruit flavor is just spectacular. And the color is stunning, too.

If you're not familiar with "freezer" jams, they are kept several weeks in the refrigerator (or up to a year in the freezer), so don't require processing in a boiling water bath. (Do sterilize the jars in boiling water before using them though.) Since the fruit is not cooked enough to be sterilized all the way through, it must be refrigerated, not stored on pantry shelves. The jars (right in photo) were cooling so they could be put in the refrigerator.

This jam not only requires very little cooking, but because it calls for the new "low-sugar needed" pectin, it is less sweet, more natural tasting, and more healthful than old-fashioned jams. It's easy to make, even if you've never prepared jam before. Just be sure to check the label and buy a pectin specifically formulated for use in "reduced sugar or no-sugar" cooked jam recipes. Don't buy a pectin designed for no-cook recipes; this is not the same and won't work well.
Ingredients
2½ cups well washed, chopped fresh strawberries
2 tablespoon fresh lemon juice
2 cups granulated sugar, divided
2½ cups diced (1/3-inch pieces) rhubarb
1 box Sure Jell reduced- or no-sugar-needed pectin or 1 box Ball Fruit Jell no-sugar-needed pectin
Instructions
Place several metal tablespoons in the refrigerator to use in checking the jell of the jam. Combine the strawberries, lemon juice and ¾ cup sugar in a large non-reactive bowl. Let stand about 5 minutes, stirring occasionally, until the berry juices begin to flow.
Meanwhile, thoroughly stir together the remaining 1¼ cups sugar and pectin in a large non-reactive saucepan or large, deep-sided non-reactive skillet until well blended and no lumps remain. Stir in ½ cup cold water and rhubarb. Bring to a boil over medium-high heat, stirring constantly. When the mixture comes to a full, foamy boil, cook, stirring, until the rhubarb pieces are tender, but still hold some shape, about 3-4 minutes. If the mixture still appears runny, drop about a teaspoon of it onto a chilled spoon and let it cool for 15 seconds. If it immediately runs off instead of jelling lightly and clinging to the spoon, continue cooking about 1 minute longer, then check using another chilled spoon. As soon as the mixture jells just enough to cling to the spoon and thicken slightly, it is done. (It will continue to jell further upon standing.)
Immediately remove the cooked mixture from the heat; stir the strawberry mixture into the rhubarb mixture. Continue stirring for 2 minutes, scraping the pan bottom until very well blended. The mixture will thicken somewhat and will thicken further as it cools. Skim off and discard any foam from the jam surface. Ladle the jam into jars, leaving ¾-inch headroom to allow for expansion during freezing. Wipe any drips from jar rim and threads, and screw on lids. Let stand until cooled to barely warm. Refrigerate for 24 hours. Check the lids and tighten, if necessary. Then, freeze for up to 1 year, or refrigerate for up to a week.
Notes
TIP: Note that the jam may be fairly thick when first prepared, but may thin out a bit during storage, especially if frozen. Also, though the photo shows the jam in larger jars, it is actually extremely convenient to use the smaller jars shown on the left. Then, the jam mini-jars can be transferred from the freezer as needed and provide about the right amount to last a week.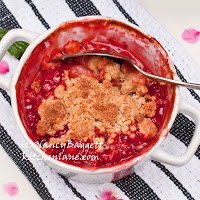 If you're interested in a fabulous crumb-crust strawberry-rhubarb cobbler go here.   Or a delish raspberry-peach freezer jam here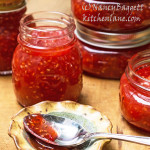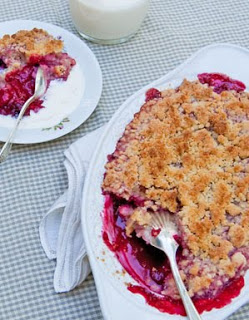 Or, if you're in the mood for other berry treats, an enticing raspberry cobbler is here or blackberry sorbet, here.