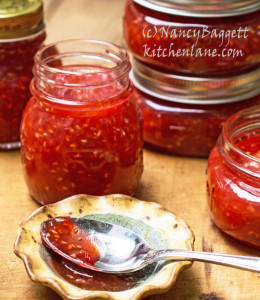 With raspberries and local peaches in season now, I had to pair up this classic delectable duo and ready a batch of  wonderfully full-flavored, zesty, easy jam. Not just any jam, but a raspberry peach freezer jam. Yes, this kind of jam is stored in the freezer instead of on the pantry shelf.
Freezer jams have a fresher, more natural flavor, brighter aroma, than regular jams. And, due to less sugar and a shorter cooking time than in old-fashioned preserves, they are healthier and more nutritious, too.  Finally, whether you are a newbie or veteran canner-preserver,  you'll find this and other freezer jams surprisingly quick and easy to prepare.
Traditionally, jams were always full of sugar because they had to be: The rule of thumb in nineteenth and early twentieth century cookbooks was three-fourths to one pound of sugar for every pound of fruit. This particular ratio of sugar helped to both preserve and jell the fruit. The sugar bound up the water, simultaneously discouraging microorganisms and encouraging the pectin molecules to bond and set.
Even after home refrigerators made freezer jams feasible, lots of sugar was still required to make jams and preserves jell properly. This began to change about thirty-five years ago when food scientists developed "low-methoxyl," or LM pectins.  Unlike the older type, these pectins  require little or no sugar to set, making low-sugar preserves with a normal jelled consistency possible. Derived from orange and other citrus rinds, these products have actually been around since the 1980s,  but have gradually become better known as  interest in reducing carbohydrates and calories has grown.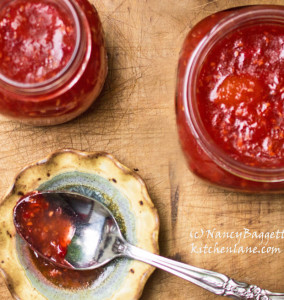 Now, Sure Jell, Ball, and other companies selling home canning and preserving supplies sell modern LM pectins as well as the traditional kind. Each of their various products is unique, so you have to read labels carefully. Some products can be used to make artificially sweetened, low-sugar dietetic spreads. Others are designed to yield preserves that are simply less sugary, healthier, and more fruity tasting than the old-fashioned versions. And many can be used for both purposes.
Because I had always felt that traditional jams were cloyingly sweet, I set to work testing and devising a group of quick, easy, small batch recipes using two of the most widely available "low sugar" pectins, Sure Jell and Ball. These products are usually stocked along with traditional pectins and canning supplies in supermarkets, discount department stores, and, occasionally, hardware stores. It's necessary to read the labeling on the boxes carefully and to look for the words "lower-sugar," or "no sugar needed;" these are not the same as "no-cook" freezer jam pectin that comes in packets. These  latter won't work in the following recipe.
Though the two brands are not always interchangeable, I designed this recipe so you can use either of these low sugar-needed pectins. Further, this recipe doesn't require hot water bath processing. The resulting preserves can be kept refrigerated for up to three weeks or frozen for up to a year. (The cooking times are too short to ensure sterilization, so they can't be stored on pantry shelves.)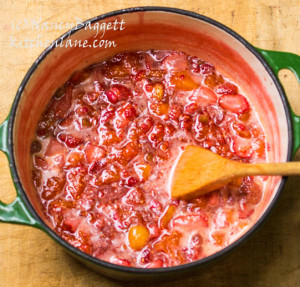 Quick-Cook, Reduced-Sugar Raspberry-Peach Freezer Jam
Have ready 5 or 6 8-ounce jelly jars and lids, washed, then rinsed in boiling water and drained well.
2 1/4 cups granulated sugar
1 box Sure Jell lower- or no-sugar needed pectin or 1 box Ball Fruit Jell no-
sugar needed pectin
3  cups pitted and chopped fresh peaches (4 to 5 large)
1 1/2 cups fresh red or black raspberries, chopped
1/4 cup fresh lemon juice combined with 2/3 cup water
Place several metal tablespoons in the refrigerator to use in checking the jell of the jam. Thoroughly stir together the sugar and pectin in a large, wide-bottomed non-reactive pot or deep-sided non-reactive skillet until well blended and no lumps remain. Stir in the lemon juice-water mixture, peaches and raspberries until well blended. Bring to a boil over medium-high heat, stirring constantly. When the mixture comes to a full, foaming boil, cook, stirring, for 2 minutes.
Drop about a teaspoon of the jam onto a chilled spoon and let it cool for 15 seconds. If it immediately runs off instead of jelling lightly and clinging to the spoon, cook 1 minute longer, then check using another chilled spoon. As soon as the mixture just clings to the spoon and jells just slightly, it is done. (It will continue to jell and thicken further upon cooling.) Immediately remove from the heat. Skim off and discard any foam from the surface.
Let cool for 5 minutes. Ladle the jam into jars, leaving 3/4-inch headroom to allow for expansion during freezing. Wipe any drips from the jar rim and threads; screw on the lids. Let stand until cooled to barely warm. Refrigerate for 24 hours. Tighten the lids. Then freeze for up to 1 year, or refrigerate for up to 3 weeks.
Makes about 5 cups peach-raspberry jam.
Another recipe you may like–a fine tomato-peach chutney that's also stored in the freezer.