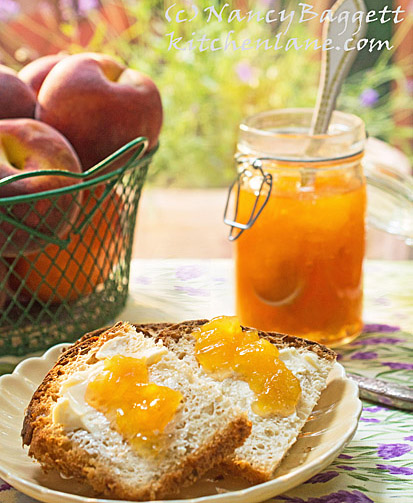 I admit it. I'm smitten with lavender. I love the way it looks and smells in the garden. And–this may sound surprising–I also love lavender as an ingredient in recipes, both savory and  sweet. Yes, in case you didn't know, you can cook with lavender. It's irresistible in the Peach-Lavender Freezer Jam posted here.
There are varieties kinds of lavender especially well suited for culinary purposes and if you use them, you'll love the results! They have a remarkably pleasing citrusy-spicy-piney (but NOT soapy) taste that can zip up dishes as diverse as ham fried rice and fruit sorbet. I hope you'll try both of these lavender recipes in my story that was just published in the Washington Post food section here. (Food editor Joe Yonan sampled the sorbet as we were scooping it up to photograph, and pronounced it one of the best he'd ever tried!)
Actually, I'm so enamored with lavender that I'm writing a cookbook called The Art of Cooking with Lavender to be published this fall. I've been using this beautiful, incredibly fragrant herb in baking for a decade and in all sorts of cooked dishes, from sweet and sour meatballs and roasted country pork ribs to a to-die for lavender buttercream frosting and lavender-blackberry syrup for about five years. In various pork, beef, lamb, and poultry and seafood dishes, lavender lends a refreshing evergreen-like herbal flavor that's a bit reminiscent of rosemary, oregano, or thyme, but utterly unique. With citrus, stone fruits, berries, and recipes containing cream or honey, it contributes a pleasing spicy-orange taste and mellows and enriches in the same subtle way vanilla does.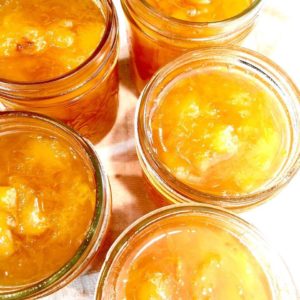 You'll see what I mean about the subtle enrichment if you try this summery, wonderfully succulent peach freezer jam. The lavender doesn't stand out, but if it's omitted, the jam just isn't quite as delish. (It's still quite tempting, though, to be honest!)
Do be sure to use a culinary lavender in this and any other dish, not one harvested for crafting purposes. Dried culinary lavender is available with the spices and herbs in gourmet and high-end grocery stores and in the on-line shops of lavender farms and herb and spice purveyors. This time of year lavender farms, farmers' markets and garden centers also sell fresh lavender. Specifically look for "English" or angustifolia lavenders, which are the sweetest and least resinous, and if they aren't available, try the "French" or x intermedia hybrid lavenders such as the famous "Provence." Skip all "Spanish" or stoeches, and fern-leaf lavenders; they are too peppery and bitter to eat.  For an on-line source of several good American-grown culinary varieties, including Folgate, Melissa, Buena Vista, Imperial Gem, Royal Velvet, and Betty Blue, go here.  (That's Royal Velvet in the basket–very pretty don't you think?)
Peach-Lavender Freezer Jam
Freezer jams are quicker to make and some think they are also better than regular jams. As you'll notice the moment you try this heavenly peach-orange version, they definitely come out tasting lighter and more like fresh, succulent, right-from-the-tree fruit. That's because they require less sugar and a shorter cooking time, and aren't processed in a boiling water bath.
Here, the natural appeal of ripe, summer peaches is cranked up even further with a little hit of lavender, ginger, and orange—oh my, is this combo spectacular! The trade-off is that as the name suggests, these jams must be stored in the freezer or refrigerator. And, you do still need to sterilize the jars and lids in boiling water before filling them with jam. Finally, you must make sure to use a pectin specifically designed for cooking in reduced-sugar or no-sugar-needed jam recipes. "Regular" pectins need a higher sugar content or they won't set up. And "no cook" pectins only work for preparing raw, uncooked preserves.
Tip: If you steep the lavender for the minimum time called for, use the larger amount of lavender buds suggested.
Ingredients
1½ to 2 tablespoons chopped fresh culinary lavender buds or dried culinary lavender buds
1¼ teaspoons each peeled and chopped fresh gingerroot and freshly grated orange zest (orange part of peel)
¾ cup boiling water
⅓ cup fresh lemon juice
2½ cups granulated sugar
1 box (or 3 tablespoons) Sure Jell lower- or no-sugar needed pectin, or 1 box Ball Fruit Jell no-
sugar needed pectin
3 cups pitted and chopped fresh ripe peaches (about 6 large)
1 cup fresh orange segments, free of all pith and membranes and chopped
Instructions
Sterilize 5 8-ounce jelly jars, the screw-on rings, and a ladle in boiling water for 5 minutes. Drain upside down on paper towels to dry. Dip lids in boiling water for 1 minute. Using tongs lay them right side up on paper towels.
Combine the lavender, gingerroot, and orange zest in a small, deep bowl. Pour the boiling water over them. Let stand to infuse for at least for 15 minutes and up to 1 hour.
Strain the infused water through a very fine sieve into a 1-cup measure, using a spoon to push through as much liquid as possible. If you have less than ⅔ cup add enough water to measuring cup to yield that amount. Stir in the lemon juice. Set aside.
Place several metal teaspoons in the refrigerator to use to check the jell of the jam. With a long-handled spoon, thoroughly stir together the sugar and pectin in a 4-quart or larger, wide-bottomed nonreactive pot until well blended and free of lumps. Stir in the lemon juice-infused water mixture, then peaches and oranges until well blended.
Bring to a boil over medium-high heat, stirring constantly. After several minutes, when the mixture comes to a full, foaming boil, start timing and cook, stirring, for 2 minutes. Immediately drop a half teaspoon of hot jam onto a chilled spoon and let it cool for 30 seconds. If it runs off instead of jelling just slightly and clinging to the spoon, cook 1 minute longer, then check using another chilled spoon. As soon as the mixture just clings to the spoon and jells slightly, it is done. (It will continue to jell and thicken further upon cooling.) Immediately remove from the heat. Skim off and discard any foam from the surface.
Let cool for 5 minutes. Using the sterilized ladle, ladle the jam into the jars, leaving ¾-inch headroom to allow for expansion during freezing. Wipe any drips from the jar rim and threads; add the lids, then screw on the rings. Let stand until cooled to barely warm. Refrigerate for 24 hours. Check and tighten the lids if necessary. Then freeze for up to 1 year, or refrigerate for up to 3 weeks. Makes 5 cups jam.
Try the
lavender-blackberry syrup here
.  Or perhaps the
black raspberry cobbler with lavender here
.