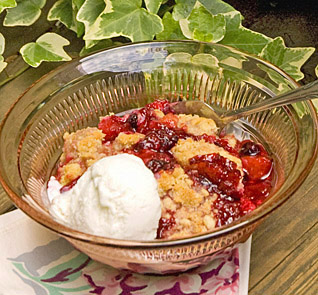 I've been enjoying fresh berry and fruit cobblers for as long as I can remember. I grew up on a Maryland farm, where gathering and eating both wild and cultivated raspberries and blackberries was a memorable part of every summer. As a reward for our harvesting, my mother often used the berries and whatever other fresh fruit was on hand to make us a cobbler for dessert.
We usually sat on our old wooden porch to eat them. It was a comfortable habit that I think added to the pleasure, so I follow suit and sit on my tree-shaded deck to enjoy them today. That's where the photo was taken. (We devoured the servings as soon as the last picture was snapped!)
When I was about eleven, my mother taught me how to prepare cobblers. They've been one of my summer rituals ever since, although I've expanded my repertoire well beyond the biscuit dough version I learned from her. The one in the picture is really a cross between a cobbler and a crumble: An easy streusel mixture is just stirred together and crumbled over the fruit. (The word streusel is originally German and comes from the verb streuen, meaning to scatter, or strew.) This sort of topping is easier than a biscuit dough, since it requires no rolling or shaping.
I started picking berries around age four, and have probably gathered several thousand quarts since then: My first forays were out to the strawberry patch in the family garden. Next, I collected the cultivated red raspberries growing by the garden fence. And finally, I foraged for the wild black raspberries, blackberries, and dewberries along the edges of fields all over our property. I talk about the folksy neighbor who gave me my best picking tips here. (Yes, the dewberries have a magical sounding name, but in fact, these low-growing cousins of blackberries were take-your-breath-away sour; they only tasted good cooked with a lot of sugar.)
We also had one cherry, one plum and one apricot tree, to harvest in early summer, but the birds usually ate all the cherries and our stone fruit trees never produced more than a couple apricots or plums each season. I don't know why, but this was always a big disappointment
I've always found the quiet moments out harvesting in the country exceedingly soothing; the mind can wander and flit as freely as the meadow butterflies, while the hands keep busily, automatically working to fill the pail. Now that I live in the suburbs, much of my foraging occurs at the edges of highways and supermarket parking lots. Which means that the relaxing day dreaming is now interrupted with car doors slamming, occasional honking and vehicles zipping by. But, to be honest, the fresh berries from the burbs are just as spectacular as the ones from the farm.
Very-Berry-Fruit Streusel Cobbler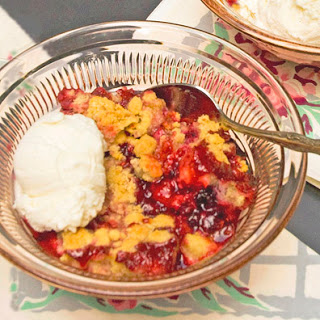 This homey, succulent streusel cobbler calls for red raspberries and cherries and either black raspberries or blackberries. Black raspberries have a wonderful, zingy flavor that complements the other fruits beautifully, but the black varieties are hard to find in markets. If necessary, blackberries make a fine substitute, though the two don't really taste alike.
The recipe calls for adding some plums, apricots or peaches to round out the flavor–each adds a different, wonderful appeal and also "stretches" the berries and cherries a bit. Another advantage of adding in stone fruits is that they yield a less seedy cobbler.
The topping comes out slightly crisp and sweet, providing a pleasing contrast to the tartness of the filling underneath. Be sure to bake until the streusel is done all the way through and golden brown. Test the center top with a toothpick to be sure.
If you're interested in other seasonal fruit desserts, check out my favorite apple crisp or blackberry cobbler, which is shown below.
Generous 3/4 cup granulated sugar
2 tablespoons cornstarch
3 cup red raspberries
1 cup black raspberries or blackberries
1 cup dark sweet or sour pitted cherries
2 1/2 cups pitted and chopped red or black plum, or apricots, or peeled, pitted and chopped peaches (or a combination)
2 to 4 teaspoons lemon juice
Topping
1 2/3 cups unbleached all-purpose white flour
1/3 cup packed light brown sugar
1/3 cup granulated sugar
3/4 teaspoon baking powder
1/4 teaspoon salt
7 tablespoons unsalted butter, melted and cooled
1 large egg, lightly beaten
Ice cream or whipped cream for serving
Preheat oven to 375 degrees F. Lightly coat a 9-inch by 13-inch flat baking dish with nonstick spray. For filling: Thoroughly stir together granulated sugar and cornstarch in a large bowl. Gently stir in the berries, fruit and lemon juice until well blended. Spread mixture evenly in baking dish.
For dough: Thoroughly stir together the flour, brown and granulated sugar, baking powder, and salt in a medium bowl. Add the melted butter, stirring until incorporated. Add the egg, stirring with a fork until mixture is blended and clumped. Sprinkle the clumps of dough mixture evenly over fruit.
Bake in middle third of oven for 35 to 45 minutes, or until well browned and bubbly. Test the center with a tooth pick; the particles should look dry and crumbly, not wet or gummy. Transfer to wire rack and let cool to barely warm or cooled before serving. Serve with ice cream or whipped cream.
Makes about 10 servings.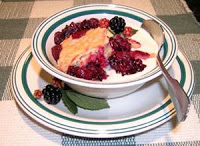 This is a pic of my traditional biscuit-topped blackberry cobbler.