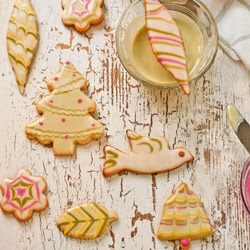 Welcome to "au naturel" Cookie Decorating 102.  I say au naturel because the colors shown here all come from culinary ingredients, and not a single one is from synthetic food dyes.  I say 102 because natural decorating 101. was already covered in a blog post recipe  here (as well as in a really fun article that just ran in the Washington Post.)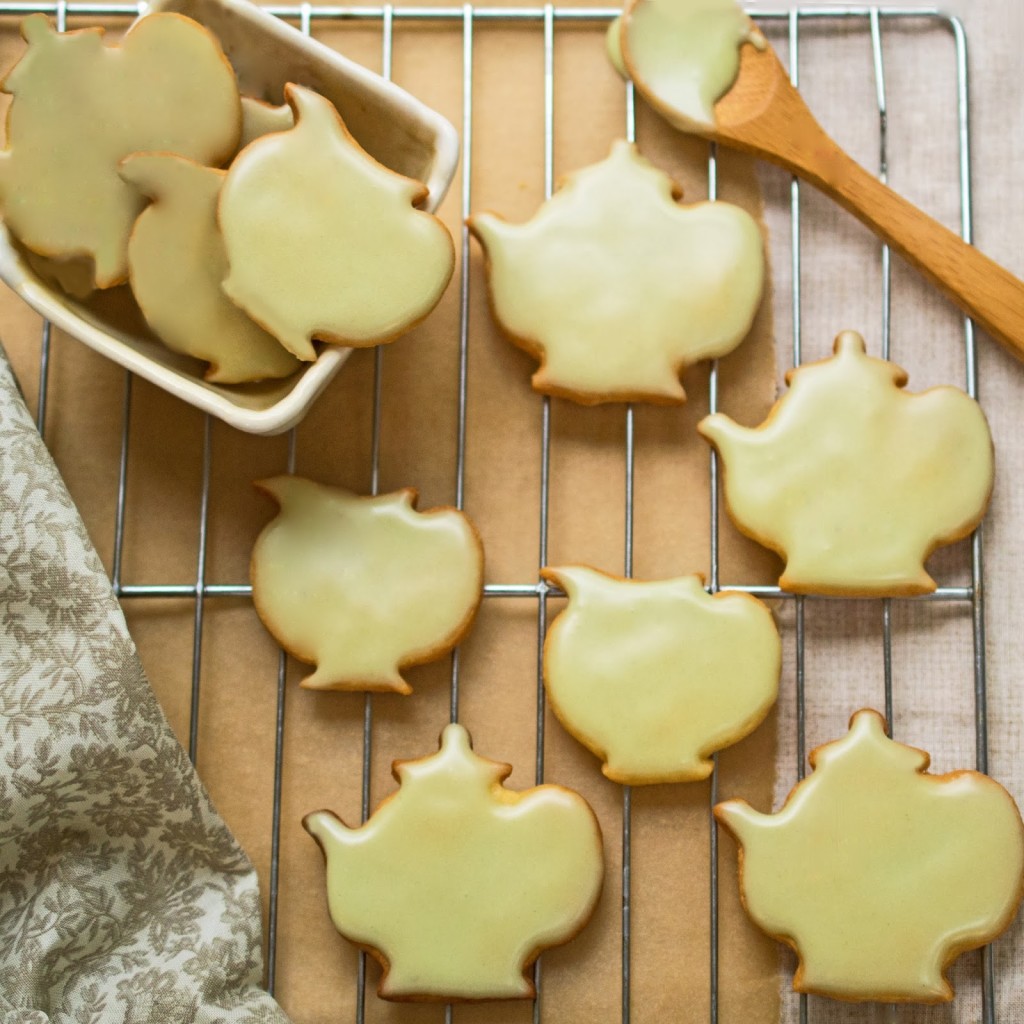 A post on how to create the patterned "marbled" look shown on the star, stocking, and candy cane at left is here.  A short, helpful video on the best way to roll out cookie dough is here.
This post spotlights another naturally colorful, healthful decorating ingredient that I recently began experimenting with and just love—powdered Matcha green tea.  Lots of people now enjoy these teas for their anti-oxidant power, but for me the main appeal is their soothingall-natural green hues that I can incorporate into icings and frostings. Note that these natural colors are fragile–they will gradually fade and soften as the cookies stand, though the colors will stay fresh looking if you freeze the iced cookies.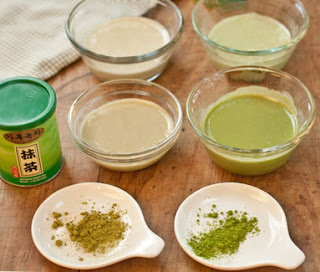 As the pics show, depending on the brand, powdered green teas can range from a fairly vivid spring green to more muted, moss and gray-sage shades.  So, if possible, examine the powders closely before you buy. The brighter, prettier tea shown here is the Teavana Imperial Matcha, which cost about $20 for a 1.4 ounce can.  (The good news is that it will last a long time; as little as a couple pinches can tint a recipe of icing. Keep the container in the freezer.)
The less vibrantly hued variety, labeled only "Japanese Green Tea" in English (the brand name was in Japanese) I picked up in a local Asian grocery store for about $7 for a 1.05 ounce can.  Another brand that
is often recommended but that I haven't yet tried is Stash.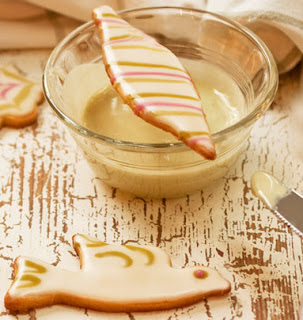 I actually like and
use both of the teas shown for decorating, since the shades are quite different from one another and expand the overall palette. (The gray-green hues can be quite arresting when teamed up with other complementary colors, as the image at right reveals.)
On occasion I combine the  teas in an icing to make a color that is somewhere between the two.  Also, it's fun and very
effective to create the same icing shade in different intensities—a small amount of powder yields a pale, creamy green, while ½ to 3/4 teaspoon produces a more saturated, bolder look.  As you can see, using the two together, one as a background color and one to pipe on accents, adds instant drama and impact.  To create a smooth surface where the piping blends in, add the icing while the bottom layer is still wet.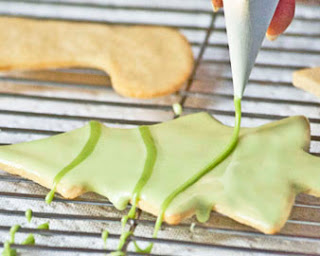 As for flavor, both of these are pleasing, though in fact I actually
prefer the slightly more pronounced tea taste of the less expensive brand.
However, my grandchildren don't really care for the vegetal character of
green tea, so the mildness of the Teavana version suits them much better. They also stick with the paler colored icings because they contain the least amounts of tea! BTW, I've
heard that the taste of some low-end brands of green tea can be "off,"so bargain hunters beware when you shop.
Green Tea Powdered
Sugar Icing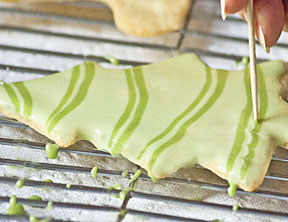 You'll notice this recipe calls for only small quantities of
corn syrup and meringue or egg white powder, but they are necessary for good results, so don't leave either one out. The corn syrup promotes smooth flow and yields a glossy finish. The purchased meringue powder or dried egg white powder is important because it sets the colors and also keeps shades from
bleeding or fading together as the decorated cookies stand. Many discount department stores stock the Wilton brand of meringue powder with cake decorating supplies. Supermarkets and nutrition stores sometimes carry
a brand of pure dried egg whites in their baking aisle.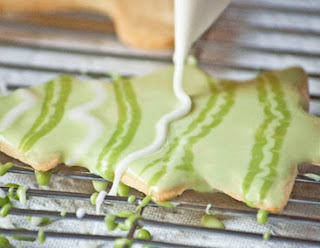 The almond or vanilla extract is entirely optional, though I think it adds a pleasant accent note to the green tea. Also, use either water or frozen (thawed) orange juice concentrate, as desired; the orange juice will produce a slightly more yellow-green shade.
This recipe yields enough icing to decorate about 12 medium-sized cookies; if you prepare three or four batches in different colors, you'll have enough to generously decorate a forty to fifty cookies. Of course, you can double the recipe for a larger quantity.  (A good sugar cookie dough recipe is
here
.)
Tip: The same recipe can be used to create a white icing; simply omit the green tea and vanilla (almond extract is colorless so can be used).Tip: If you create a shade of green tea that you decide should have a more intense color, thoroughly dissolve the extra green tea powder in a little warm water, then stir it into the bowl of icing.
1 cup powdered sugar, sifted after measuring if lumpy
1 teaspoon commercial meringue powder or dried egg white powder
1/8 teaspoon to 1/2 teaspoon colorful, good quality Matcha green tea powder, or enough more to produce the shade desired
1/2 teaspoon light corn syrup
1/8 teaspoon almond extract or vanilla extract, optional
Scant 2 tablespoons water, or more as needed
For each batch of icing, thoroughly stir together the sugar, meringue or egg white powder, and green tea until thoroughly combined in a small deep bowl. Add the corn syrup, extract if using, then gradually stir in enough water to yield a fluid icing. Stir until very well blended, adding in more tea powder (blended with water first), water or powdered sugar to produce the color and consistency desired. Use the icings immediately or cover and refrigerate for up to a week (or freeze for up to a month. Let warm to room temperature before using, then stir well. Very thoroughly stir in a little water if the icings are too stiff to spread.For dye-free decorating in other seasons, see the Easter bunnies here and the Valentine's heart cookies here.