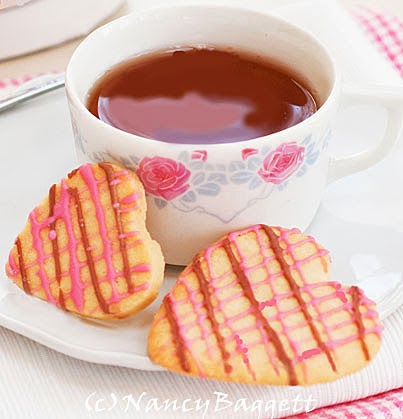 With just a basic sugar cookie dough and some equally simple powdered sugar icings, you can create some pretty, romantic and delicious Valentine's sweet treats. Even for those with little or no decorating skill, if you have a heart-shaped cutter or two, cookies like these are easy to create.
If you happen to have a mini-heart cutter, or, in fact, any tiny round, petal-shaped or other geometric cutter, you can add an extra touch with an accenting cut-away in the cookie centers. (For tips on cutting out attractively shaped cookies and working with fancier, harder-to-use cutters, check out this quick YouTube video here. For tips on the best, most fuss-free way to roll out dough see the video here.)
One key to producing nicely-shaped, tidy-looking cookies is to use a sugar cookie dough specifically designed for rolling and cutting out. Choose one that has at most 2 teaspoons of baking powder per 3 cups of flour. More baking powder than that will cause the cookies to puff up too much and blur and distort the shape. Here's a good recipe I use often.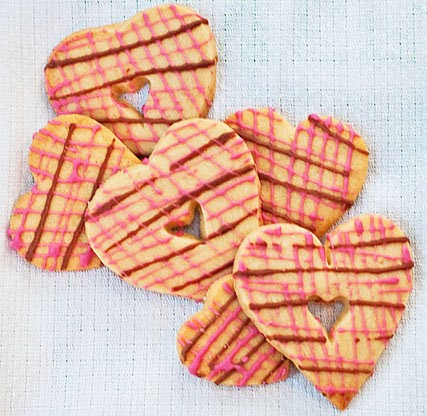 The cookies shown were all piped with only a small plastic bag with a tiny corner snipped off. As you can see the "plaid" pattern is casually piped on and doesn't require a steady hand or take much time. The imperfect, slightly random lines still lend a charming, festive look, making the technique a great one for newbie cookie bakers, including kids. For other simple but effective piping ideas, plus a demo showing how to produce the "plaid" cookies shown, check out the video here.

Quick Cocoa and Pastel Pink Powdered Sugar Icings
Serves:
enough to decorate at least 3 dozen 2¾ to 3-inch cookies. Since it is sweet, don't pile it on. (Well, if you're serving the cookies to grownups, don't overdo it--the kids may like their cookies heavily iced!)
Ingredients
3 cups powdered sugar, divided, plus more as needed
1 tablespoon unsweetened cocoa powder
1 teaspoon light corn syrup, divided
1 teaspoon vanilla extract, divided
1 to 1½ tablespoons thawed cranberry juice concentrate, plus more if needed; or use a few drops red food color and 1 to 1½ tablespoons water
Instructions
Place 1½ cups powdered sugar in each of two bowls. Sift the cocoa powder into one bowl, then stir well. Add ½ teaspoon each corn syrup and ¼ teaspoon vanilla to each bowl. To the cocoa icing bowl, gradually stir in 1 to 1½ tablespoons water or enough for a piping consistency, stirring well to blend. To the other bowl, gradually add 1 to 1½ tablespoons cranberry juice concentrate, or 1 to 1½ tablespoons water and several drops of red food color, stirring until well blended. Add in little more water if too dry or more powdered sugar if too wet to pipe.
Spoon the icings into small sturdy baggies and close tightly. Snip off a very small opening in one corner to pipe the icing. Alternatively, use piping bags with fine writing tips or pastry cones if preferred. Left-over icing may be covered and kept refrigerated for up to a week. Stir well and if necessary, thin with a little water before using.
For more pics/info/tips on piping with a mini-plastic bag, go here.
Notes
The recipe calls for cranberry juice concentrate to tint the pastel icing pink so you can skip using synthetic red food dye. I prefer to avoid red dye #40 because it can cause allergic reactions in some people, including me. But, if you don't object to this product, you can use water instead and tint the icing pink with a few drops of red food coloring.