I just handed out some of these green-tea and lime buttercream-decorated cookies at a lively, information-packed DC Les Dames d'Escoffier symposium last Saturday.
Yes, I chose these to give out partly because St. Patrick's Day is coming, and they illustrate perfectly how green tea can serve as beautiful, healthful, all-natural pastry decorating color. They were also particularly appropriate because I was moderating a session on tea, and they showed how powdered Sencha green tea could easily and effectively be used for more than just a beverage.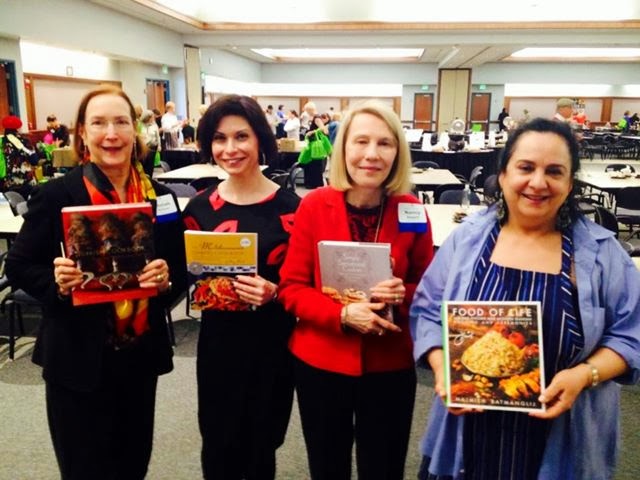 Sheilah Kaufman (left), Amy Riolo, Nancy Baggett, Najmieh Batmanglij (right)
Finally, I wanted to feature a fresh, unusual recipe I really liked from my latest cookbook, Simply Sensational Cookies, to give out samples of during the lunch time book-signing event. In the photo at right three of my Dames friends and I are actually standing in front of where my cookies and books were displayed. (Thanks to Amy I'm able to share this pic with you!)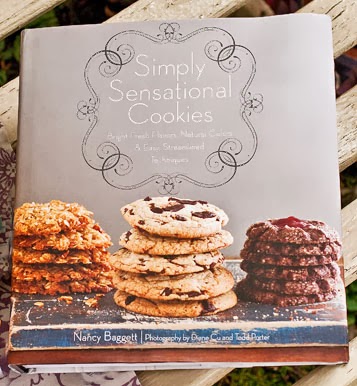 It's always fun and gratifying to get feedback, especially when it's positive. And, frankly, tasters went crazy for these cookies and frosting last Saturday. During the book signing, attendees kept coming back for seconds and thirds (and doing a lot of lip smacking in the process!). Later, during the tea tasting workshop, helpers passed out four large boxes of the cookies. I was stunned to see that all the containers returned completely empty–not a single crumb remained!
So, with St. Patrick's Day fast approaching, I decided to share the very doable, attractive, and delightfully full-flavored frosting recipe with you. Note that Imperial grade Sencha green tea has the brightest color, so, though it's pricey, it is usually the best choice for readying the buttercrea. For more green tea buying tips and decorating ideas, go here.
Lime, Fresh Ginger, and Green Tea Buttercream
Adapted from a citrus-green tea buttercream recipe in
Simply Sensational Cookies
, this recipe both
spotlights the amazingly vibrant taste of fresh lime and fresh gingerroot in a
frosting and shows off the naturally beautiful color of Imperial grade green
tea. The batch of buttercream will decorate about 25 to 30 small cookies; double
it if you need a larger amount. (The cookies shown are the Vanilla Shortbread
Buttons in my
Simply Sensational Cookies
,
but my easy
sugar cookie dough here
can be used instead.)
Tip: The intensity of the green shade of the buttercream depends
on how much green tea is added and what
brand you use. I usually start with a generous 1 teaspoon Sencha powder and add
in a little more if the frosting looks too pale.
1 tablespoon very finely grated lime zest (colored part of
the peel)
1 teaspoon finely grated or very finely minced peeled fresh gingerroot,
optional
2 cups powdered sugar, divided, plus more as needed
1 to 2 teaspoons powdered Imperial matcha green tea, or as
desired
1⁄2 cup (1 stick) unsalted butter, cool and slightly firm,
cut into pats
1 teaspoon fresh lime juice, plus more, if desired
Combine the zest, ginger, 1 cup sugar, and the green tea
powder in a food processor. Process until the mixture is very well blended and
as smooth as possible, about 3 to 4 minutes; stop and scrape the mixture from
the bowl bottom and sides several times.
Sprinkle the butter, 1 teaspoon juice, and 1 cup more sugar,
over the top. Process until very smooth and well blended, stopping and scraping
down the sides as needed. If the mixture is too fluid to spread or pipe,
gradually add more powdered sugar until stiffened; if too dry, gradually add a
few drops more lime juice or water until the buttercream is spreadable and well
blended. Let the buttercream stand at least 30 minutes and preferably 1 hour to
allow flavors to blend and intensify. Use immediately or cover and refrigerate
for up to 5 days. Let warm to cool room temperature before using.
To decorate cookies: Put little dollops of buttercream on
the cookie tops, then swirl them slightly with the tip of a knife. Alternatively,
adjust the frosting consistency so it is soft enough to pipe but firm enough to
hold its shape. Then spoon the mixture into a pastry bag fitted with a 1⁄2-inch-diameter
open star tip. Pipe stars by squeezing the buttercream onto the center tops or
pipe rosettes by squeezing and rotating the tip at the same time. Makes a scant
1 1⁄2 cups buttercream.
My green tea powdered sugar cookie icing is here.