Did you know that woodland violets come in many colors besides purple–from white to pink to yellow to blue? That there are hundreds of varieties in what's called the Viola family, and that they are all edible? (Note that the African violets grown as flowering houseplants are a totally different species and are NOT edible.)  That they can be used to make a tempting violet vinegar and vinaigrette salad dressing.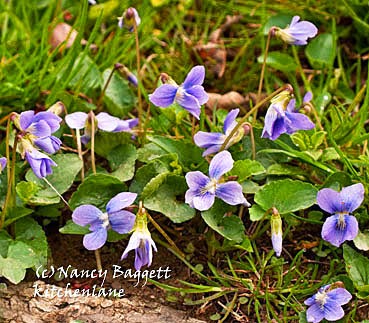 All of the kinds of violets pictured below actually grow right in my wooded backyard, and all but one are "volunteers" that seeded themselves and just come up each year. If you have any shady or semi-sunny woods or meadows, chances are you can find a couple of colorful kinds in April or May, too.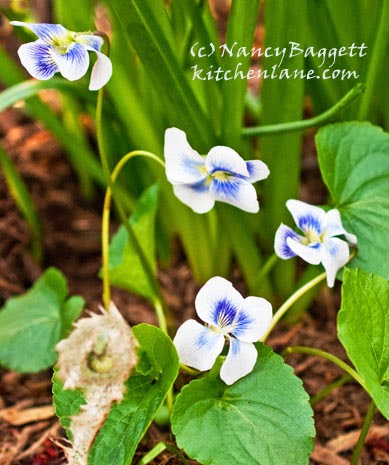 Which means that you, too, can mingle together
different shades of violet petals and blooms and create a fresh, fun, floral confetti, like that pictured at the top. Though it's shown garnishing a chopped tomato salad, it is equally enticing strewn over any green salad, soup, vegetable, grain, or main dish served cool or at room temperature. (Heat, of course, causes the petals and blooms to wilt right away.)
Since violets are tender have a very mild, indistinct flavor, they are fine for topping all sorts of sweets. Sprinkle petals or blooms over iced cupcakes, cookies, fruit compotes, tarts, and even puddings. You will garner oohs and ahs!
Spring Violet Vinegar and  Violet Salad Dressing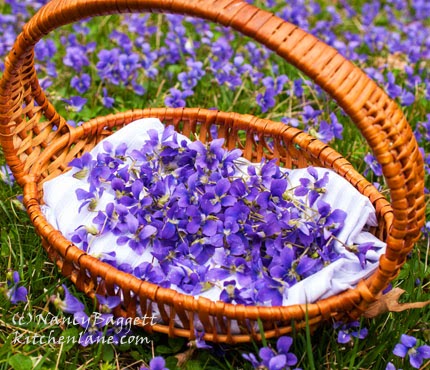 Once you have gathered some vividly colored violets, making a tempting violet-herb vinegar is very easy, especially if you start with an already-seasoned rice vinegar dressing. I suggest the Marukan product labeled "Rice Vinegar Lite Dressing," because it is livened with just the right amount of salt and sugar. IMHO, some brands are too salty and sweet, and some also include herbs, which end up competing with the fresh herbs added in this version. But, of course, do experiment and use what suits your particular taste.
After the vinegar steeps a few days, it's ready to use. I just leave the violets and herbs in the bottle and pour out the vinegar through a strainer as I need it. Depending on the intensity of the violet colors and the quantity of blooms incorporated, the vinegar color may range from the rose wine shade here to a pale pink champagne.While it's tempting to leave the bottle on the window sill to admire, light will cause the lovely natural color to fade.
Instant Vinaigrette Dressing: For a super-quick dressing, simply combine the steeped vinegar with an equal amount of extra-virgin olive oil or vegetable oil and whisk well. Add a pinch of ground black pepper, powdered mustard, or sea salt, to taste, if desired. Drizzle the dressing over diced tomatoes, greens, cabbage slaw, or grilled vegetables, then toss.  Garnish with violet confetti readied with whatever mix of petals you have right before serving.


Generous bunch purple, mauve, or bright pink violets
About 3/4 to 1 cup seasoned rice vinegar dressing
4 to 6 fresh chive or garlic chive leaves
1 sprig fresh fresh basil, optional
Wash the violets, chives or garlic chives and a basil sprig (if using) in a
colander,  thoroughly but gently under barely
warm water. Drain well, then gently dry on paper towels.
Fill a medium-size or smallish clear glass bottle or jar three-fourths full with rice
vinegar. If the bottle opening or neck is narrow, have on
hand a thin, long-handled fork (such as a fondue fork), chopstick, or
extra-long, thin tweezers and push the blooms and herbs down into the
container. If necessary cut the chives the length needed so they better fit in the bottle or jar.
Gently push the herbs and violets down so that all are covered with the vinegar. Add more vinegar to top off the bottle and cover the herbs.
Close tightly with a non-reactive cap or a cork. Let stand in a cool,
dark spot for several days so the color and flavor can infuse the vinegar. The violet
colors will gradually  turn the vinegar a pinkish-red hue; the exact color will depend on the shades of the violets and how many were used. The violets begin to fade completely as their pigments leach into the liquid, but the vinegar flavor and color will remain vibrant for at least 8
months and up to a year.
Violets can also be candied and used to garnish sweet and savory dishes; my recipe is here.  
Another possibility: Make violet lemonade.