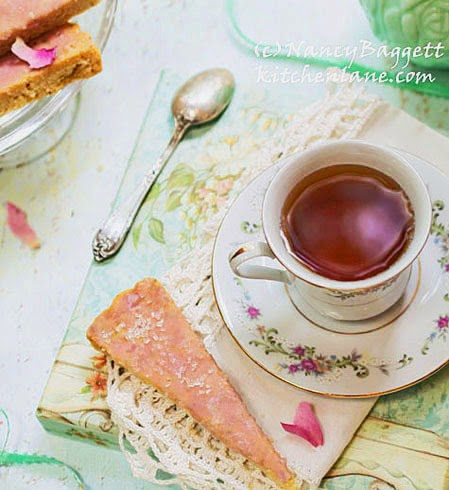 I just spent a month in United Kingdom (a post about it is here) and overindulged by eating shortbread nearly every day. It's the fault of the B&Bs and hotels we stayed at–they routinely put out packages of these biscuits on our tea and coffee tray every day. We couldn't be rude and not eat our complimentary goodies, right?
All the commercial shortbreads we scarfed down were tasty–IMO even so-so versions of this fine old sweet treat are hard to resist! But the winner of the trip was a simple homemade version served with our afternoon tea at the noted Creel Restaurant right in the harbor at St. Margaret's Hope on the Orkney islands. As you can see from the photo below, the shortbreads looked plain, but they were fragrant, crisp-tender and, yes, decidedly buttery. And the perfect accompaniment to a cup of tea on what was a chilly, windy, overcast day on the Orcadian coast.
Ever since returning from the Orkney islands (located off the northeast Scottish coast), I'm been experiencing serious shortbread withdrawal. So, I've been making petticoat tails to keep the hubs and me supplied. Please note that petticoat tails refers to any shortbread baked in a large round and cut into pizza-like segments, regardless of its flavor or texture; the photo below shows a whole round cut into wedges. Two other shapes are also traditional–individual cutout or molded biscuits called shortbread rounds; or a dough rectangle cut into longish bars called "fingers."
Some historians believe that the odd petticoat tails moniker comes from the fact that the shapes look like the ruffled petticoats and skirts of medieval court ladies. It's a charming notion, and I was tempted to go with that! But then I came upon this comment about petticoat tails by Theodora FitzGibbon, author of The Taste of Scotland: "The edges are traditionally notched by pinching with the finger and thumb, and this is thought to symbolize the sun's rays, from the early days of sun-worship." She also mentioned a custom on Orkney of a decorated shortbread being held or broken over the heads of brides on their wedding day. I suppose that's comparable to tossing rice at the happy couple here in America!
I also got interested in researching how long this favorite tea-time treat has been around in Scotland. According to lore–which is almost always more fiction than fact–Mary, Queen of Scots (1542-1587), invented shortbread. In truth, if she deserves any credit, it's for sampling and popularizing the goodies and possibly for encouraging her team of French chefs to refine some of the quite diverse shortbread recipes that were in circulation in that time.
While some receipts were similar to what we now consider classic (those with only butter, flour, and sugar), many other typical versions included spices and herbs, dried fruit, nuts, and more exotic ingredients. The first recipe below is reminiscent of modern ones, but second includes yeast (yes, a leavening!), rose water, and caraway "comfits."
Comfits were  sugar-coated seeds and nuts, and were apparently the rage with 16th and 17th century cooks. They routinely tossed sugared caraway seeds into baked goods, not a taste in great favor today. They liked rose water a lot too; that charming addition inspired my fancy, fragrant rose-water icing topped shortbread recipe here.
Going back and really examining actual receipts of a period is always the best way to sort the "true" culinary facts from the myths, and the two 17th century recipes here reveal a lot of interesting details. First, notice that while the word short was already being used, these sweets were still being called cakes, not breads or even biscuits. Short and shortening are both old terms relating to the use of fat in baking; a short dough is one made tender, rich, and crumbly with a high proportion of fat, or shortening, usually butter. Gradually, most small, cookie-like treats or "little cakes" in Britain came to be called biscuits (cookies is a strictly American word), so it's curious that the name "bread" took hold.
Some historians think it's because these treats eventually replaced leftover toasted breads or rusks that were provided on the tea table. Which could be, but I'm waiting for some proof. I think it's more likely that the name bread was used to clearly distinguish these cakes from other kinds of tea biscuits. Doughs containing eggs were called biscuits; those that did not were called shortbreads. This distinction still holds true today.
Notice also that one recipe calls for rubbing the butter into the flour, the other for stirring flour into pre-melted butter. Occasionally, modern experts insist that only this or that method is authentic, but, clearly, early bakers mixed together their shortbread dough in a variety of ways. What the early British short "cakes" receipts do have in common is always calling for pure, sweet butter and never calling for eggs. If a short cake or short bread dough needed moistening to hold together, it was wetted with wine, rose water, or other liquid.
By the way, I looked through some 17th century English dictionaries to see what a "drudger" and a "squef" might be, but had no luck. Still, it's entirely possible to imagine how the recipes were prepared, though note that I haven't tried either one. If you are interested, thanks to Project Gutenberg, the whole manuscript of The Queen-like Closet by Hannah Wolley is available on-line.
Short Cakes Made at ye Bathe
Take a pound of flower & rube into it a half pound of flouwer butter very fine; then put in half a pound of flo sugar & wet it with white wine to a paste; the rowle it very thick & cut it round with ye top of ye Drudger, & knotch it round with a squef [sic]& bake them upon a tin."
Receipt Book of Mrs. Ann Blencowe, facsimile of 1694 edition
To make Short Cakes
Take a Pint of Ale Yest, and a Pound and half of fresh Butter, melt your Butter, and let it cool a little, then take as much fine Flour as you think will serve, mingle it with the Butter and Yest, and as much Rosewater and Sugar as you think fit, and if you please, some Caraway Comfits, so bake it in little Cakes; they will last good half a year.
The Queen-like Closet Or Rich Cabinet, Hannah Wolley, London, Printed for Richard Lowndes, 1672.
Since shortbread and tea are such a fabulous match, I've always imagined that these sweets were invented to serve at teatime, but that's not the case. Tea didn't officially arrive in Britain until 1662, when the Portuguese princess Catherine of Braganza wed King Charles II and brought chests of tea in her dowry. Shortbreads in various early forms had already been on Scottish menus for at least several hundred years. Still, tea and shortbread are certainly de rigueur nowadays, so feel free to go put the kettle on.

Petticoat Tails Shortbread with Rose Water Icing
A batch of these makes an impressive gift or a highly memorable addition to a tea table. Of course, another alternative–which I highly recommend–is just keeping them around to nibble on whenever you have a cup of tea or coffee.
Serves:
16 or 20 iced petticoat tails (wedges)
Ingredients
1 cup (2 sticks) cool and barely firm unsalted butter, cut into chunks
⅓ cup granulated sugar
2 teaspoons rose water, plus more if needed
Generous ¼ teaspoon fine table salt
1¾ cups unbleached all-purpose white flour
Icing and Garnish
½ cup powdered sugar, sifted after measuring if lumpy
1 teaspoon fresh lemon juice
1 to 2 teaspoons rose water, as needed
Very tiny dot of food color (preferably botanical), optional
Coarse crystal sugar for garnish, optional
Instructions
Place a rack in the middle of the oven; preheat to 300 degrees F. Set out a 9- to 10-inch fluted tart pan or 10-inch pie plate. (If using a pie plate, line it with foil that overhangs 2 inches on opposing sides.) Set out a large (ungreased) baking sheet.
Combine the butter, granulated sugar, rose water and salt in a large bowl. With a mixer on medium speed, beat about 2 minutes or until well blended and lightened in color, scraping down the bowl as needed. On low speed, beat in the flour until evenly incorporated. If the mixer motor labors, work in the last of the flour with your hands, but for tenderest shortbread keep the mixing to a minimum. If the dough is dry and crumbly work in a small amount of rose water.
Press the dough evenly into the tart pan or pie plate: If using the tart pan finish the dough edges by pushing it into the fluted indentations; be sure the dough edge is evenly thick all around. If using a foil-lined pie plate, press the dough evenly into the bottom and out to the edges until it is evenly thick at the perimeter. If necessary smooth the dough surface by laying a sheet of wax paper over top, then smoothing out and pressing down with your fingertips. With a table knife, carefully cut the dough into quarters, then cut each quarter into 4 or 5 wedges. Set pan on larger baking sheet.
Bake for 45 to 50 minutes, or until the shortbread is fragrant, lightly colored all over and not quite firm when pressed in the center top. Let the pan cool for about 10 minutes on a wire rack.
Meanwhile ready the rose water icing: In a small deep bowl, thoroughly stir together the powdered sugar, lemon juice, and enough rose water to yield a thin, smooth, fairly runny icing; add more rose water or more powdered sugar as needed. Add in a tiny dot of food color if desired. Using a pastry brush (or substitute a damp paper towel) dip into the icing and lightly and quickly spread it out evenly over the shortbread top; the layer will be thin. Immediately sprinkle crystal sugar over the top, if desired. Carefully retrace the cuts, then let the shortbread stand until completely cooled before lifting out and serving wedges with a long-bladed spatula. Store the wedges reassembled into a round in a large flat box or in regular storage container if preferred. Keep airtight at room temperature for up to 2 weeks. Freeze airtight for up to 2 months.
Notes
Tip: The rose water flavor is delicate. If you have your heart set on a more noticeable rose character, you can add a few drops of rose extract to the dough and a drop to the icing. But use a light hand–it's potent!

Tip: It's important to use a tart pan or pie plate with the specified diameter of 9 to 10 inches. In a larger pan, the dough will spread out too much and the wedges will be too thin and fragile (and prone to breaking). In a smaller pan, they will be a little to chunky and hard to bake through in the middle, though lowering the heat to 275 degrees F and baking them 5 to 10 minutes extra will likely solve that problem.