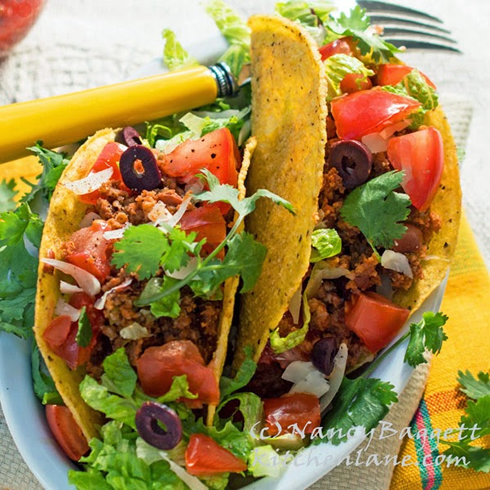 After a weekend of too many heavy, calorie-rich meaty meals, the hubs and I often take a break and go meatless for supper on Monday evening. It's good for our waistlines and our health. Not only is this vegetarian (a G-F0 taco menu zesty and full of color and crunch, but it features a healthy mix of beans, brown rice, and assorted vitamin- and fiber-packed vegetables. Of course, it's perfect for serving vegetarians (and also those who can't eat gluten), but those who generally demand meat will be satisfied as well. In fact, they may not even notice that anything is missing.
Since I have regular Monday evening workshops to rush off to, I like to prepare the filling for my meatless Monday meal completely ahead. Then I can simply reheat it at 50% power in a microwave oven at supper time. (It can even be frozen, then thawed and reheated.) Once the crisp taco shells and garnishes are set out, we just ready our own servings as desired. BTW, tossing fresh chopped tomatoes with dried oregano and a little bottled salsa as directed below gives even ho-hum hothouse tomatoes a lot of zing.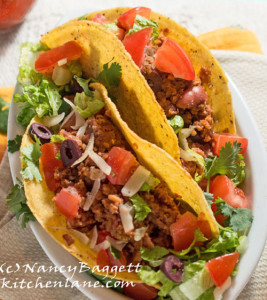 For a tame taco filling, choose a mild chili powder and mild bottled salsa; for one with a  kick, use a medium-hot brand of chili powder and bottled salsa. If the filling is still not hot enough for you, feel free to add a couple dashes of hot sauce or pinch of cayenne at the end of the cooking.
Tip: The recipe calls for cooked brown rice. If you like, ready it ahead from either regular long-grain brown rice or "instant" brown rice following the package directions. It will keep, covered and refrigerated, up to 36 hours and frozen (airtight) up to 3 weeks.  (I make a large pot and stash the rice in 1 cup plastic packets in the freezer–very handy!)
Meatless Monday Tacos
Ingredients
2 tablespoons olive oil
1 small onion, peeled and coarsely chopped
1 tablespoon mild or medium-hot chili powder
1½ teaspoons dried oregano leaves, divided
½ teaspoon ground allspice
¼ teaspoon salt
1½ cups drained, canned garlic and oregano seasoned diced tomatoes
1½ cups cooked (unseasoned) instant or regular long grain brown rice
1 cup rinsed and well-drained canned black beans or kidney beans or pinto beans,
¼ cup bottled mild or medium-hot tomato salsa


Accompaniments to set out with the taco filling:


8 to 10 crisp corn taco shells, warmed if desired
3 cups diced fresh tomatoes seasoned with 2 teaspoons dried oregano leaves and 3 tablespoons bottled mild to medium-hot salsa
2 to 3 cups shredded iceberg lettuce or coarsely chopped romaine leaves
½ cup sliced Kalamata black olives, optional
¾ to 1 cup shredded regular or reduced-fat sharp cheddar cheese
Chopped fresh cilantro leaves for garnish, optional
Instructions
In a 12- to 13-inch deep-sided nonstick skillet over medium heat, combine the oil and onions and cook, stirring, until the onions begin to brown, about 5 minutes. Add the chili powder, oregano, and allspice and cook, stirring, 1 minute longer. Add the salt, tomatoes, and rice to the skillet. Cook, stirring frequently, about 5 minutes, until the tomato cooks down and the flavors blend. Transfer mixture to a food processor. Process until well blended and almost smooth, scraping down the bowl sides as necessary. Add the beans and salsa to the processor. Process until the beans are chopped, but not completely pureed.


Use the filling immediately or cover and refrigerate for up to 3 days, then rewarm slightly before serving. Set out the filling along with the accompaniments and let diners make their own tacos. Makes 4 or 5 serving.
For another healthy, flavorful supper recipe, check out my hearty
lentil-rice soup here
.