Though it's 96 degrees F and sticky-humid in central Maryland right now, it might be a little early in the day to start sipping mojitos. But it is definitely not too early to sit on the deck and scarf down a melon cup topped with my easy, no-ice-cream-freezer-needed mojito sorbet. (Yes, it's okay to skip the melon if you must, but be assured it really does pair beautifully with the piquant icy-minty blast of lime.)
I can't even begin to tell you just how good this sorbet is. I have a whole collection of homemade ices, granitas and sorbets I adore, but this one is at the very top of the list. The fresh zingy citrus intermingled with the especially pungent and cooling variety of spearmint and a little slosh of quality white rum is quite extraordinary. The mint also adds bright flecks of green that actually hold their vibrant color in the freezer. And the alcohol in the rum helps keep the sorbet smooth and prevents it from getting brick-hard in a cold freezer.
If you can, use the variety of spearmint called Kentucky Colonel, aka Julep mint or mentha spicata; the leaves are bright green and boldly fragrant and cooling. (Many garden centers carry it.) This spearmint is also a must-have for my mojitos, so I grow several pots of it on my deck and by the front door every summer.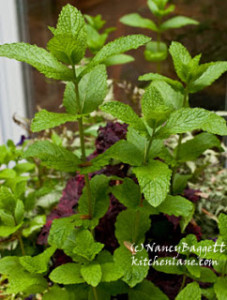 Planted in year-round containers (such as polystyrene or styrofoam) with thick, sturdy insulating walls, this mint is usually perennial here in Maryland. And on the rare occasion when it doesn't come back, it's a simple matter to buy a couple more plants for a few dollars, refresh the soil a bit, and reuse the same pots. (Right now some garden centers still have a few metha spicata plants left, but, better hurry, as they will be gone soon.) And do plant this variety in pots, not in the ground–it is likely to take over  the whole yard if tucked into flower beds.
Mojito Sorbet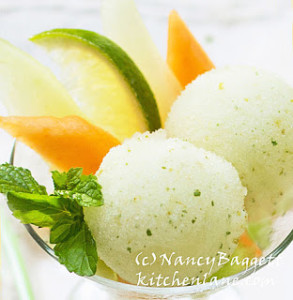 A scoop or two in a stemmed sorbet dish over melon cubes garnished with mint or lime wedges makes an  irresistible gluten-free and fat-free dessert on a sticky‑hot day. The taste is clean and clear and great for reviving flagging spirits and appetites.
Note that this sorbet is readied with a food processor—no ice cream maker is required, though you do need a fairly sturdy and powerful processor, such as Cuisinart.
Tip: If you prefer to avoid high-fructose corn syrup choose the Karo brand, which is high-fructose free. Don't leave out the corn syrup as it helps keep the sorbet texture smooth.
2/3 cup fresh lime juice, plus little more to taste
3 1/2 tablespoons quality white rum
1 tablespoon very finely grated lime zest (green part of skin)
1 2/3 cups water
Scant 2/3 cup granulated sugar
3 tablespoons light corn syrup
1 tablespoon finely chopped speamint leaves (no stems), plus more spearmint leaves or sprigs for garnish
Combine 2/3 cup lime juice, rum and lime zest in a plastic storage container. Stir together the sugar, corn syrup, and water in a large non-reactive saucepan. Bring just to a boil over medium heat. Cover and gently boil 11/2 minutes. Remove the lid and boil 2 minutes longer; cool to barely warm. Stir the sugar syrup into the lime juice mixture. Taste and add a little more lime juice, if desired. Then, place in the freezer for 4-6 hours or until frozen.
Break up the mixture into chunks using a fork. Place a few chunks in a medium to large, sturdy food processor. Add the chopped mint. Process until the mint is in very fine flecks. Add the remaining sorbet chunks to the processor. In on/off pulses, chop the sorbet until fine, stopping and scraping down the bowl with a rubber spatula several times. Then, process continuously until completely smooth, about 2 minutes longer.
Return the sorbet to the chilled container and place in the freezer to firm up at least 1 hour before serving. Store in the freezer, airtight, for up to 2 weeks; if firmer than desired, let soften a few minutes before serving. Makes a scant 1 quart.
For another beautiful, enticing blackberry sorbet you might like click here.
Or try my chocolate-mint sorbet here.  Or go straight to the mojito recipe here!