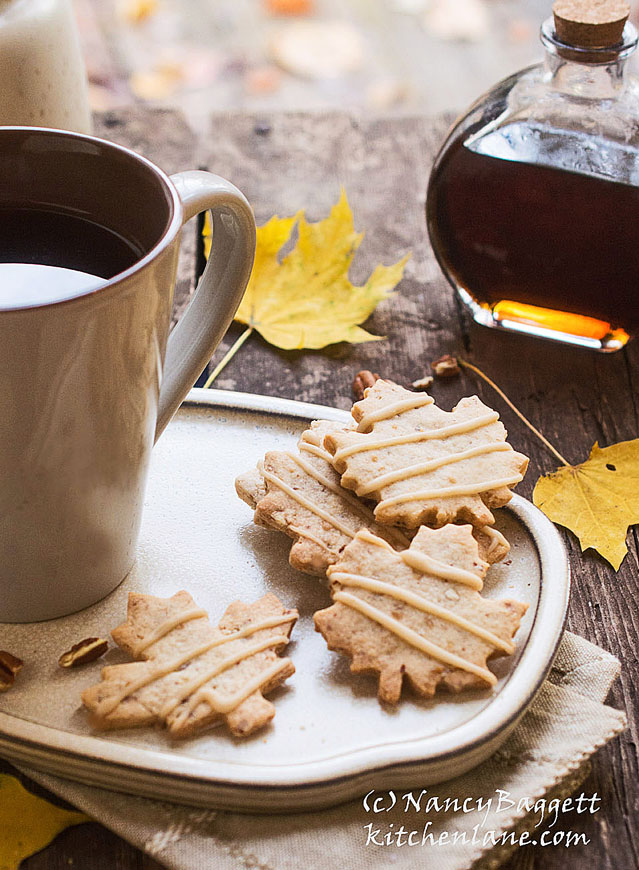 I didn't recognize the caller's number, but several months ago something just made me pick up the phone. "Are you the Nancy Baggett that does the cookie recipes?" a cheerful voice on the other end inquired. When I answered that I probably was who she wanted, she sounded excited and said, "Oh good, I found you!" She immediately explained that several years before she had entered a maple sugar cookie recipe of mine in the state fair. And it had won a blue ribbon!
"I'm calling you now because I'm trying to think how to change the recipe so it's different enough enter again this year," she confided. She mentioned she had tried adding spices, but wasn't thrilled. I suppose that some might have discouraged her at this point or thought her approach seemed like cheating. But I didn't feel that way.
Truthfully, recipe developers fiddle with favorite recipes and use them as starting points for new ones all the time. Especially with baked goods, once the critical ratio of fat, sugar, flour, and leavening is determined, it may make sense to leave them as is. The task then becomes how to alter the taste, texture, and appearance to create something truly new.  I told her that if I were going to come up with a different entry, I'd begin by adding in finely chopped pecans. "People often pair maple with walnuts in dishes. But the sweet nuttiness of pecans goes better with maple." I said. She thanked me for the suggestion, and we hung up.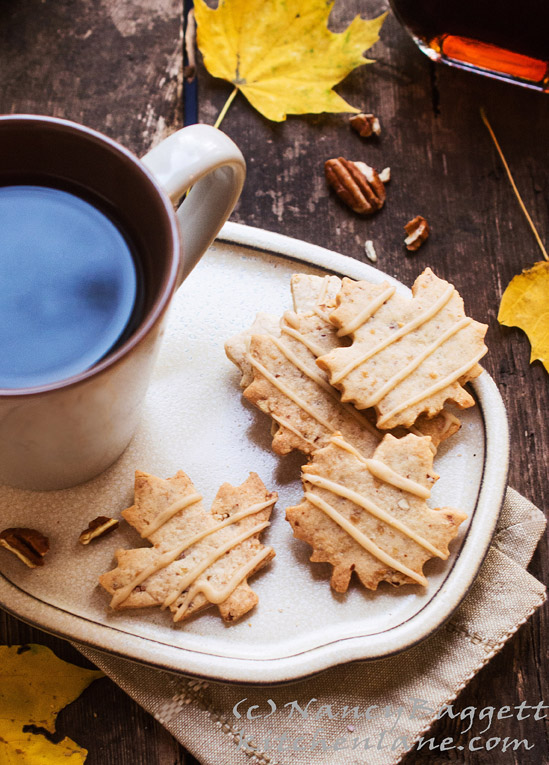 Afterwards, I mentioned the phone call to some professional bakers and cookbook author colleagues. One person wondered whether it was really fair for contestants to submit  previously published recipes in a competition or get guidance from an expert. But everybody else thought that this was fine. As one friend pointed out, most fairs only specify that recipes must be made by, not created by, the entrant. Contests are usually about how well entrants make their recipes; they aren't expected to be recipe developers. Most of us also thought that seeking advice from a professional just showed enterprise and a desire to learn. (Perhaps this is because cookbook authors are often also culinary teachers and very willing to share their expertise.)
About a month ago, the same woman called back. She proudly told me that her maple-pecan cookie had won 1st prize! I was happy to hear this, partly because it clearly meant a lot to her, partly because my advice had been sound. Since I don't know any details about what she came up with or even what recipe of mine she'd originally used, I decided to take a maple recipe from my 2001 work, The All-American Cookie Book, and create a new cookie myself.  Except for the added pecans, the dough here is similar to my earlier version, but the maple icing is brand new. I can't brag about any awards, but  I do consider this recipe a success. The pecans and maple are indeed luscious together, and the drizzled-on icing lends a finishing touch of sweetness and incredible fresh maple fragrance that makes my mouth water.
I'm taking these cookies to a  family Thanksgiving dinner. I think their autumn leaves shape and the showcasing of two indigenous American ingredients, maple and pecans, perfectly fits the traditional holiday theme.  I'll let those who sample decide if my Maple-Pecan Leaf Cookies deserve a blue ribbon, but I like them a lot!
If you'd like to try this recipe (and I hope you will!) you'll need pure maple syrup, preferably the darker, more flavorful amber grade for the icing, and pure maple sugar for the cookies. Some health food stores carry granulated maple sugar in their "sugar alternatives" sections. It can also be readily purchased online. Be sure the maple sugar product you buy contains only dehydrated maple syrup and no artificial maple flavorings. The chemical-laden artificial maple flavorings taste and smell so off, maples trees probably want to drop their leaves in shame. As you can see, I've gone the quick route and simply drizzled the icing back and forth on the cookies. If you have a little time and a knack for decorating, you could strategically pipe on lines of icing to suggest leaf veins for a nod to realism.

Maple Sugar-Pecan Cookies--A Winning Recipe!
Rich with maple sugar and pecan flavor, and prefect for any holiday occasion. Be sure to use only real maple syrup and maple sugar.
Ingredients
1½ cups all-purpose unsifted unbleached white flour
¼ teaspoon baking powder
⅛ teaspoon salt
½ cup granular pure maple sugar
½ cup (1 stick) unsalted butter, slightly softened
½ cup granulated sugar
1 large egg
¾ cup finely chopped pecans, preferably lightly toasted
1 teaspoon vanilla extract
Quick Maple Leaf Cookie Drizzle
½ tablespoon unsalted butter
Generous ½ cup powdered sugar, sifted after measuring if lumpy
4 tablespoons pure maple syrup (preferably deep amber colored), plus more as needed
⅛ teaspoon vanilla extract
Instructions
In a medium bowl, thoroughly stir together flour, baking powder, and salt. If the maple sugar is coarse-grained, grind it in a food processor until the consistency of granulated sugar. In a mixer bowl with mixer on medium speed, beat together butter, maple sugar, and sugar until well blended. Beat in egg and vanilla until well blended and smooth. Gradually beat or stir flour mixture and pecans into butter mixture to form a smooth, slightly soft dough. Let stand 5 to 10 minutes to firm up slightly.
Divide dough in half. Place each portion between large sheets of wax paper or parchment. Roll out each portion ¼-inch thick; check underside of dough and smooth out any wrinkles that form. Stack rolled portions (paper still attached) on a baking sheet. Refrigerate about 25 minutes or until cool and firm. (Or freeze for about 15 minutes to speed up chilling.)
Preheat oven to 350 degrees F. Generously grease several large baking sheets or coat with nonstick spray. Working with one portion at a time and leaving remainder chilled, gently peel away, then pat one sheet of paper back into place. (This will make it easier to lift cookies from the paper later.) Peel off and discard second layer. Using assorted 2-inch to 3-inch maple leaf shaped cutters (or as desired), cut out cookies. If at any point the dough softens too much to handle easily, transfer the paper and cookies to a baking sheet, and refrigerate until firm again.
Using a spatula, carefully transfer cookies from wax paper, spacing about 11/4 inches apart on greased baking sheets. Re-roll any dough scraps. Continue cutting out cookies until all dough is used; if dough become too warm, refrigerate it briefly before continuing.
Bake one pan at a time in upper third of oven 6 to 11 minutes or until cookies are lightly colored on top and slightly darker at edges. Turn around pans about halfway through baking if necessary to ensure even browning. Transfer pan to a cooling rack; let cookies firm up a minute or two. Using a wide spatula, transfer cookies to racks and let cool thoroughly. Decorate cookies with drizzled or piped icing, as directed in icing recipe below, if desired.
Store airtight for up to 2 weeks in a cool spot or freeze, airtight, for up to 2 months. Makes about 30 to 35 2- to 3-inch cookies (depends on the cutters used).
For the Icing:
In a small, deep, microwave safe bowl melt the butter until almost hot. Add the powdered sugar, maple syrup, and vanilla, stirring until well blended. If needed, thoroughly stir in more maple syrup to thin out the icing for drizzling or piping.
To decorate with an accent drizzle as shown, spoon the mixture into a snack-size baggie. Tightly seal the bag, then force the glaze into a bottom corner.
Line up the cookies, spacing slightly apart, on a rack set over wax paper. Snip off the tip of the corner, and pipe out thin, back and forth random icing lines over the cookies. Alternatively, put the icing in a pastry bag fitted with a fine writing piping tip. Pipe lines of icing on the cookies to suggest maple leaf veins; use a real leaf for inspiration.
Let the cookies stand until the drizzle completely sets, at least 2 hours. Pack air tight with wax paper between the cookie layers. Yields enough icing to decorates about 35 2- to 3-inch maple leaf sugar cookies.