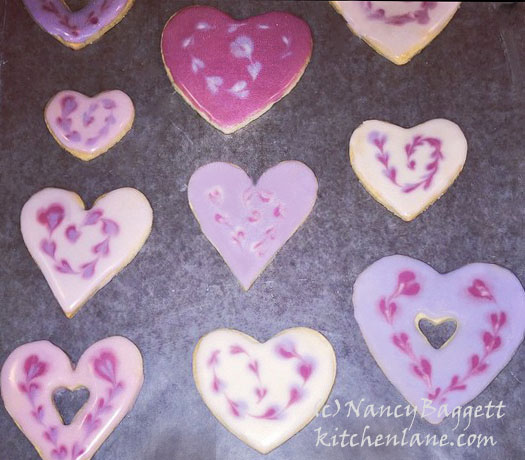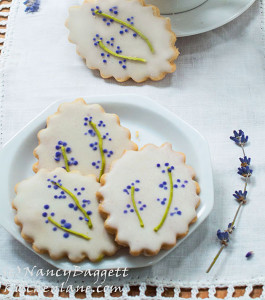 This is a good, really tasty, all-purpose sugar cookie recipe. The cookies, which I demonstrated on the NBC Today Show and showed on a satellite media tour several years ago, come out very crispy and buttery. You might enjoy seeing my favorite way to roll out cookies–the method used for both the holiday cookies above and left–in a short, fun video here. The method is easy, require almost no clean-up, and produces very pretty cookies.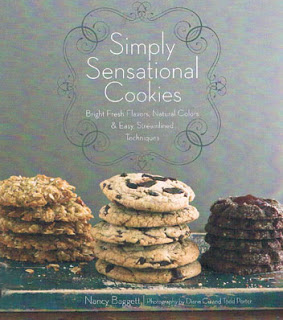 The cookies are not too sweet, and are easy to handle and decorate for any occasion. I made those shown  at the top for the Christmas holidays. The lavender cookies were prepared for a lavender tasting event in summer. Below you can see the dough made up into a "stained glass" Valentine's cookie (directions are here) And the beautiful autumn leaves shown at the bottom are featured here .) Or for some more stunning Christmas and winter-themed decorated cookies, go here.  For info on the "naturally beautiful" decorating how-to  that's in my latest baking book, Simply Sensational Cookies go here.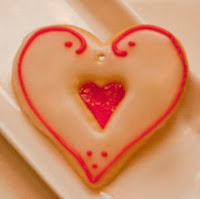 This dough can also be used for "stenciled" cookies, or color washed cookies or several other attractive decorating techniques.The stained glass technique is detailed here.
All-Purpose Sugar Cookie Dough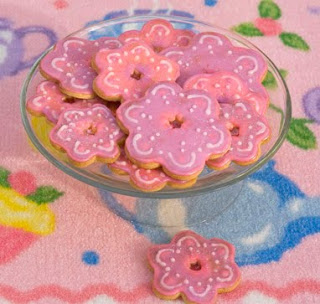 This is the cookie baking equivalent of the little black dress–it can be accessorized with the right cutter and icing to fit absolutely any occasion.  At left, I decorated the resulting cookies for my granddaughter's birthday. For some more absolutely beautiful autumn leaf- and pumpkin-shaped cookies (shown at the bottom) plus tips on making them, go here.  I also provide details on my preference for using all-natural botanical food colors for decorating here.
Tip: The recipe calls for butter; don't even think about substituting margarine!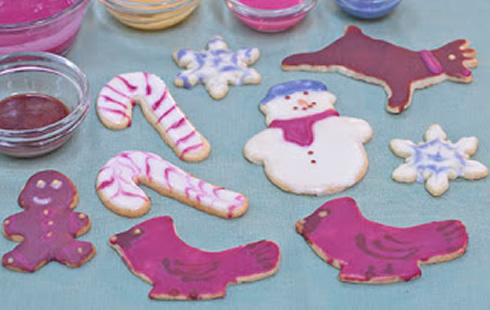 All-Purpose Sugar Cookie Dough
Ingredients
3 cups all-purpose white flour
¾ teaspoon baking powder
½ teaspoon salt
1 cup (2 sticks) unsalted butter, slightly softened
Scant 1 cup granulated sugar
1 large egg
1 tablespoon whole or low-fat milk
2 ½ teaspoons vanilla extract
¼ teaspoon lemon extract or ¼ teaspoon almond extract, optional
Assorted jimmies, colored sugar or sprinkles, optional
Instructions
In a large bowl, thoroughly stir together flour, baking powder, and salt. In a mixer bowl with mixer on medium speed, beat together butter and sugar until very light and fluffy. Beat in egg, milk, vanilla, and lemon extract (if using) until very well blended and smooth. Gradually beat or stir flour mixture into butter mixture to form a smooth, slightly stiff dough. Let stand 5 to 10 minutes to firm up slightly.
Divide dough in half. Place each portion between large sheets of wax paper or parchment. Roll out each portion a scant ¼-inch thick; check underside of dough and smooth out any wrinkles that form. Stack rolled portions (paper still attached) on a baking sheet. Refrigerate about 45 minutes or until cold and firm. (Or freeze for about 25 minutes to speed up chilling.)
Preheat oven to 375 degrees F. Generously grease several large baking sheets or coat with nonstick spray. Working with one portion at a time and leaving remainder chilled, gently peel away, then pat one sheet of paper back into place. (This will make it easier to lift cookies from the paper later.) Peel off and discard second layer. Using assorted 2 ½-inch to 3-inch cutters (or as desired), cut out cookies. (If at any point the dough softens too much to handle easily, transfer the paper and cookies to a baking sheet, and refrigerate until firm again.)
Using a spatula, carefully transfer cookies from wax paper, spacing about 1¼ inches apart on baking sheets. Re-roll any dough scraps. Continue cutting out cookies until all dough is used; if dough become too warm, refrigerate it briefly before continuing. If planning to hang up the cookies, form generous holes with a toothpick or point of a small knife. Then place short lengths of toothpicks or spaghetti in the holes to prevent them from closing during baking. Sprinkle cookies with colored sugar, sprinkles, patting down lightly, if desired.
Bake one pan at a time in upper third of oven 8 to 11 minutes or until cookies are lightly colored on top and slightly darker at edges. Turn around pan about halfway through baking if necessary to ensure even browning. Transfer pan to a cooling rack; let cookies firm up a minute or two. If toothpicks or spaghetti pieces were inserted to form hanging holes, carefully remove them now. Then, using a wide spatula, transfer cookies to racks and let cool thoroughly. Decorate previously undecorated cookies with icing, or glaze, if desired.
Store airtight for up to 2 weeks or freeze, airtight, for up to 2 months. Makes about 30 to 35 2¾- to 3¼-inch cookies (depending on the cutters used).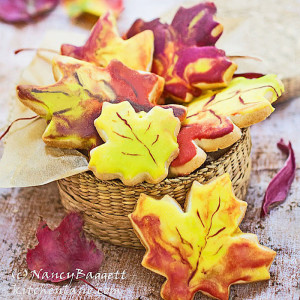 See tips on decorating cookies by marbling (shown on the stocking, tree and star cookies), plus links to decorating and cutting out cookie how-to videos
here.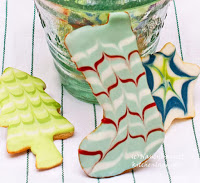 Or perhaps you're interested in making stained glass cookies like those shown below right.