Autumn is apple time. And a simple but well-made apple crisp is one of the best and easiest ways I know to show off the goodness of succulent, seasonal apples.  There are a couple simple secrets to to making an outstanding apple crisp–read on!
 Secrets to a Great Apple Crisp
Apple crisp was a stand-by in my mother's repertoire, and she made a great one. (My recipe is actually an update of hers.) Her secrets are ones that anybody can borrow:
Use supremely fresh, flavorful apples. (Store them in the refrigerator to keep them fresh.)
Create a medley by using at least three kinds at once.
Add a bit of butter to bring up the rich fruity flavor.
Using a variety of apples was easy for my mother, since we actually had a line of apple trees growing right by the barn. No, our apples were not as abundant and beautiful as the ones pictured from a nearby apple orchard today, but they were all crisp, bright tasting, and extremely appealing in their own unique way–especially when we enjoyed them right from the tree.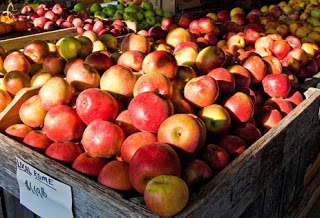 The apples on our farm were all varieties that originated in the 19th century and had been planted on our farm some time in the early 20th. The Smokehouse, the first of our fall crop to ripen, may have been discovered near a smokehouse in Lancaster County, Pennsylvania, in 1837. Information on the Jonathan and Stayman is a bit sketchy. Several sources say the Jonathan was first grown in 1826. The Stayman originated in Kansas about 1875. Our only yellow autumn apple, the wonderfully sweet and fragrant Grimes Golden, is said to have grown up from seed on Thomas Grimes' West Virginia farm in 1832.
In the 18th, 19th and early 20th centuries, all across America farmsteads like ours grew hundreds of apple varieties, many with interesting stories and colorful names. Many were only known regionally and have gone from the scene, but some of the favorites are making a comeback at smaller orchards, farm stands, and farmers' markets.
Here in the mid-Atlantic area I'm  thrilled to hear that a couple orchards in the region are growing the Grimes Golden; it's a parent of the modern Golden Delicious and has a similar, but even more intense and pleasing apple taste. Another of my favorites is the Jonathan; for all round great apple flavor, bright color, and blend of sweetness and tang, this variety may be the absolute best! (Just to be clear I'm not of the opinion that only heirloom apples can be good; the Honey Crisp, for example, is superb.)
Tip: Whatever the variety, always keep apples refrigerated. They look decorative sitting out in a pretty bowl, but will quickly lose thier firm, munchable texture and exquisite taste.
Apple Crisp
Full of cinnamon and brown sugar fragrance and the robust taste of peak-of-season fruit, this homespun, nubby-topped crisp celebrates one of autumn's most abundant and widely appreciated gifts—the apple.
Actually, this old-fashioned dessert spotlights the wonderful variety of apples available now by calling for combining a number of different kinds. Just as my mother did, I like to incorporate at least three varieties, say, bracing Stayman and juicy-sweet Honey Crisp and aromatic Pink Lady. As you will see, almost any blend will round and deepen the apple flavor, lending lovely sweet, tart, mellow, and bold notes all at once.
(For a quicker, easier recipe, microwave baked apples shown at the bottom, go here. Or try my easy apple-blueberry crumble here.)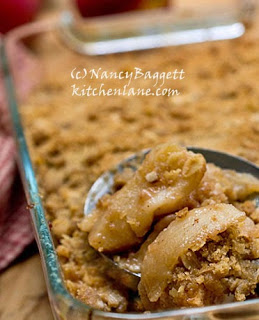 1/3 cup packed brown sugar
2 1/2 tablespoons all-purpose white flour
1/2 teaspoon ground cinnamon
7 1/2 cups peeled, cored and coarsely sliced tart cooking apples, including at least 3 kinds, such as Stayman, Rome, Granny Smith, Honey Crisp, Golden Delicious, Jonathan, Pink Lady and York
1 tablespoon fresh lemon juice
Topping
3/4 cups all-purpose white flour
2/3 cup rolled oats
2/3 cup packed light brown sugar
1/4 cup unsalted butter, melted
1/4 cup corn oil, canola oil, or other flavorless vegetable oil
Preheat oven to 350 degrees F. Coat a 7- by 11-inch (or similar 2-quart) flat rectangular baking dish with nonstick spray. In a large bowl, stir together, sugar, flour and cinnamon until blended. Stir in apples and lemon juice. Spread mixture in baking dish.
Bake in middle third of oven for 25 minutes, stirring once or twice. Meanwhile, in a medium bowl, briefly mix flour, oats and brown sugar. Add melted butter and oil, stirring until incorporated. Sprinkle the topping evenly over apples. Press down lightly. Return to oven. Bake until well browned and bubbly, 25 to 30 minutes longer. Transfer to wire rack. Let cool to warm before serving. Serve with ice cream, if desired. Makes 5 to 7 servings.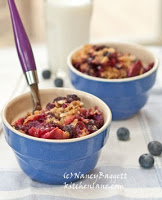 My apple-blueberry crumble, shown right is here. For my delish and quickie microwave baked apples shown at the bottom, go here