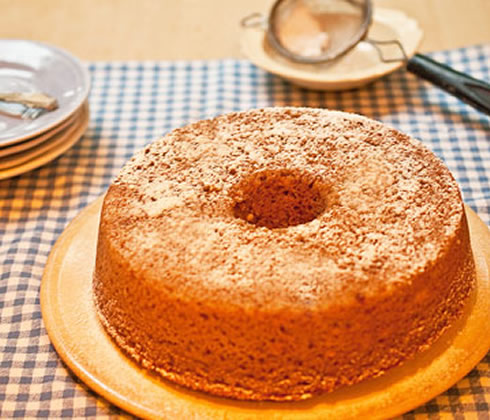 Back in the mid-twentieth century, when many American mothers and grandmothers (including mine!) still baked from scratch, this was the kind of easy, everyday cake they whipped up to serve the family a little "something special." The vegetable oil could stand in for pricier (and during WWII rationed) butter, and buttermilk and applesauce were both plentiful and economical.
Following a custom that dated back to the Colonial era, people with yards often grew a few apple trees. We had eight fully mature ones, obviously thoughtfully chosen by the long-departed planter to provide fruit for nearly the whole growing season. The first to bear, the prolific Yellow Transparents, ripened in June (yes, June!), followed by a predictable succession of Smokehouse and Jonathan then Stamen and Grimes Golden (a "parent" of the Golden Delicious) from late August throughout fall.
As a result, my mother and her mother, my Nana, were always thinking of ways to use our apples. I cannot even guesstimate how many bushels they turned into applesauce, baked apples, apple crisp and brown betty during my childhood. Certainly enough to make me smile today!
Applesauce was a frequent side dish on their tables,and it also went into muffins and home-style applesauce cakes like this one. Often a dish of applesauce was set out along with the cake or gingerbread (another standby) for family members to use as a simple sauce.
Though I'm avoiding red dyes so wouldn't dream of doing it now, I loved it when Grandma, my father's mother, stirred a handful of red hots into her applesauce pan to create a sauce that was intensely cinnamony and a pretty pink. The color made it seem a particularly wondrous treat, particularly since, despite my begging, neither my mom nor Nana ever prepared it this way.
Home-Style Spiced Applesauce Cake
Yes, this is a "nothing fancy" cake, but it is moist, flavorful, and  very satisfying. It's good served simply dusted with powdered sugar, though you can dress it up with a while fluffy frosting or caramel glaze if you wish. The recipe is adapted from my Dream Desserts cookbook. It's no longer in print but copies are still sometimes available on Amazon.
Note that you'll need a pan with a center tube, or "chimney," as some eighteenth and nineteenth century home bakers called it. A 10-cup or slightly smaller angel food or sponge cake tin, or fluted Bundt-style or Kugelhopf, or oven-proof ring mold is just the right size. (A larger pan can be substituted but will yield a low, skimpy-looking cake . It will also bake faster.)
Tip: If you don't know how much the pan holds, simply fill it with water, then measure the amount that was used.
Tip: It is absolutely, positively not necessary to use homemade applesauce in the recipe. A flavorful commercial applesauce (plain or lightly spiced) is a good idea however!

Apple Memories & Applesauce Spice Cake
Serves:
10 to 12 servings
Ingredients
2¼ cups cake flour (unsifted)
1¼ teaspoon baking powder
1 teaspoon baking soda
1¼ teaspoons ground cinnamon
Generous ½ teaspoon each ground nutmeg and cloves
¼ teaspoon salt
⅓ cup canola or corn oil
¾ cup each granulated sugar and packed light or dark brown sugar
1 large egg
½ teaspoon very finely grated lemon zest (yellow part of skin)
2½ teaspoons vanilla extract
¾ cup buttermilk
1 cup applesauce
Sifted powdered sugar for garnish (or Seafoam Frosting, if preferred)
Instructions
Place a rack in the middle of the oven; preheat to 350 degrees F. Generously grease a 9-inch (or 9 to 10-cup) tube pan, Bundt-style pan or ring pan. Dust the interior evenly with flour, then tap out the excess.
Sift together the flour, baking powder, baking soda, cinnamon, nutmeg, cloves and salt onto a large sheet of wax paper. In a large mixer bowl with mixer on medium speed, beat oil, sugars, egg, lemon zest, and vanilla until well mixed and smooth. Add buttermilk, and beat on low speed until incorporated. By hand, stir in about half of dry ingredients just until thoroughly incorporated. Stir in applesauce, then remaining dry ingredients; do not over-mix or batter will toughen. Turn out batter into the pan, evenly spreading to edges.
Bake, middle rack, for 30 to 35 minutes or until lightly browned on top, the center springs back when lightly pressed, and a toothpick inserted in thickest part comes out clean. (For moistest cake, do no overbake.) Transfer pan to wire rack; let stand until thoroughly cooled. Carefully run a knife around center tube and the pan sides. Invert cake out onto serving plate. Frost the cake or simply dust it with sifted powdered sugar just before serving.
Store cake airtight in a cool place but not refrigerated for up to 48 hours.