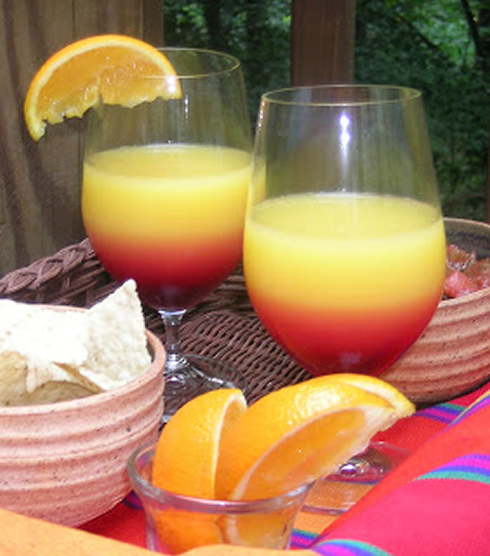 Being an East Coaster, I'd never encountered prickly pear cacti, or any of the recipes calling for it until I visited beautiful Tucson several years ago. Restaurants everywhere seemed to be serving prickly pear lemonade, which was a lovely pink-purple and tasted good, but was pretty much like regular lemonade if you drank it with your eyes closed! Some places also served prickly pear syrup sundaes and fancy cocktails, like the Arizona Sunset, pictured here.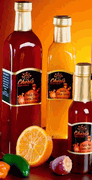 The key ingredient in this cocktail, prickly pear cactus syrup, can be purchased through a number of websites. However, you can obtain a similar visual effect by substituting the readily available grenadine syrup; liquor stores often carry it. In this case, perhaps you could call your cocktail a Grenada Sunset–this sounds equally enticing to me!
Since this drink fairly sweet,  it's going to appeal mostly to fans of mimosas, mai-tais, and such. I've served Arizona sunsets to my son's in-laws at a summer get-together on my deck, and they were a huge hit. Obviously, they go well with Southwestern-style fare.
Tip: I suppose that the alcohol could be omitted for a sort of Shirley Temple cocktail, though I think the rum, especially coconut-flavored rum, adds a lot of oomph to the drink.

Arizona Sunset Cocktail
Ingredients
⅔ to ¾ cup very well-chilled orange juice
2 to 3 tablespoons light rum, coconut flavored rum, or tequila, as desired
1 tablespoon fresh lime juice
1½ to 2 tablespoons well-chilled prickly pear cactus syrup or grenadine syrup
A seeded orange wedge for garnish
Instructions
Shake the orange juice, rum, lime juice, and several ice cubes in a cocktail shaker, or stir together in a cup. Strain into a well-chilled stemmed goblet or wine glass. Gently pour the cactus syrup into the glass; do not stir. The syrup will sink to the bottom, producing a layered "sunset" look.
Cut a notch in the orange wedge and hook it on the rim of the glass. Serve immediately.