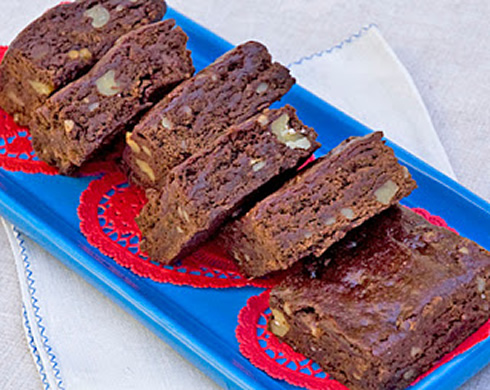 Many folks, including me, are seriously counting calories or trying to "eat healthy" these days. Still, I need a little reward for good behavior now and then. And occasionally, I want to bake something special for my cholesterol-counting husband, too. (I blogged about his scary heart surgery here.)
That's when I turn to one of my favorite brownie recipes–it's lighter, leaner and much lower in cholesterol than many version, but still yields dark, fudgy squares with a rich, satisfying taste. (If you omit the nuts, these have less than 150 calories per serving.) The recipe first appeared in my Dream Desserts cookbook, a collection of reduced fat and reduced calories recipes that I created in the 1990s. (If you need gluten-free brownies check out Shauna Ahern's peanut butter-chocolate version.)When I created the following recipe, I started out by making several applesauce brownies–at the time, the word was that applesauce was an effective way to lighten up baked goods. With apologies to applesauce manufacturers, I don't recommend this approach. My attempts came out soggy or cakey, and I'm partial to chewy-fudge brownies. Also, my results tasted like–applesauce–big surprise!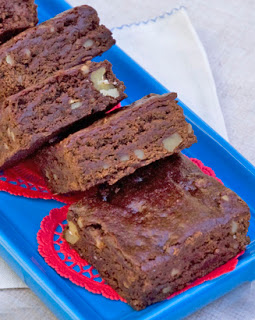 Though the fruit-for-fat switch didn't pan out, I eventually hit upon an ingredient that keeps brownies chewy-moist–and with no applesauce taste. It's a small amount of plain old corn syrup! With it I produced several versions that were better than many of their richer, butter-laden buddies. The following are moist, rich-tasting, and keep well for several days. And they're fairly simple to make.
Tip: These are a perfect treat for a dieter on Valentine's Day, but, of course, are good any time of year. For another recipe that's great for any chocolate lover check out my dark, rich Heirloom Brownies or for a change of pace my chocolate Pots de Creme. (Or scroll down to see a pic and link for some pretty Valentine's Day cookies at the end of the recipe.)
Better-for-You Brownies
Serves:
Makes 12 2- by 2⅔-inch bars
Ingredients
⅔ cup all-purpose white flour
1⅔ cups powdered sugar
¼ cup unsweetened American-style (not Dutch process) cocoa powder
¼ teaspoon baking soda
Generous pinch of salt
1½ ounces unsweetened chocolate, coarsely broken or chopped
3 tablespoons canola or corn oil
2½ tablespoons light corn syrup
½ teaspoon instant coffee powder or granules dissolved in 1 tablespoon hot water
2 teaspoons vanilla extract
¼ cup liquid egg substitute (such as Egg Beaters)
½ cup chopped walnuts, optional
Instructions
Preheat oven to 350 degrees F. Line an 8-inch square baking pan with aluminum foil, overlapping foil at two ends by about 1½ inches. (To fit foil, invert pan and mold foil around bottom. Turn pan right side up and insert foil, folding overlapping edges outside.) Grease foil or spray with non-stick spray coating.
Sift together flour, powdered sugar, cocoa, baking soda and salt in a medium bowl. Combine chocolate and oil in a heavy medium saucepan over lowest heat, stirring constantly, until just melted and smooth; be very careful chocolate does not scorch. Remove from heat and stir in corn syrup, coffee mixture and vanilla until well blended. Let cool to warm. Beat egg substitute into chocolate mixture using a spoon. Gently stir dry ingredients and walnuts (if using) into chocolate mixture just until well blended and smooth. Turn out batter into pan, spreading evenly to edges.
Bake on middle oven rack for 21 to 25 minutes or until center top is almost firm when tapped. Transfer pan to a rack; let stand 15 minutes. Then, using overhanging foil as handles, carefully lift brownie slab onto rack; cool completely. Peel foil from bottom; set brownie slab right side up on a cutting board. Trim off dry edges, if necessary. Mark and then cut into 12 bars using a large sharp knife. Wipe blade with a damp cloth between cuts.
Another Valentine's Day treat–iced cookies with how-to pics and "marbling" decorating directions.