I love making this easy curried potato soup for lunch or supper. It requires just a few pantry staples–potatoes, onions, canned tomatoes, broth and one apple. (Well, it does call for some spices–but these are usually on hand in my kitchen.)
Sometimes, when a  tester and I are busily working on sweets or baked goods throughout the day, I slip this recipe into the testing pile so we will have something savory and nourishing to enjoy for our noon meal. It's ready to serve in less than half an hour.
To add a bit of protein we garnish the soup with cashews, or sometimes, peanuts. A dollop of yogurt swirled into the servings is nice, too.  Or, sometimes we add both!
If you've never tried potatoes with curry spices, you may be surprised at just how good the combination is. For variety you can replace 1 cup of the potatoes with sweet potatoes just to add a bit more variety and nutrients. Cilantro lends a bit of color and zip, and is full of vitamins, too, though it's not essential. (For a totally different take on potato soup, check out the Cream of Green Herb-Potato Soup here.)
For a more substantial lunch or supper, serve a hot bread and a vegetable or fruit salad with this soup.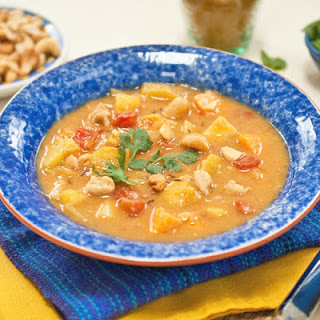 Pantry Staples Curried Potato Soup
This recipe is adapted from one in the "quick" chapter of the revised edition of Skinny Soups, which Ruth Glick and I coauthored a number of years ago. For Amazon reviews of this popular book, click here.
Tip: Fresh ginger root really zips up the recipe, but in a pinch you can substitute 1 teaspoon ground ginger.
1 tablespoon butter
1 large onion, coarsely chopped
1 tablespoon peeled and minced fresh ginger root
1 teaspoon caraway or cumin seeds
4 cups coarsely cubed (1-inch) peeled baking potatoes (2 very large)
1 medium-sized Golden Delicious or other sweet apple, peeled, cored and diced
4 cups fat-free, reduced-sodium chicken broth
2 1/2 to 3 1/2 teaspoons mild or medium-hot curry powder, or more to taste
3/4 teaspoon ground allspice or 1/2 teaspoon ground cardamom
1-14 1/2-ounce can chopped petite diced tomatoes or tomatoes with green chilies
1/4 to 1/2 teaspoon salt, or to taste
Roasted cashews or peanuts or dollops of plain yogurt for garnish
Cilantro leaves for garnish, optional
In a 4-quart pot over medium-high heat, combine the butter, onion, ginger and caraway seeds. Cook, stirring frequently, until the onion begins to brown, about 5 minutes. Stir in the potatoes, apple, broth, curry powder and allspice. Bring mixture to a boil. Adjust heat so it simmers briskly, and cook until potatoes are tender when tested with a fork, 6 to 8 minutes longer.
Using a 2-cup measure, scoop up a generous 2 cups potato mixture; transfer to a food processor. Process until smooth. Return puree to pot, along with the tomatoes. Simmer until flavors are well blended, about 5 minutes longer. Stir in salt, to taste, and serve, garnished with cashews, if desired. Makes 4 or 5 servings.
Check out the green herb-potato soup (shown below left) here. Or perhaps a super-healthy lentil-veggie soup (at right) would suit your mood.